Have you made your summer holiday plans yet? If not, why not consider a summer holiday close to home as nothing beats a mini-break in Belgium. You don't have to spend hours packing or doing the laundry for days once back home, and there's no getting stuck in traffic for hours on end. In fact, you can reach your destination in about two hours maximum.
Your most difficult decision will be which of the two Thermae wellness centres to pick for your wellness mini-break, as both are sanctuaries of relaxation. Not only because of the peaceful atmosphere, but also thanks to the no-mobile phone policy. So, with no-one to bother you with annoying phone calls or long emails, you can forget all about your daily stresses and strains for a while.
The only work you have to do here is work your way through the wonderful Aufguss, relaxation and scrubbing sessions or indulge in a pampering relaxing massage. A tough job, but someone's got to do it!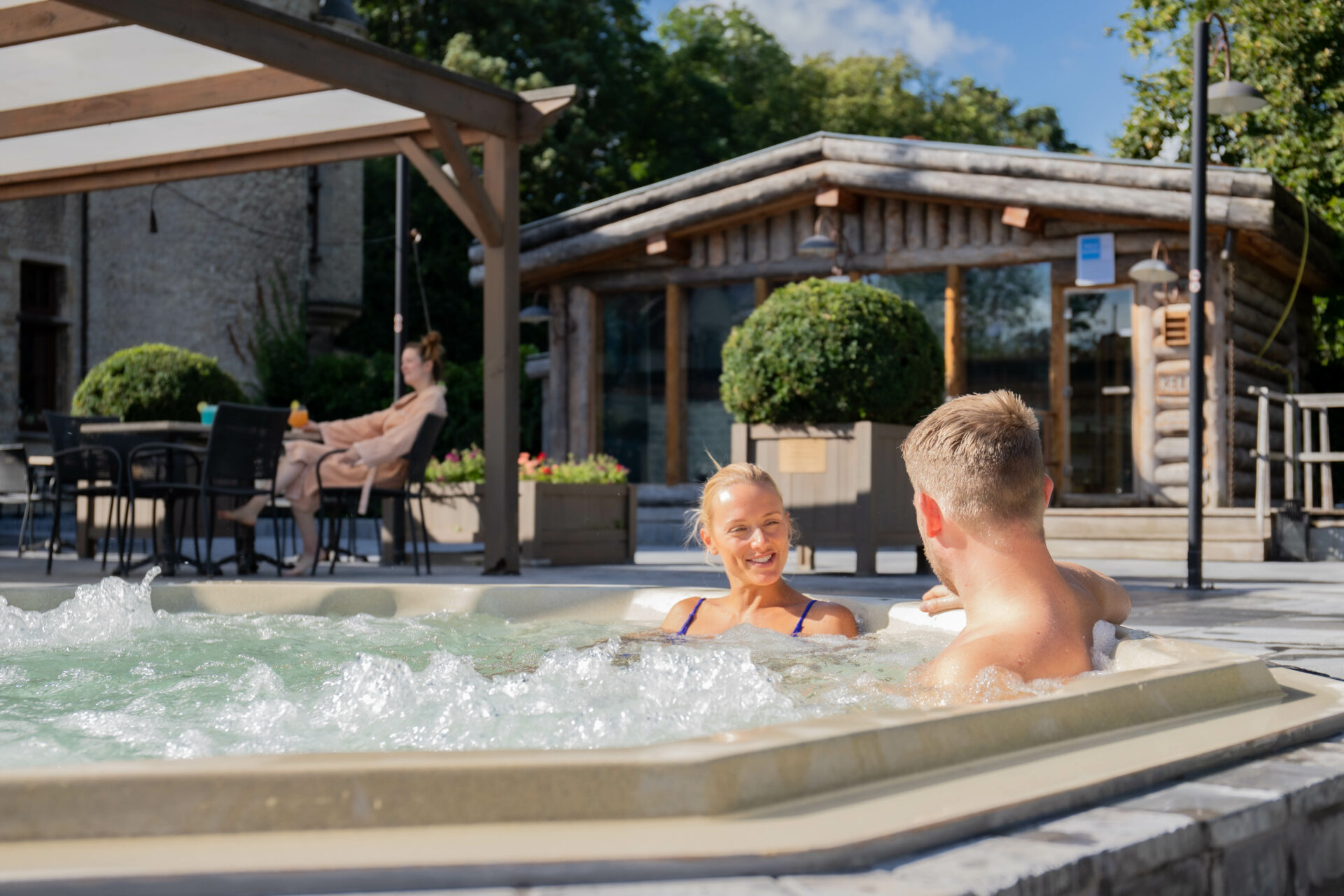 Visiting the sauna in the summer...really? Trust us, even in the warmest season of the year, a day of wellness does wonders!
- People who have regular saunas are able to tolerate (tropical) heat better. By having regular saunas, you are, in effect, training your body to eliminate excess heat more efficiently and to restore your normal body temperature as quickly as possible.
- Saunas are not just about working up a sweat - a proper sauna session also involves refreshing cooldowns. The right way to have a sauna includes hopping in the cold showers and having a dip in the plunge pools after a sauna session, but the facilities also include swimming pools, Jacuzzis and relaxation pools, where you can 'chill out' for a while.
- And, you can sunbathe in the garden and on the terrace. Better still, in the nude wellness area, you can get an even tan all over!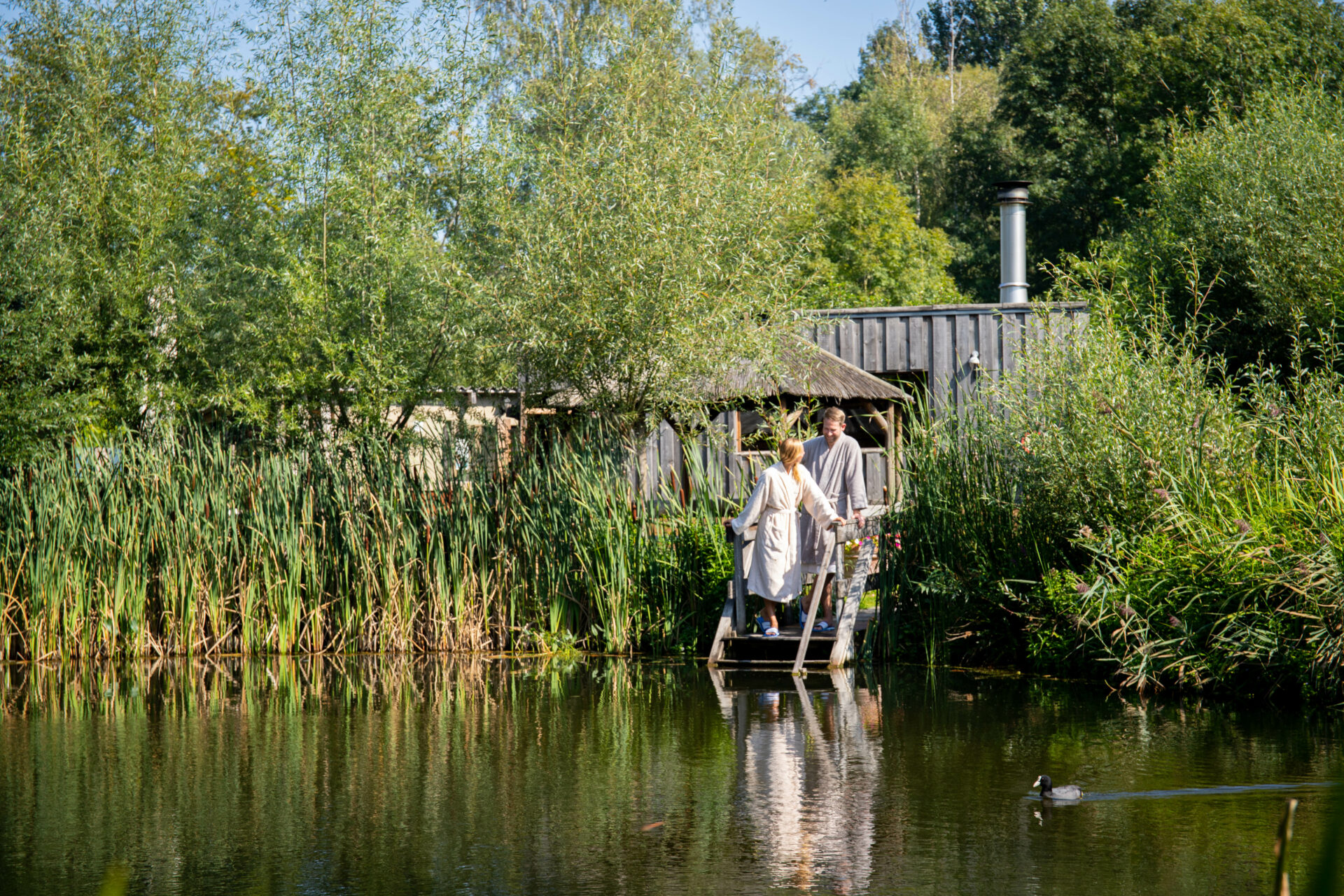 Thermae Grimbergen
More than 25 years ago, thermae.com opened its first wellness centre, Thermae Grimbergen. Since then, Thermae Grimbergen has become a large, but cosy, wellness complex with a stunning lush garden where guests can enjoy wellness both in swimwear and in the nude.
Thermae Boetfort
Just over 10 years ago, the second sauna complex opened its doors. In this 400-year-old castle estate, wellness lovers can enjoy sauna and wellness both in swimwear and in the nude, with two fully separate areas. Each of them with a variety of saunas, swimming pools, Jacuzzis and lots more to explore!
By the way, there are also two private saunas at both wellness centres, perfect for those who prefer to enjoy sauna and wellness in total privacy, for a truly tranquil experience. Facilities in the Lagoon and Zen private saunas at Thermae Boetfort include a swimming pool, Jacuzzi, steam bath, sauna and infrared sauna. Those in the Yasmine and Cleopatra private saunas at Thermae Grimbergen consist of a Jacuzzi, a steam bath and a unique custom sauna which combines infrared therapy with traditional Finnish sauna elements.
More than just wellness
What is your daily beauty regime? Is it the same as in the winter? Yes? Time to give it a summer overhaul! At Thermae Boetfort and Thermae Grimbergen, there is a large beauty clinic offering a wide range of massages and treatments. Lily, the clinic's manager, shares her tips for the perfect summer skin regime:
'Doing a regular peeling makes for a great basis. But do this before going on your summer holiday because a peeling removes dead skin cells and impurities. The result is lovely smooth skin, which ensures a beautiful even summer tan. Also, your tan will last longer. Be careful not to use a peeling product for your legs on your face, though!'
'It's also important to moisturise your skin well. Try a product with hyaluronic acid, for instance. This is a substance that is found naturally in your skin and it ensures the efficient supply and removal of nutrients. It also helps the skin retain moisture. In the summer, your skin needs extra moisture because you sweat more i.e. you lose more moisture. You can supplement this with hyaluronan. Our oxygen therapy or mesotherapy are great treatments for this. The former uses cold oxygen to firm your skin, while the latter repairs and nourishes your skin right down to the cell nucleus.'
Protect the skin you're in
'Unfortunately, sun exposure ages your skin. So, we think it's vital to protect your skin well with a quality sunscreen. Use sufficient product and reapply it every two hours or so. Don't forget to cover your whole body. Some of the spots most of us tend to miss are the backs of our legs or tips of our ears, for instance. What to do if you do end up red and sunburnt all over? Cool and soothe your skin by using light, hydrating products. Make sure you choose a product with little to no scent because your skin will be more sensitive and easily irritated when sunburnt.'
You can buy sunscreen at the reception desks of Thermae Boetfort and Thermae Grimbergen for safe sunbathing at the sauna centres. Both centres also offer wonderful facial and body treatments as well as massages seven days a week. Why not have a pedicure, for instance, for lovely smooth summer feet. Discover the full range of treatments and massages at Thermae Boetfort and Thermae Grimbergen.
Holiday close to home
If you don't feel like going home after your day of wellness, there is a hotel at both wellness centres with a choice of different room types, ranging from budget rooms to a luxury wellness suite. Perfect for a mini-break, close to home.
If you are interested, browse the hotel packages or multi-day offers for Thermae Boetfort and Thermae Grimbergen.
Thermae Boetfort, Sellaerstraat 42, 1820 Melsbroek, Belgium
Thermae Grimbergen, Wolvertemsesteenweg 74, 1850 Grimbergen, Belgium