As summer has arrived many Europeans will be travelling again for their long-awaited summer holidays. Across Europe, there is also another kind of "travel" that will neither be safe, nor comfortable.
Millions of animals will be transported every day through Europe to the Middle East, Africa and further and most will be killed at the end of their journey, or will not even arrive as they will die on the trip because of heat, exhaustion, or by one of the frequent tragedies at sea we have seen lately.
In early 2021, the vessels Karim Allah and Elbeik were stranded for months in the Mediterranean Sea due to the suspicion of blue tongue disease on board and in the end, 2,600 young bulls were killed.
Only recently a livestock ship capsized off the coast of Sudan in the Red Sea where over 15,000 sheep miserably died.
In 2019, over 1.6 billion ovine, bovines, poultry and pigs were transported alive from the EU to non-European countries. Unweaned calves are the most vulnerable ones as they are transported from the young age of 14 days on very long journeys suffering from hunger, thirst and thermal stress which heavily impacts their already weak immune system. Europe is sending these baby animals on trips hundreds of kilometers long, with no possibility to drink, or feed. It is Europe's most disgraceful trade and this suffering and these systemic, careless killings need to end.
But changes are about to come, because at this pivotal time both the European Commission as well as the European Parliament finally acknowledge the need to act.
After decades of tragedies and NGOs exposing the shortcomings of the Transport Legislation, the European Commission is revising the legislation on transport. The European Parliament set up a Committee of Inquiry into violations and enforcement and published a report on everything that is wrong with the transport of live animals – and included their recommendations to the Council and the Commission.
The Parliament called for a trade of meat and carcasses instead of transporting live animals. This important vote was accompanied by 900,000 signatures to ban cruel live exports. Now it is up to the Member States. We are expecting a strong Council statement that enables an engaging and constructive dialogue with the European Commission to improve animal welfare during transport.
FOUR PAWS therefore calls on the Member States to take a stand in the meeting of the agricultural ministers this July. We call for a 0-4-8 principle: zero tolerance and a complete ban on the transport of live animals to third countries as no control on the enforcement of EU rules is possible outside the EU. Four hours of maximum transport time for poultry and rabbits and eight hours maximum for adult bovine, ovine and pigs. Longer transports, exports by sea and the transport of unweaned animals need to be banned altogether.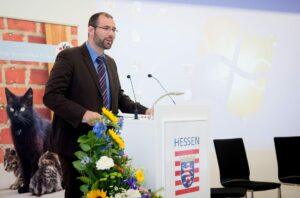 Pierre Sultana, Director European Policy Office (EPO) of FOUR PAWS