When Belgian child killer Marc Dutroux's house in Marcinelle was demolished this week, keen observers may have noticed some unusual street art on the fresco covering the front of the property just before it was destroyed. A triangular symbol with an eye, a heart and other shapes could be seen.
For some, this would not be the first time that this symbol has come to their attention and, not for the first time, questions have been raised about what it means and why it seems to be popping up all over Europe and in places as far as Asia. This symbol has been spotted on poles, facades, along motorways, in Brussels, Wallonia, but also in France, the Netherlands and even far beyond. "I am everywhere," the symbol states and it could be argued that, yes, it is.
Back in 2017, Belgian broadcaster RTBF led an investigation into the symbol and found the designer, Thierry Jaspart, the creator of the project named Andalltha, which is sometimes subtitled "I am everywhere."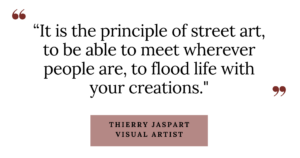 While the project carries the name of the main French collaborationist and anti-Semitic newspaper under the Nazi occupation during the Second World War, Jaspart has claimed that there is no connection between that part of history and his current project.
"It has nothing to do with politics, even if it amuses me that people make the connection," the artist explained. "I've never read a line from this magazine. Besides, I don't like anything that divides."
Essence of street art
The artist said that the spread of his symbol across Europe and the world is the true essence of street art, or collage, which he prefers to call his symbol rather than graffiti because 'they are posters, which are painted.'
"It is the principle of street art, to be able to meet wherever people are, to flood life with your creations," he said. "But here, more than a desire to create, the important thing was to reproduce it as much as possible. It's a kind of bludgeoning, so wherever you go, you will find it."
View this post on Instagram
The artist remains very discreet about the conception of the work and its meaning: "I will never explain that. If we reveal everything, it's a little disappointing. We know that and then we move on. I think it's better to keep imagining."
Around the world
To spread his work, the artist has had to travel, which adds another dimension to the art and the process of making it. The farthest Andalltha has spread is in Cambodia, but it can also be found in New York.
"What interests me more is that it pushes me to travel, hitchhike, walk for hours on a highway, live completely improbable things. I don't care about living like a rat, in a tent and hitchhiking," Jaspart said. "It is an excuse to get out of the house and do things. People who do street art could often talk for days about what they experienced while creating their works."
Related News
His symbol has not only been seen around the urban landscape but has been held up on red carpets by prominent actors and celebrities. While still maintaining its secrecy, Jaspart admits it has been hard to convince some prominent people to display his art. This secrecy had led some to wonder what agenda Jaspart may have and what message he is actually sending out through his symbol.
Jaspart himself rejects such speculation and states that he is merely an artist. "Basically, I am just a graphic designer, I draw. But I've always been more seduced by concepts than techniques, and I'd like to apply that to street art," he said.