Yesterday I wrote of the difficulty of discerning longer-term effects of the Ukraine war in Europe whilst attention is gripped by the ever more deadly Russian assault. Global markets have been rocked, which inevitably has an impact on Belgian consumers, many of whom are already struggling with spiralling energy bills.
Yet as we are confronted with horrific images of destruction, desperation, and death, the knock-on effects are still dwarfed by the heart-wrenching realities of war unfolding uncomfortably close to home. A more human response is to reflect on the insanity of the situation and question what we would do in similar circumstances.
Of course, these moments of sympathy are always hypothetical (until suddenly they are not) and we can never really know how we would act until we have no choice. For most Europeans fortunate enough to have grown up without an existential threat looming large, the notion of a conflict arriving on your doorstep – or blowing it off its hinges – is hard to contemplate.
Belgian infrastructure was buffeted by uncommonly strong winds ten days ago, so an advanced artillery bombardment is almost beyond incomprehension. All the same, it is natural to think about what we might do if ever, god forbid, we found ourselves in the hellish position of those in Ukraine.
Civilians are taking up arms against the aggressors, with 80% of citizens prepared to put their lives on the line for their country. By contrast, a recent survey indicated that Belgians are far less willing to fight, with 60% stating emphatically that they would not be prepared to defend the country with their lives. Obviously, this is an abstract question and hopefully will remain so. But it does raise questions about national unity and begs a moment of personal reflection.
Belgium in Brief is a free daily roundup of the top stories to get you through your lunch break conversations. To receive it straight to your inbox every day, sign up below:
Ukraine has enacted its conscription laws following a full-scale invasion of the country by Russian forces. Thousands of young men and volunteers have joined the Ukrainian army and other militias to protect their country. Read more.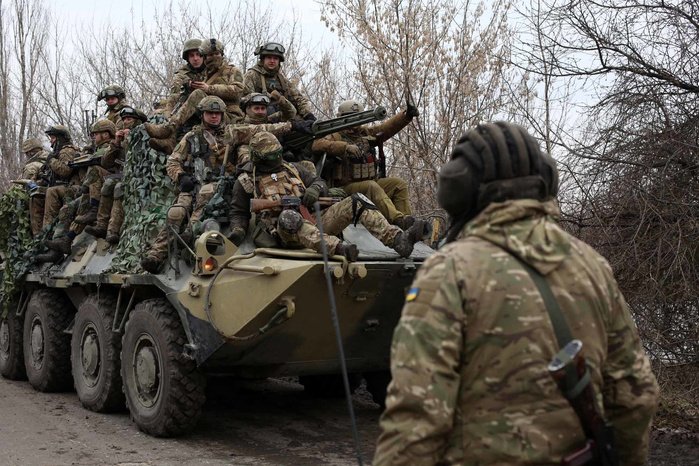 More than 70 people living in Belgium have signed up to fight in Ukraine as part of its Foreign Legion; 21 are ready to leave and take up arms at the front in the war-torn country on Thursday. Read more.
The police station of the Montgomery zone in Brussels (Etterbeek/Woluwe-Saint-Lambert/Woluwe-Saint-Pierre) was pelted with Molotov cocktails on Tuesday night. Read more.
The pandemic, and the restrictive measures it resulted in, have highlighted the need for recreational spaces in Belgian cities, including open-air public pools. And though the pandemic is, hopefully, nearing an end, the public desire for swimming remains strong. Read more.
8 days after Russia first launched its attack against Ukraine, Russian forces have seized control of the major city of Kherson in the south of the country. Russia is intensifying its attack on major Ukrainian cities, as the civilian death toll continues to rise. Follow the most important developments here.
Fines for using a cell phone while driving in Belgium, even if it's just on your lap rather than against your ear, are rising from €116 to €174 starting today (Thursday). Read more.
This 19th century Avenue Jean Volders was designed to provide an impressive route into the commune of St Gilles. Read more.