The storms that ravaged Belgium between 16 to 21 February this year caused approximately €551 million in insured damages, according to a preliminary survey by Assuralia, the federation of insurers.
In total, the storms Eunice, which resulted in trains being disrupted and school closures, and Franklin, which mainly affected coastal areas, resulted in insurance companies receiving almost 223,000 declarations as of 15 March, a record number for storm damage in Belgium.
The majority of the files, more than 213,000 were concerning fire insurance (damage to homes, but also to the garden, sheds or solar panels) with an estimated damage charge of €532 million, while 9,440 files were opened under comprehensive insurance (damage to vehicles), costing almost €19 million.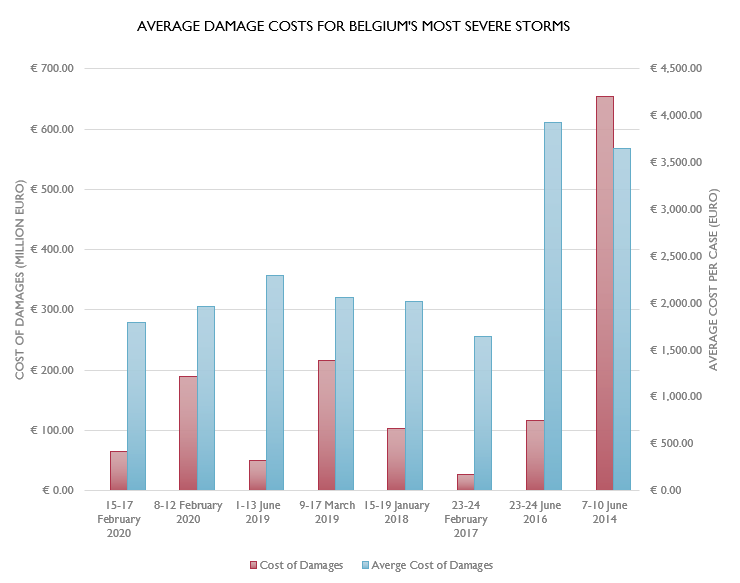 Increased frequency and intensity of storms
Never before have two storms caused such a high number of claims in Belgium, however, when it comes to the record in damage costs, the Pentecost storms that hit the country at the start of June 2014 still take the crown, as €654 million was paid out to victims then.
Related News
In recent years, insurers have seen the frequency and intensity of storms increase, according to Assuralia; in the past storms also caused considerable damage to homes and vehicles.
People who have suffered storm damage must send insurers the damage report, including photos of the damage, as soon as possible. When describing the damage, giving specific and detailed information is key.