As previously reported, the national strike on Tuesday is having a major impact on train services, as well as tram, bus and metro services across Belgium. In Brussels, just one metro line is in service.
Limited mobility in Brussels
Brussels public transport operator STIB did not confirm until Tuesday morning which services would or would not be operating as usual, but did warn in advance that its network would be "severely disrupted."
🔴 NATIONALE STAKING - Lijnen in dienst om 7u30 🚇 Metro - Lijn 1 🚋 Tram - Lijnen 3, 4, 7, 8, 9, 51 en 92 🚌 Bus - Lijnen 12, 34, 46, 53, 56, 59, 65, 71, 74, 87 (verlengd tot Zwarte Vijvers), 88 en 95 Alle andere lijnen rijden vandaag niet.#mivb pic.twitter.com/phUfQhfX8z

— STIB-MIVB (@STIBMIVB) May 31, 2022
As a result of the national strike, all metro lines except line 1 between Gare de l'Ouest and Stockel are not in service. Meanwhile, tram services are limited to lines 3, 4, 7, 8, 9, 51 and 92, and buses to lines 12, 34, 46, 53, 56, 59, 65, 71, 74, 87 (extended to Étangs Noirs), 88 and 95.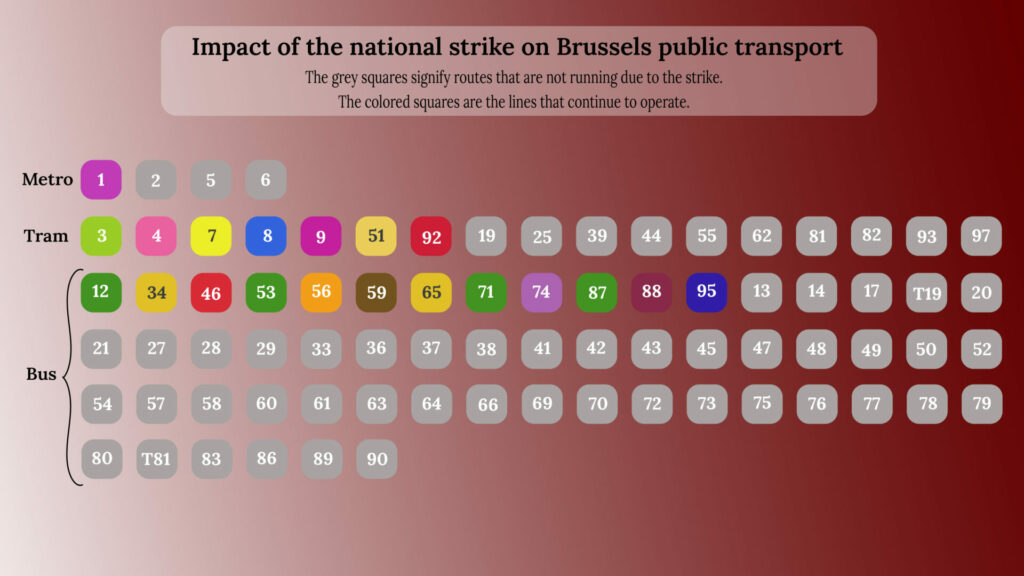 "We ask our passengers to provide an alternative if possible," STIB's spokesperson told The Brussels Times.
One in four trains scheduled
National railway operator STIB has also been heavily impacted by the strike. Just one-quarter of all its scheduled trains will run as planned, including one in three Intercity (IC) trains and one in five local trains between big cities (L-train) and suburban trains in and around big cities (S-trains). Most peak time services operated in the morning and evening rush hours (P-trains) will not be scheduled on Tuesday, the company stated in a press release. The rail network will be closed in the provinces of Liège, Luxembourg and Namur throughout the day, meaning no trains will run here at all. The disruption will start on Monday 30 May at 22:00 until Tuesday 31 May. "In order to limit this as much as possible,
an alternative train service
has been worked out on the basis of the staff who have indicated that they will be working," the company said.
⚠ Door de nationale actiedag bij de openbare diensten zal het treinverkeer ernstig verstoord zijn.

✅ Om dit zoveel mogelijk te beperken is op basis van het personeel dat heeft aangegeven te zullen werken een alternatieve treindienst uitgewerkt. ℹ https://t.co/p5lfJagdvz pic.twitter.com/Hdz0SZLomS — NMBS (@NMBS) May 29, 2022
Tweet translation: "Due to the national day of action in the public services, train traffic will be severely disrupted. In order to limit this as much as possible, an alternative train service has been worked out on the basis of the staff who have indicated that they will be working."
"SNCB advises all affected travellers to work from home if possible or to look for an alternative. Train traffic will be back to normal from Wednesday morning 1 June."
Situation in Flanders
Flemish public transport operator De Lijn confirmed to The Brussels Times that several of its buses and tram services will be disrupted. In Antwerp and in East Flanders, the services will be most heavily impacted. Respectively, 55% and 50% of scheduled trams and buses will go ahead as planned). In Antwerp city, half of all scheduled trips will go ahead as planned, while in Ghent, around 55% of De Lijn vehicles will be operating.
Meanwhile, in Flemish Brabant (65%), Limburg (60%) and in West Flanders (65%), services will be more reliable. Three in four coastal trams will operate as scheduled.
TEC in Wallonia
Wallonia's public transport operator TEC confirmed on its
Facebook page
that, due to the national strike of the public services, the TEC network will be "strongly disrupted and the Carolo network is completely stopped." More information
can be found here.
It added that it strongly advises travellers to find alternative transport. "The return to normal on our network is well expected from tomorrow."