Belgium's colonial exploits in the Democratic Republic of the Congo (DRC) are an uncomfortable chapter in history, not least given that it is in plain sight. The grandiose palaces and imperious statues of King Leopold II all cry out for attention.
And though Belgium is making efforts to confront the humanitarian atrocities it committed so recently, the past can neither be made up for nor erased. The human cost of Belgium's colonising activities is hard to comprehend, quite apart from the plundering of wealth and heritage.
Despite agreements for the restitution of thousands of works of stolen art, Belgium's concessions to the DRC are largely symbolic. But although the damage the colonisers inflicted on the Congo is irrevocable, the reparation efforts are significant nonetheless.
To this end, the state visit of Belgium's King Philippe is a noteworthy step in rebuilding relations that will, in time, become more than purely symbolic as economic ties are strengthened. Today, Belgium's sovereign returned to the Congolese state a rare mask as a show of goodwill and a sign of fresh cooperation between the two nations.
For all its beauty and historical worth, art alone cannot reset relations. Yet as is often the case, this gesture says what words or economic expectations cannot.
Belgium in Brief is a free daily roundup of the top stories to get you through your lunch break conversations. To receive it straight to your inbox every day, sign up below:
Expats living in Belgium will have to decide on whether to change to a new tax regime based on their income and frequency of travel. Read more.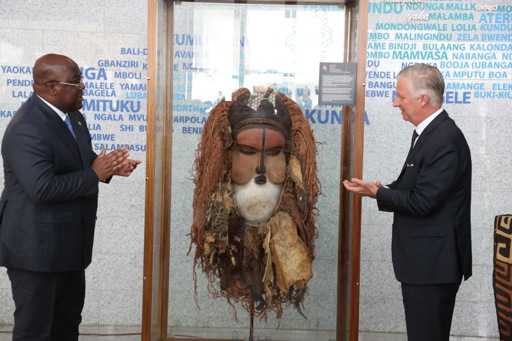 During his state visit to the Democratic Republic of Congo (DRC), Belgium's King Philippe returned a Kakuungu mask to the country's former colony on Wednesday, an act that symbolises the start of "a stronger cooperation" between the two countries. Read more.
The language divide in Belgium has recently resurfaced again in political debate, as interim president of the Christian Democrats CD&V party Sammy Mahdi has criticised the fact that learning Dutch in Francophone schools is not compulsory. Read more.
Belgium is still suffering from the economic impact of the war in Ukraine, with a number of core areas in the economy still struggling to recover from the global shockwaves being sent from Russia's invasion of its southern neighbour. Read more.
The National Bank of Belgium (NBB) has warned banks in the country that the rising energy prices and increased cost of living due to the war in Ukraine could result in many people struggling to pay off their mortgages. Read more.
Later this week, the largest — and also the smelliest — flower in the world, the giant arum, will once again bloom in the Meise Botanic Garden in Flemish Brabant, just north of the Atomium. Read more.
A strange wooden building stands on the left side of Rue Brederode in Brussels, just outside the palace walls. Read more.