Activists from Belgium-based Ukraine NGO Promote Ukraine have launched a protest against Russia's alleged bombing of a prison in Russian-occupied eastern Ukraine, which led to the deaths of at least 40 prisoners, many of whom had fought with the Azov battalion in the defence of the city of Mariupol.
Gathering in from of the Carrefour de L'Europe in central Brussels, the police estimated that some 170 Ukrainian activists voiced their opposition to the attack, as well as other Russian attacks against Mykolaiv and Kremenchuk, which they labelled as "murders" and "atrocities."
"Russia is torturing Ukrainian military and civilian prisoners," the event organisers stated. "Russia burns and attacks the places of their temporary detention in order to hide crimes, to hide the prisoners tortured to death."
Both Russian and Ukrainian authorities are accusing each other of having carried out the attack against the prison. Ukrainian President Volodymyr Zelenskyy said on 29 July that the attack in Olenivka was a "deliberate war crime by the Russians."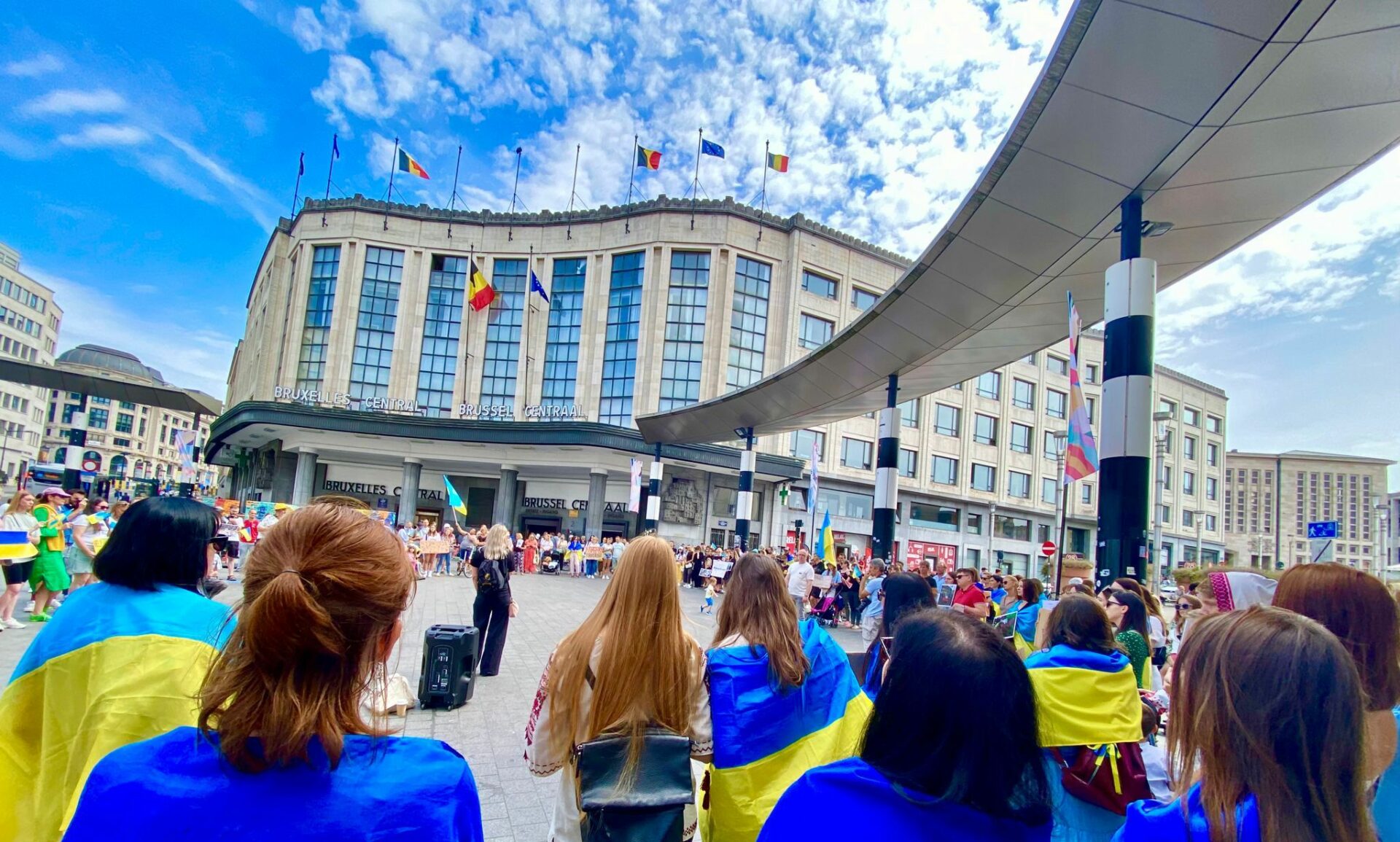 The General Staff of the Armed Forces of Ukraine believes that the Russian military deliberately fired at the prison, specifically members of Russia's infamous Wagner mercenary group. The Ukrainian prosecutor's office has launched an investigation into the strike.
The protestors in Brussels called for an end to Russian war crimes in Ukraine and urged European nations to continue to arm Ukrainian forces. Activists also condemned Russia and its actions, labelling it as a "terrorist state."
Related News
On the same day of the attack against the prisoner of war camp, a tweet published by the Russian Embassy in the United Kingdom, now hidden by Twitter for breaking the platform's terms of service, Russian diplomats state that Ukrainian PoWs "deserve execution, but death not by firing squad but by hanging, because they're not real soldiers. They deserve a humiliating death."
Russia's Ministry of Defence claims that the attack against Olenivka was orchestrated by Ukrainian forces as a "bloody provocation" and that the site was hit by an American-supplied HIMARS rocket system. Russian forces claim that Ukrainians hit their own forces to stop other Ukrainian troops from surrendering.
In recent weeks, Russia has faced repeated allegations of war crimes, especially against captured prisoners and civilians. Footage, shared on pro-Russian social media, recently showed a member of the Russian military mutilating a Ukrainian PoW. The war criminal had recently appeared on the airwaves of Russia's state-run propaganda channel, RT.