From 10-19 June, the flying restaurant will once again rise into the sky, overlooking the capital. For this year's edition, the crane will be located at the foot of the Koekelberg Basilica, the organisers announced on Monday.
For eight tables of four people each, a five-course menu will be prepared in the central kitchen. Guests can expect decorated chefs such as Yves Mattagne ("Sea Grill" "), Alain Bianchin, David Martin ("La Paix" ), Isabelle Arpin, Giovanni Bruno ("Senzanome"), Hendrik Dierendoncck ("Carcasse") or Filip Claeys ("De Jonkman"). The chefs will cook every day and serve at noon, from 19:00 to 21:00.
Furthermore, the organisers have announced there will be two new Belgian recruits from Top Chef who will cook gourmet meals while floating in the sky: Arnaud Delvenne and Malory Gabsi.
In addition to these gourmet meals, cocktail sessions will be organised in the afternoon on weekends, offering three mixes created by well-known bartenders, along with some tapas.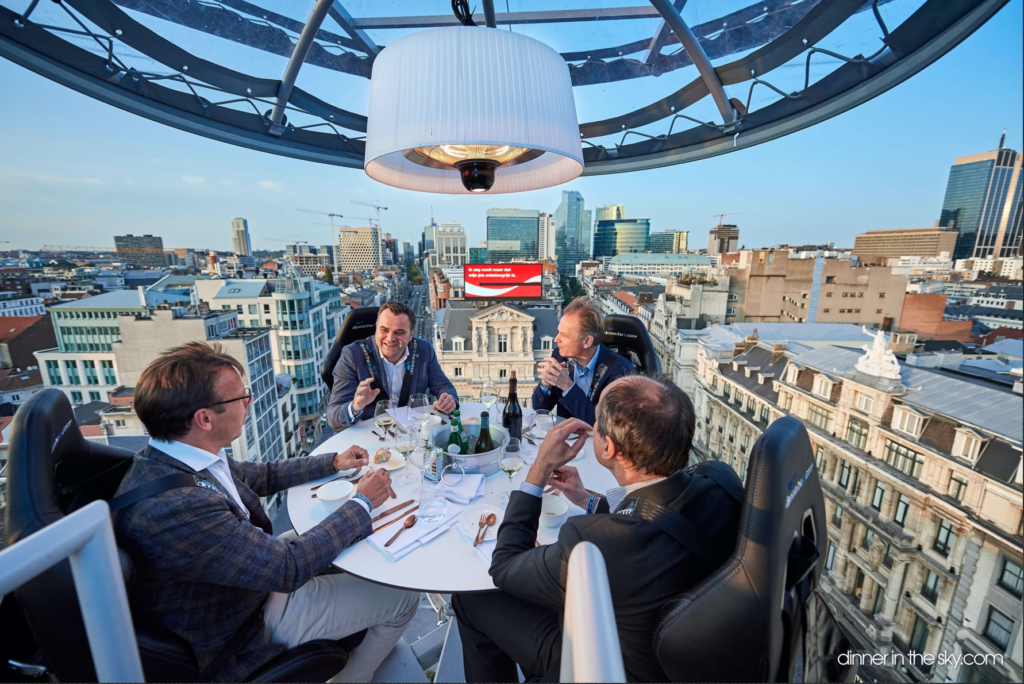 From 5 to 11 September, the table will also be above C-mine, a mining complex in Genk, Limburg. Jo Grootaers ("Altermezzo"*) and Gary Kirchens ("Aurum") will be among the guests.
The concept, conceived in 2006 by David Ghysels, continues to expand internationally.
A new crane has just been installed in Jakarta (Indonesia) and two others will soon be installed in Switzerland and Kathmandu (Nepal). In 16 years, the network has managed to sell some seven machines all over the world.