GDP within the Eurozone grew by an average of 0.6% in the first three months of 2022 and employment rose by 0.5%, according to statistics published by Eurostat, the EU statistics agency.
Across the bloc, GDP grew by 0.7% compared to the previous quarter. At the end of last year, growth was considerably slower. GDP grew just 0.2% in the Eurozone and 0.5% across the whole EU.
GDP growth was driven by a strong Irish economic performance. Compared to the end of last year, Irish GDP rebounded by a staggering 10.8%. Other nations, such as Romania (+5.2%) and Latvia (+3.6%) also weighed positively on the average.

Some slight contractions in GDP were observed in Sweden (-0.8%), France (-0.2%), and Denmark (-0.1%). In Belgium, GDP growth was behind the EU and Eurozone averages at 0.5%.
The dynamics behind GDP growth have radically altered since last year. The European energy crisis, made worse by Russia's invasion of Ukraine, has raised inflation and heavily hit consumer spending.
"Household final consumption expenditure had negative contributions to GDP growth in both the Eurozone and the EU (-0.3 percentage points)," the document states.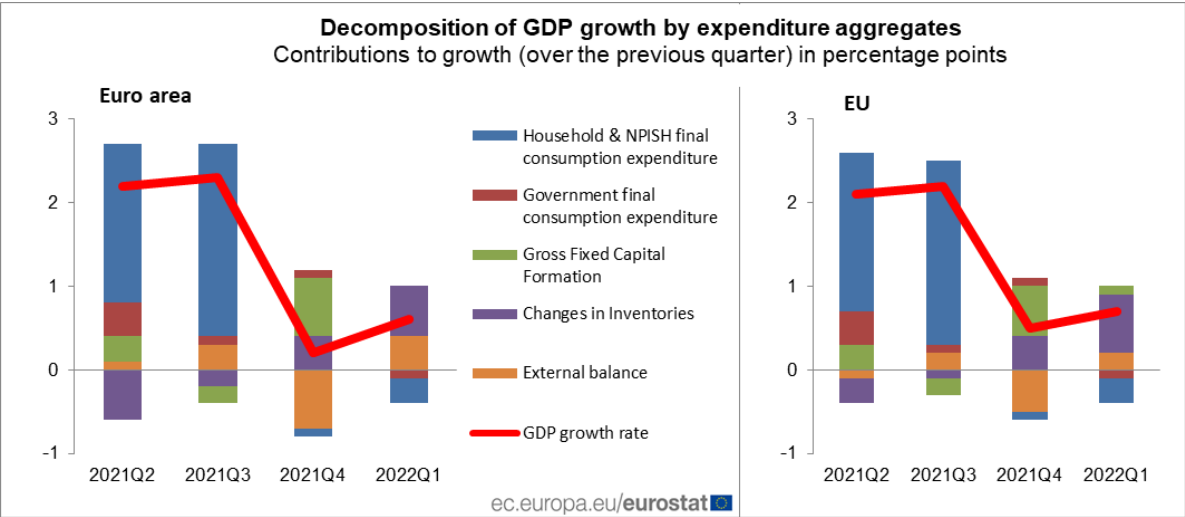 Household spending has significantly decreased. In the Eurozone, household expenditure fell by 0.7% and by 0.5% across the EU. Government spending dropped by 0.3% in both the Eurozone and EU. Growth was primarily driven by the import and export of goods.
Employment
Employment rates rose strongly this year across the Eurozone and EU. Compared to the first quarter of last year, employment increased by 2.9% and 2.8% respectively.
After the pandemic forced governments to implement furlough arrangements and businesses contracted, workers are now starting to take on more hours.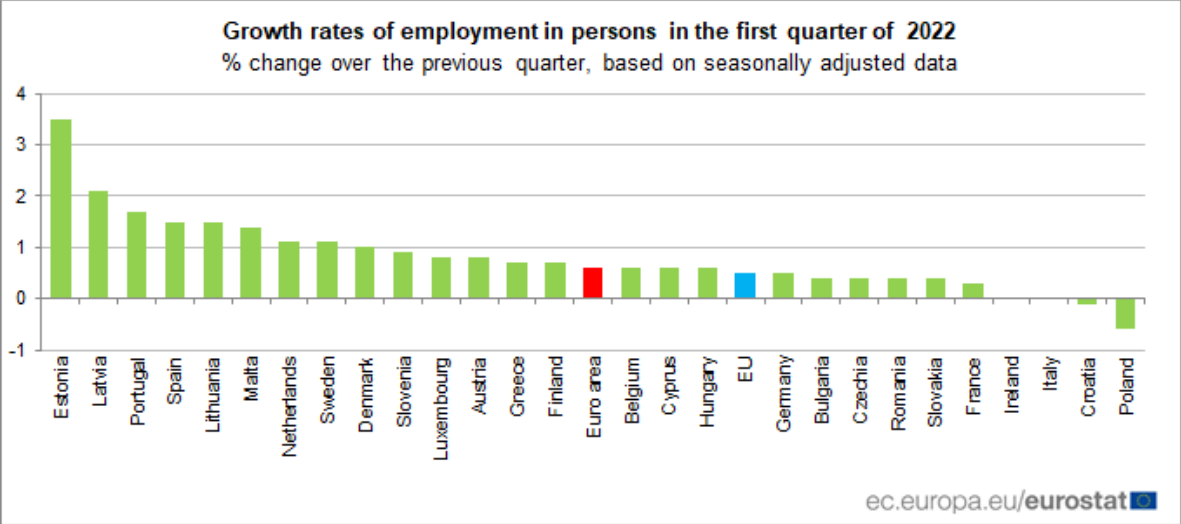 Employment grew strongly in Estonia (+3.5%), Latvia (+2.1%), and Portugal (1.7%). Unemployment grew slightly in Poland (-0.6%) and Croatia (-0.1%). In Belgium, employment growth matched the Eurozone average.
Eurostat now predicts that 212 million people were employed in the EU this year, of which 162.9 million were in the Eurozone.
Productivity
Productivity fell slightly this year. Productivity growth across the Eurozone and EU grew by around 1% between 2013 and 2018.
Related News
In Belgium, the war in Ukraine continues to weigh heavily on the economy. Turbulent energy markets, high inflation, market volatility, weakened public finances, reduced profits have all impacted the country's growth.
High energy prices, the National Bank of Belgium predicts, could lead to big losses in the fishing, chemical, pesticides, and forestry sectors.