Starting from Place des Palais, cyclists will take on the streets of Brussels in the annual 40km BXL Tour this Sunday, 19 June.
This year, the RIDE category has been added to make the BXL Tour accessible to less experienced cyclists for a 32km ride. Electric bikes are allowed in this category.
The race will begin at 9:00 and end at the Atomium, at Avenue Gros Tilleul, around 10:30, when the trophy ceremony will take place and conclude the event at 12:00.
Related News
Persons with reduced mobility are offered multiple options to participate in the race with the ability to join either the 40km with a special start time, 32km or halfway point of the race.
Currently, there is a storm forecasted for Sunday which may pose difficulties for the race and the riders to compete in the race.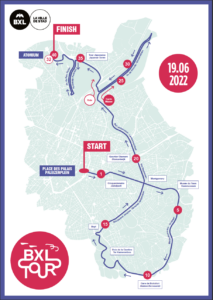 Brussels Mobility warns that traffic will be affected by the event. Place des Palais will be closed from Saturday, 18 June at 14:00 until Sunday, 19 June, at 14:00.
Other closures include:
Boulevard du Centenaire will be closed between Saint-Lambert square and the Atomium square from Saturday, June 18, 10:00, to Sunday, June 19, 20:00.
Rue Ducale will be closed on Sunday 19 June from 5:00.
Between 7:00-13:00, Sunday these roads will be closed: tunnel and Rue Belliard, Avenue de Tervuren, Boulevard du Souverain, Boulevard Général Jacques, Avenue Reyers, Boulevard Lambermont, Rue Van Praet, Avenue du Parc Royal and exit A12 toward Brussels.