A new cloud of dust from the Saharan desert is on its way towards Europe, according to meteorological forecasts by the Copernicus Atmosphere Monitoring Service (CAMS).
The dust is currently blowing over the Atlantic Ocean and will reach land in Portugal and Spain this weekend. It is not expected that the red sands will sweep through Belgium's streets this time. However, it will reach areas in western France.
On 16 March, much of Belgium and France was covered by sand, known to the Spanish as the "calima." Concentration of dust beat records in Southern Spain and even reached as far as Scandinavia.
Strong seasonal winds whip up large amounts of sand into the atmosphere which are then carried into Europe by changes in air pressure. Sand is most commonly carried across the Mediterranean during spring.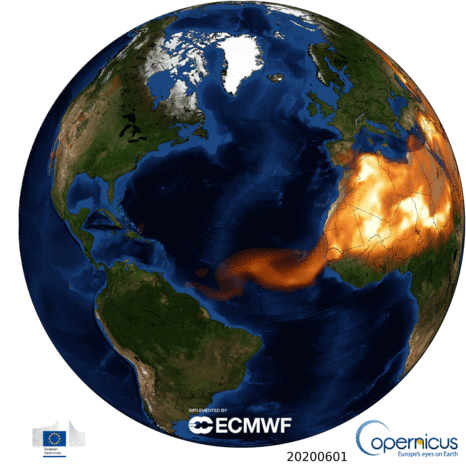 These sands are famous for giving the sky a red-orange hue and coating cars and hillsides with fine dust. Though visually appealing, the sand is harmful to our health. High concentrations of dust can negatively affect air quality and aggravate respiratory and cardiovascular conditions.
CAMS suggests that there could also be a potential link between global warming and increased dust sedimentation in Europe, however there is not yet an observable trend.
"Drought conditions and desertification associated with global warming can increase the amounts of dust available. Unsustainable water and land use also favour increased amounts of dust," CAMS states.
Dust storms are not exclusive to the Sahara; in Asia, residue from the Gobi Desert is regularly carried great distances by winds.