Half a billion people could be pushed into poverty by the coronavirus. The pandemic has exacerbated inequalities worldwide. International solidarity proves to be vital, more than ever.
Oxfam Belgium organises Oxfam Trailwalker to support the fight against inequality and poverty. Participants raise money and show their solidarity by walking 100k or 25k. So why not put all those miles you've walked during lockdown this year to good purpose? Since 2008, people from all walks of life have challenged themselves to Oxfam Belgium's team endurance event, raising over $5 million towards fighting injustice of poverty worldwide.
As a team of four, you must walk up to 100k in 30 hours or less. If you choose the shorter version, 25 km, your team of two to eight participants must walk the distance in 7 hours or less. It is not an individual race or a relay though, you must finish as a team to succeed. It is probably the toughest challenge you will take on, but the sense of achievement when you cross the finish line is immense. It is a life-changing experience.
This is not just a physical challenge, you will be raising money to overcome poverty and injustice around the world and at the same time acting as an ambassador for Oxfam's work. From providing clean water and sanitation in Burkina Faso, to supporting Palestinian farmers to increase their incomes to provide for their families. You walk alongside those who need it the most. Our mission is to tackle the root causes of poverty and create lasting solutions.
A bit of history
Oxfam Trailwalker was originally set up by the elite Queen's Gurkha Signals Regiment in 1981, as a military exercise to test teamwork, endurance and determination.
Five years later, teams of civilians were allowed to take part and Oxfam Hong Kong was invited to co-organise the event. In 2008 Oxfam Trailwalker takes off in Belgium. Over 150 teams took part in Oxfam's inaugural Oxfam Trailwalker.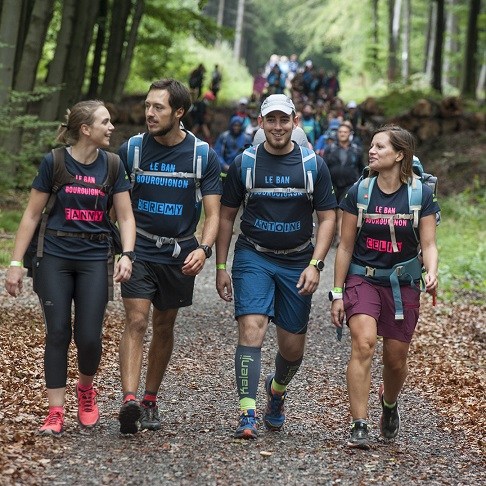 As Oxfam is a worldwide confederation there are many trails to choose from in many different countries. You can test your endurance on the original Gurkha trail in Hong Kong, walk along the "Via Verda" of Girona or hike through the rugged Australian bush.
Since it began in 1981, thousands of walkers around the world have successfully taken on the challenge. But last year was a special year in which Oxfam had to adapt its concept. As Oxfam Belgium couldn't organize the event as usual in Saint-Hubert in the Ardennes, Oxfam proposed people to walk wherever they wanted, and for the distance of their choice.
This year Oxfam Trailwalker is back (covidproof)!
But his year Oxfam Trailwalker is fully back in its original format! Participants will meet again in the heart of Belgium's Ardennes. As Oxfam got a lot of requests and participants for a shorter trail, it will be possible to walk 25km instead of 100km alongside the same trail. This way they hope to give everyone the opportunity to an unique solidarity challenge with their friends, family or colleagues, a unique opportunity to surpass yourself together.
During the trail you'll get pumped by cheering volunteers (at safe Covid distance), prepacked healthy snacks and first aid and disinfectant stations when necessary. Teams will start the trail in clusters, to respect all Covid measures.
The challenge and goals of this 14th edition remain thus unchanged: teams walking together to fight injustice and poverty.
Each team is therefore asked to raise a minimum amount of 1.750 euros (for the 100km walk) and 1.000 euros (for the 25km walk) and pay an inscription fee of 31€ per team member. Cherry on the cake: you get a 25% discount on your inscription fee if you sign up before end of March! Teams that have registered for the last edition in 2020 are exempted from the fee.
Oxfam has the resources available to help you on your fundraising way. Many walks have their own team fundraising pages. You'll find fundraising can be great fun too!
Practical info and registration
When?
- Saturday August 28th : different start hours for the 100km distance
- Sunday August 29th : 7am start for the 25 km distance
Where? – Saint Hubert, Ardennes
Registrations – Form your team and register before July 31st