As Europe focuses on economic recovery and rebuilding while still addressing pandemic challenges, it becomes increasingly clear that a strong SME sector is essential to creating jobs, accessing global markets and even bridging urban-rural divides. After all, with 24 million European small businesses that employ nearly 100 million people and contribute €4 trillion to the EU economy annually, SMEs really are the beating heart of our economy.
While digital technology has allowed for the incredible growth of some of the world's largest corporations and some SMEs, others lag behind when it comes to using digital tools to maintain and increase productivity and sales. This has put them at a disadvantage throughout the pandemic and jeopardises their potential for future success.
Given the importance of this issue, Vodafone has set out on a mission to determine how SMEs can future proof themselves for an increasingly digital world. This year we published our 'Fit for the Future' report in partnership with the London School of Economics (LSE), investigating not just the impact of Covid-19 on businesses but also opportunities for the future, enabled by digital transformation.
The research reveals that using technology is vital not only to the ability of businesses to survive Covid but also to flourish in a post-pandemic climate. Businesses that want to respond quickly to digital, green, and hybrid working transformations, as well as prepare for other emerging challenges, must place technology at the heart of their strategies by actively planning for the technology future, monitoring trends and being open to using innovative technology. The report further identifies how the mindset and attributes of companies that effectively manage business, technological and societal challenges enabled them ultimately to succeed – even during an unexpected crisis like the pandemic.
These findings are consistent with our first 'Future Ready' report, published in May 2020, as well as the OECD's 'SME Digitalisation to Build Back Better' research, published in December last year. We actively contributed to the OECD work with policy insights and recommendations as standing members of their ongoing Digital for SME global initiative (alongside governments, SME associations and industry experts).
One of the key takeaways of the OECD paper highlights the essential role of digital technology for business continuity during the pandemic. Furthermore, it reaches a similar conclusion to our own Vodafone analysis – that businesses need to adapt quickly to changing social attitudes and take advantage of new data and digital economies in order to retain talent and rebuild in the post-Covid world.
Given the importance of SMEs to supporting families, enabling innovation and driving European economic prosperity, now more than ever, they need the right support to make these changes.
Businesses like Vodafone can play a key role. We have worked closely with our SME customers to curate 'business boosting' packages. In Spain, we have collaborated closely with the Spanish government to build a Digital Toolkit for SMEs, which the Spanish Government announced in November 2021. The toolkit, fully state subsidised up to €3 billion, includes targeted support to respond to SME digitalisation needs and is arranged around four main pillars: digital marketing and e-commerce, cybersecurity, digital business solutions and smart working.
And we welcome similar measures from other governments – Italy, for instance, has recently approved 'broadband vouchers' to support SME and SOHO connectivity on their digitalisation journey, amounting to €600milion. Greece and Portugal are interested in elements of the Spanish SME Digital Toolkit and are looking to implement similar support schemes.
However, digital tools are not enough. SMEs face other hurdles, three significant ones identified by the OECD report:
Digital skills gaps that prevent SMEs from identifying the tools they need

Less liquidity and access to finance, limiting the upfront investment needed to digitise

A large gap in access to affordable broadband, which only increases for those situated in rural areas
Governments must step in to help SMEs by ensuring that the policy environment allows them the opportunity to flourish in a digital world. The European recovery funds and the NextGenerationEU (NGEU) recovery instrument are key to this. They must prioritise digitising and connecting SMEs so they can build the confidence and skills needed to innovate and grow.
Creating a future enterprise culture with digital at its heart is not the job of one sector alone. It is a collective task in which technology providers, governments and SMEs must collaborate. It is only then that we can pave the way for a more resilient European business environment, not only equipped to deal with the challenges of today but to take advantage of opportunities in the future.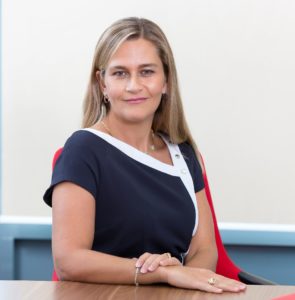 By Murielle Lorilloux, EU Cluster and Enterprise Americas & Asia Pacific Director, Vodafone Business