Strategically located in one of the country's most breath-taking regions and internationally renowned for its impeccable services, upscale gastronomy and elegant high-fashion boutiques, Maasmechelen Village offers a truly unique shopping
Until 29 May 2022, the Belgian shopping destination par excellence hosts its exclusive Private Sale. And with access usually reserved exclusively to Members, this year Maasmechelen Village has made some of its most prestigious discounts available to The Brussels Times readers as well.
Maasmechelen Village is one of 11 fashion destinations within The Bicester Collection and blends cutting-edge fashion labels with its own brand of Belgian hospitality. Guests can shop at over 100 boutiques from international top brands such as BOSS, Max Mara, Essentiel Antwerp and Levi's at prices of up to 60% below the recommended retail price year-round.
Also, until 29 May, Village Members can enjoy exclusive discounts of up to 30% off the outlet price in over 80 participating boutiques, for even more savings on some of the most renowned fashion, lifestyle and beauty brands in the world. Thanks to an exclusive partnership, these additional savings will now also be made available to The Brussels Times readers through a personal VIP Pass.
A unique shopping experience
Maasmechelen Village prides itself in offering a premium, relaxed atmosphere and an elevated shopping experience. One of the destination's most remarkable features is its elegant open-air shopping boulevard, a stylish pedestrian-only street dotted with exquisite landscaping elements and lined with over 100 fashion, lifestyle and beauty boutiques – each with a distinct architectural style inspired by the region's rich mining history.
The seamless Village experience includes a host of premium facilities such as free parking and Personal Shopping, and four must-try restaurants ranging from a traditional Italian trattoria to a classic Belgian brasserie with over 35 lagers and specialty beers.
On top of its permanent boutiques and facilities, Maasmechelen Village regularly hosts inspiring events and art exhibitions, exclusive pop-up boutiques, and chic Archive Sales in collaboration with some of the world's most sought-after artists, fashion labels, and lifestyle brands. Such as, from 19 to 22 May, during the Private Sale, Village guests can shop high-end Parisian fashion and elegant accessories during the destination's limited-edition Sandro Archive Sale.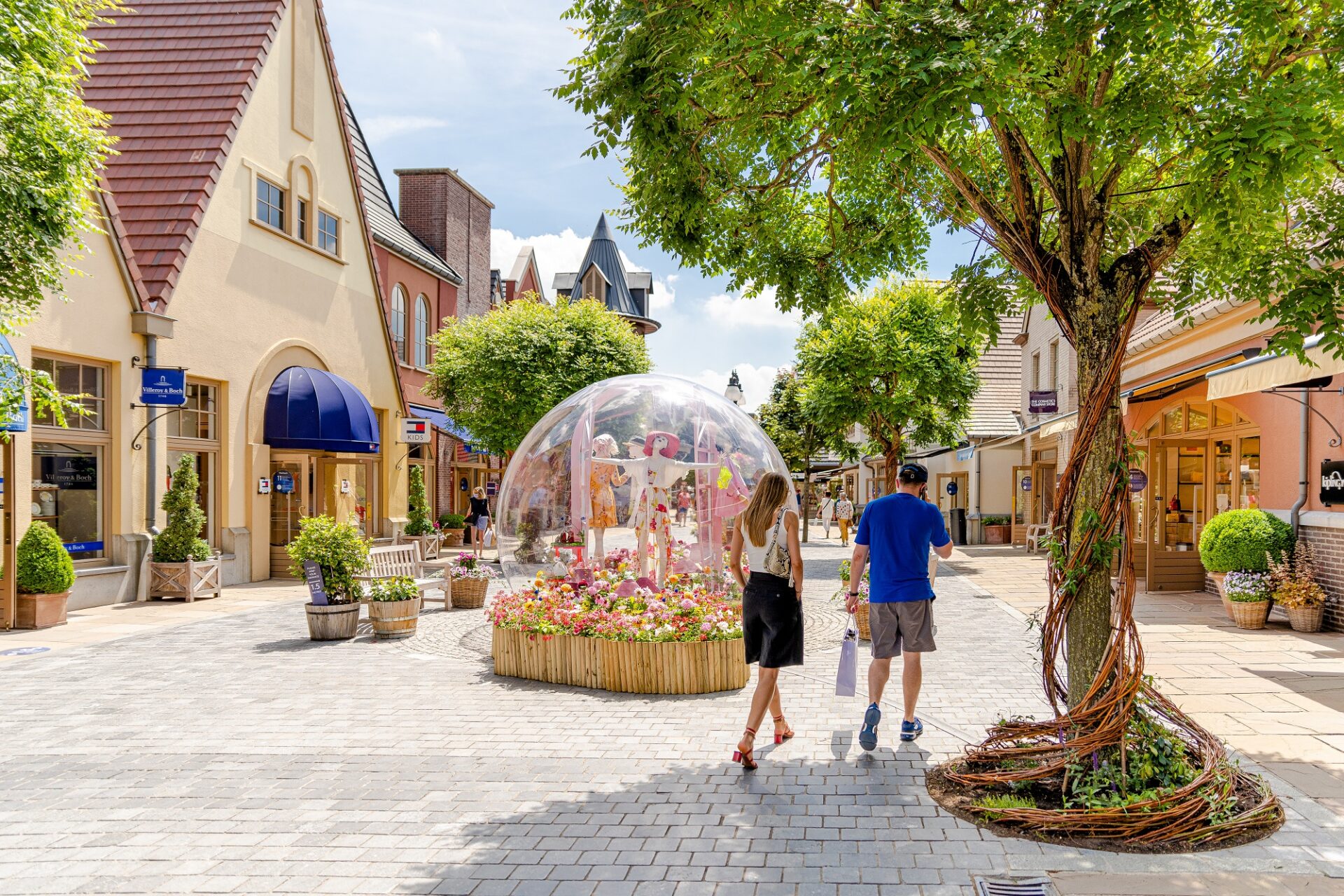 The perfect staycation
Thanks to its strategic location in the middle of the lush Limburg countryside, the Village is the ultimate operating base for a refreshing staycation.
Discover breath-taking views over the country's only national park at Terhills, bike over 2,000 kilometres of signposted cycling routes, embark on a boat trip on the river Meuse, get a spa treatment at one of the most uniquely located spa centres in the world, and extend the magic of your trip with an overnight stay at one of the charming hotels or B&Bs in the region.
Endless discoveries await at just a stone's throw from the Village.
Exclusively for The Brussels Times readers
Register and download your personal QR code and scan it at checkout for up to 30% off the outlet price at participating Village boutiques and enjoy exceptional savings on international top brands like Pinko, The Society Shop, and ba&sh.
About Maasmechelen Village
Located at the crossroads where Belgium, Germany and the Netherlands meet, Maasmechelen Village basks in the sunshine of neighbouring Antwerp and Brussels. Discover over 100 boutiques offering fashion and luxuries for the home, with savings of up to 60% on the recommended retail price year-round.
Maasmechelen Village is open seven days a week, even on Sundays. During Ascension Weekend, the Village offers extended opening hours from 10 am to 8 pm Thursday through Sunday.
Discover more about Maasmechelen Village here.