Tram 8 patiently awaits the intrepid traveller at its terminus at Roodebeek/Rodebeek, sandwiched between the Woluwé Shopping Centre and Cook and Book.
If your taste is for a moderately upmarket mall with most of the Belgian high street names, then WSC is for you. At its southern end, it has a fine array of eateries, delicatessens, a high-end oriental carry-out, and one first class sandwich bar.
On the northern side of the awaiting tram lies Cook and Book, a complex devoted wholly to satisfying three of humankind's great urges: eating, drinking, and reading. The bookshops are massive and browsing is pleasingly encouraged, especially among the young. The English section has an appealing country house feel and the temptation to sink into one of the leather armchairs and knock off a Christie whodunnit is intense.
Just a few stops into its journey the Tram 8 reaches Rob (at the Parc des Sources/Bronnenpark tram stop). Normally dubbed Rob's in English, to call it a mere supermarket seems belittling. Indeed, its own description is 'Rob the Gourmet's Market'. Think Harrods food hall and you're getting close. The cheese, wine, wet fish and charcuterie are all a foodie's delight. When I lived right next door, busy but not wealthy, its cleaned and ready-cut vegetables served me well. If Jamie Oliver or Yolam Ottolenghi demand you purchase some obscure ingredient you've never heard of, then Rob's will spare your blushes and supply. Worth a visit even if you buy nothing.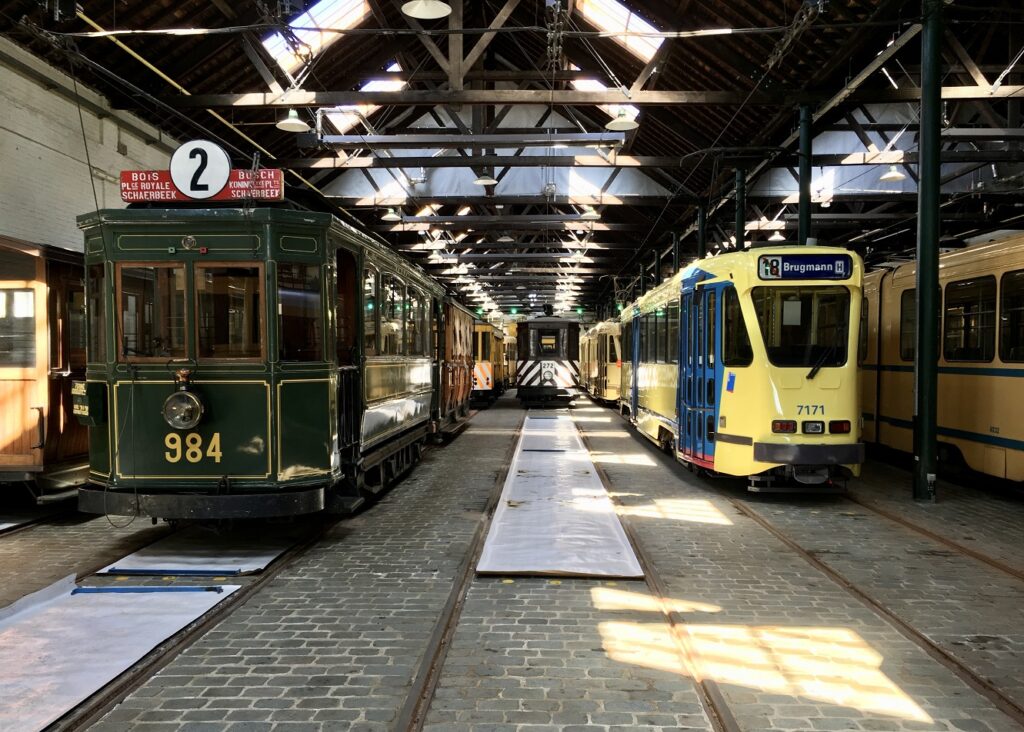 The tram heads south to the Tram Museum (Musėe du Tram/Trammuseum). An old brick depot, it has an extensive selection of venerable vehicles. On summer Sundays they do a vintage tram ride, which may intrigue pre-teens and public transport nerds. But don't forget to look up at the pedestrian and bike bridge right above you. It is unusual in that the arch which supports the bridge is also a stairway up onto it. The bridge carries a cycle path built upon the old Brussels-to-Tervuren railway which was abandoned in 1970. This pathway parallels the Tram 8 along Boulevard du Souverain/Vorstlaan – a treasured rus in urbis – until it shoots up towards Delta and gets distinctly more urbs in urbis. The path has another unusual bridge, this one wooden, over the Boulevard des Invalides.
Where the EU was designed
On the other side of Souverain is the Val Duchesse/Hertoginnedal estate (Empain). Left to the nation by King Leopold II, it hosted the negotiations in 1956 which founded what is now the European Union. The site of a 13th century priory, the extensive grounds are generally not open to the public. Its website says it can be hired for private events, but no one has ever invited me to them! Still, walking postprandially along its periphery late one summer evening one could hear, on the other side of the fence, the raspy bark of foxes, the leafy sounds of mice scurrying, and the silvery nocturnal warble of the robin. So, not just for politicians, then.
Most of Boulevard du Souverain is verdant parkland. The notable exception is the midway point where Chaussée de Wavre/Waversesteenweg and the E411 motorway cross it, which is also next to the Herrmann-Debroux metro station. Here it is a place for practicalities like changing tires, pizza delivery, supermarket shopping, visits to the town hall, and hopping on the metro.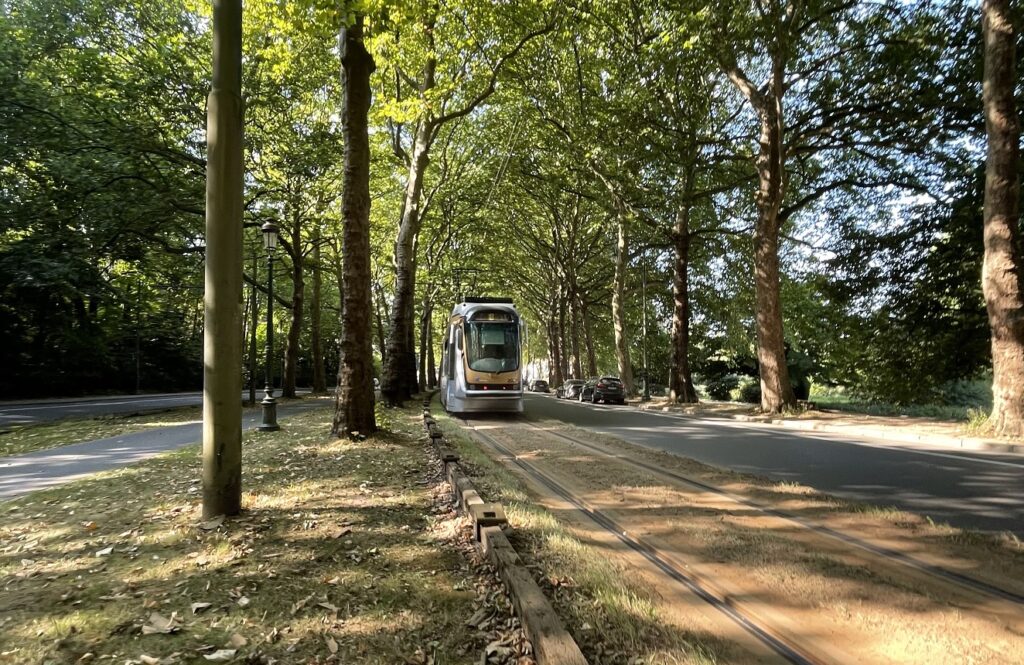 On towards Place Wiener/Wienerplein. On the left is the watery and elegant Tenreuken Park. It is populated by those alien-looking parakeets which have been colonising Brussels for the best part of 50 years. Originating, it is thought, with the release of about 50 pairs from a game park in the 1970s, their population has increased in Brussels to over 10,000. The Alexandrine parakeet is seen as a pest in its native India but as relatively benign here. Perhaps that is because Brussels is now home to a dozen or so pairs of peregrine falcons. They glide watchfully high above and then dive suddenly into their 300km/hour predatory stoop. It is surely an honour that the fastest creature on the planet chooses this city as a home!
Right after that is the magnificent Royale Belge Building (Fauconnerie/Valkerie). So magnificent that the Americans had considered it for their embassy, but it could not meet their stringent security requirements. Back in its corporate days one Sunday long ago, the jogging me was chased out of the unwalled grounds by an angry security guard informing me "this is not a sports club". The fact that it is now to be "multi-purposed - with hotel and sports club" is therefore a source of some quiet satisfaction.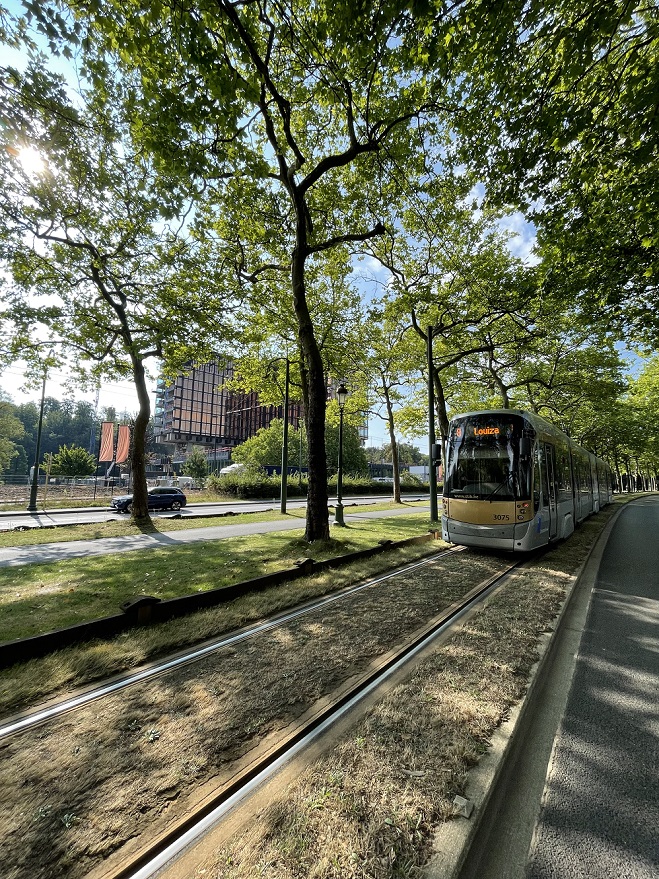 Place Wiener is a delight if you discount the traffic. Flanked by parkland on three sides, a vaguely Palladian town hall clusters around it more eateries and ale houses than a suburban square has a right to. To enumerate: three excellent Italian restaurants, a Belgian brasserie, a Chinese, a pub overseen by a middle-aged biker-type with a ring in his beard, a sophisticated wine bar, a hamburger joint in a converted tram, and an eccentric mom-and-pop place which feels as though you've walked into someone's front room, stuffed as it is with figurines, bric-a-brac, and blazonry of every description. All these within 50 metres of each other. I may even have overlooked a couple. To cap it all, there is a fine market on a Sunday morning.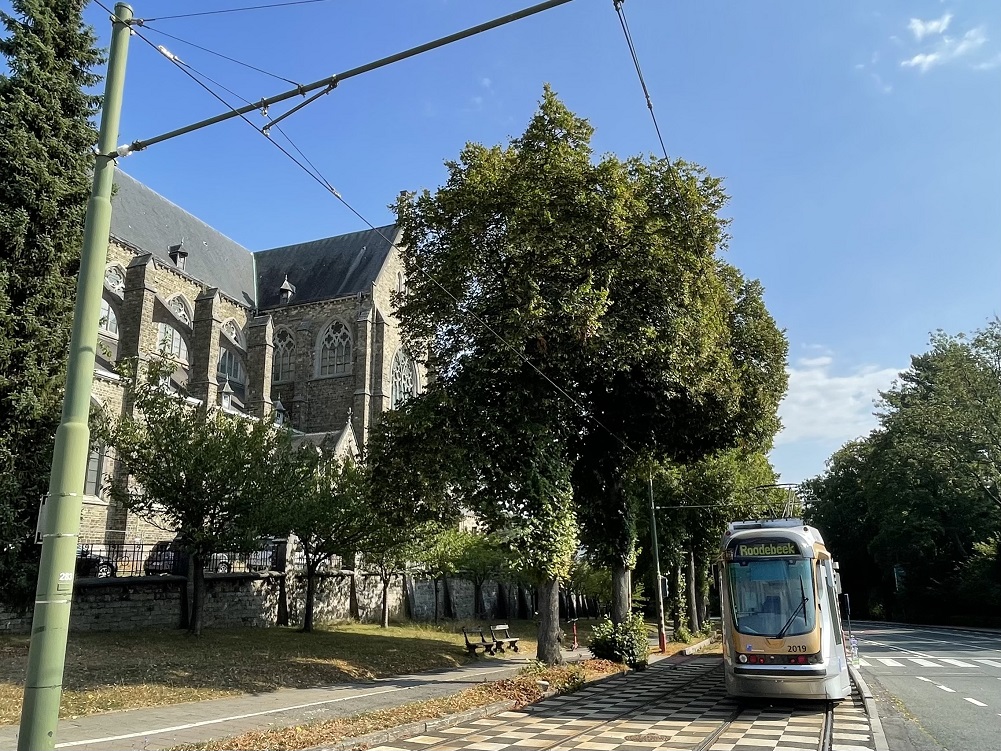 The tram then shoots up the hill and passes the massive, indeed disproportionate, St Hubert parish church (Delleur) halfway up on the right. Built between 1917 and 1933, it is defiantly unmodernist Victorian gothic – complete with buttresses. At the top of the hill, the tram effectively goes through an elegant business park. Check out the glorious, ring-shaped Glaverbel building (Boitsfort Gare/Bosvoorde Station) on your right. Despite ferocious competition, this is one of the finest Brussels buildings of any era - a tone poem in stone and glass.
The revived racetrack
Just before the tram veers off into suburban Boondael/Boondaal on the left is the old Boitsfort racetrack (Hippodrome Boitsfort/Renbaan Bosvoorde). Abandoned in 1987 as too small, it rotted for several years. Then, as if by magic, the track became a walk, the inside of the track a nine-hole golf course, and some elegant stables, weighing stations. The grandstands have been, or are being, lovingly restored and put to good use. It has become a major social centre under the sobriquet Drohme.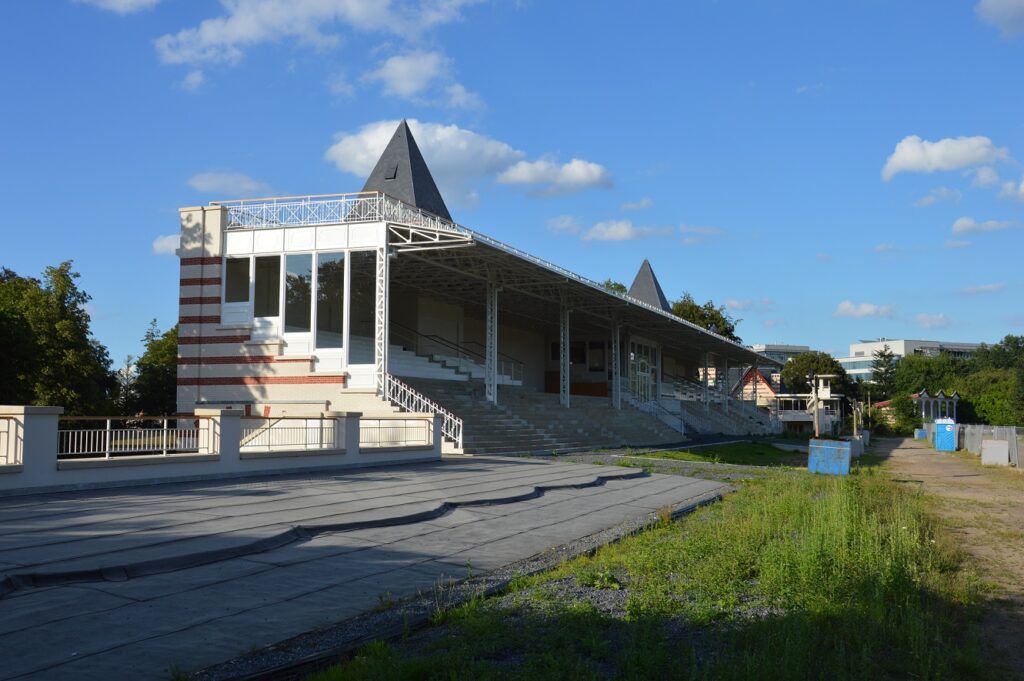 The route then goes along the streets that run more or less parallel to Avenue Franklin Roosevelt. Most travellers will find the next couple of kilometres fairly mundane, unless their thing is 1950s apartment blocks, pharmacies, Turkish chippies and the unlovely backs of university buildings. There are two flashes of real class, however. A very upmarket wine shop, De Conninck, which, despite being stuck in the corner of a concrete block of flats, contrives to look Dickensian: dark woody interior, black exterior, and small windows (Solbosch/Solbos). A visit there had my credit card trembling in anticipation. One assumes the many nearby embassies are a ready market.
And then there is the one Michelin star Le Truffe Noir (Cambre-Etoile/Ter Kameren-Ster). At a corporate beano long ago, I remember the maître d' and owner, resplendent in a striped, double-breasted suit that screamed bespoke, dispensed his pungent fungi with silver-haired reverence and oodles of theatricality. As your tram glides past, just look at the front door, and you'll see what I mean.
At the top Avenue Louise stands the 102m tall IT – ex-ITT – tower (Abbaye/Abdij). Initially controversial, looming as it does over the medieval Abbaye de la Cambre, it occupies a peculiar place in my history of Brussels revelry. Driving up Avenue Louise in the wee small hours long ago, I could hardly help noticing that all the lights on two floors were ablaze; above and below was in darkness. Enquiries of a friend who worked there revealed that Harold Geneen, much-feared boss of ITT and, for better or worse, the inventor of the modern conglomerate, would work on New York time when travelling to receive reports on his European operations. And required all others to do likewise!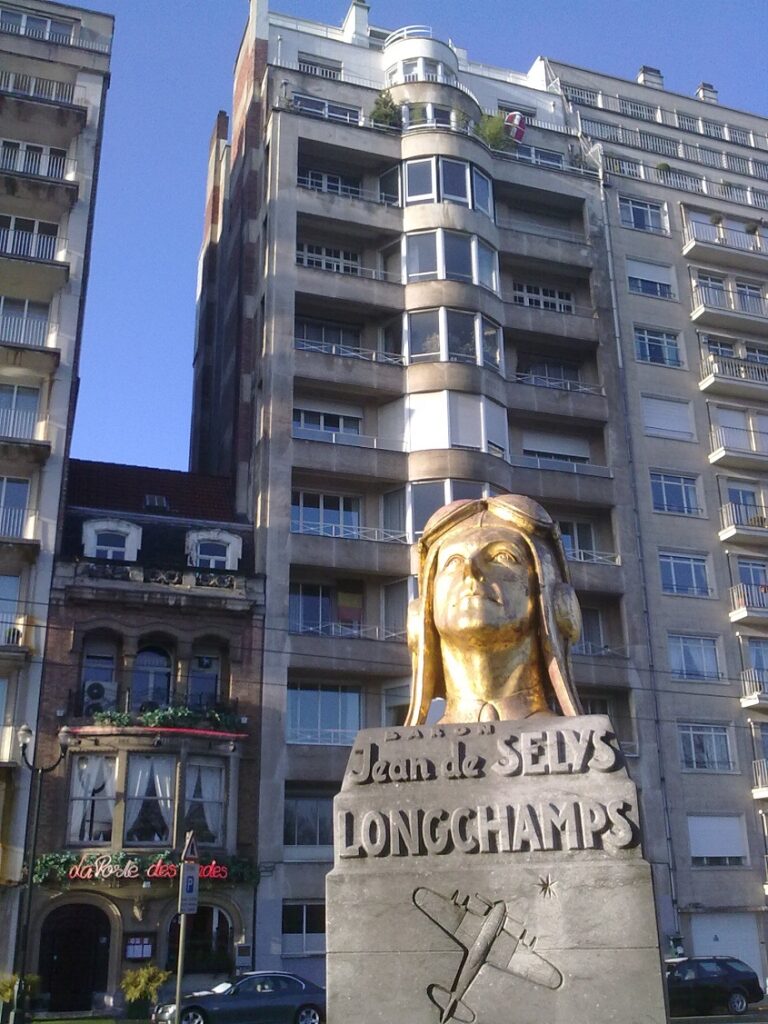 It would be discourteous not to pay homage to the derring-do of brave Belgian pilot Flight Lieutenant Baron Jean de Selys Longchamps who, in defiance of orders, strafed the Brussels Gestapo HQ during WW2. The building still stands opposite the IT tower at 453 Avenue Louise, and is now, once again, an apartment block. Baron Longchamps sought to avenge his father who had been tortured and executed by the Gestapo. He, in his turn, killed up to 30 of the enemy, many of whom foolishly went to the windows to see what was going on. Incredibly he made it back to England to tell the tale. He was both demoted and decorated for his temerity. Sadly, he died later in the war. A bust in his honour is on the traffic island between the two buildings.
Tram 8 has a few more stops to go before reaching its terminus at Place Louise. But at the top of Avenue Louise, having had the tracks largely to itself, it has now been joined by the Schaerbeek-bound Tram 94. Which is a whole other story.