The Brussels Jazz Weekend is back for a third edition on the weekend of 24 - 26 May. The biggest jazz festival in Europe, this free event is all about discovery, attracting over 300,000 jazz lovers. Visitors can stroll through the Belgian capital and simply pop in spontaneously to a concert in one of the many participating bars and restaurants.
The organisers have announced that over 100 concerts are scheduled for this edition, including the set up of six outdoor stages on main squares, indoor performances in bars, restaurants and clubs and marching brass bands.
French-Belgian jazz singer Viktor Lazlo will be curating many of the shows on the main stage on the Grand Place and also perform there herself. Lazlo became famous in the eighties and still makes jazz accessible to new audiences. Headlining on Friday 24 May, she will pay a special tribute to three female jazz legends: Ella Fitzgerald, Sarah Vaughan and Billie Holiday.
Each of the six outdoor venues of Brussels Jazz Weekend 2019 has it's own unique style and host. For example, Volta's trendy and new discoveries take over Place De La Chapelle, while La Ferme du Biéreau from Louvain-La-Neuve turns Luxembourg Square into the center of Electronic Jazz.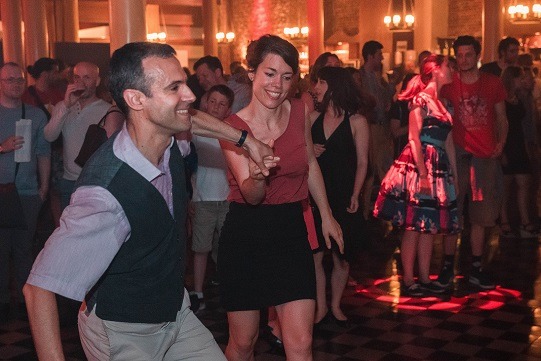 Brussels jazz weekend has grown to become the biggest jazz festival in Europe, attracting over 300,000 visitors. © Kumi KH
The Brussels Swing Dance Club will be entertaining swing fans at Place du Nouveau Marché aux Grains. Jazz Center Flanders provides traditional jazz from Chicago, New-Orleans and beyond on Place Sainte-Catherine.
Musicians from the Brussels conservatories occupy their own stage at the Park of Brussels. And finally Muziekpublique and MetX bring their favourite world music to Muziekpublique and Marni Theatre.
For the complete programme visit: www.brusselsjazzweekend.be
The Brussels Times