Yesterday the crowds were again out in force to protest the measures in place to control the coronavirus pandemic. These demonstrations have become a frequent occurrence in Brussels and this was the fifth to descend into violence as some attendees ignored the organisers' calls for calm, preferring to express their rancour by smashing buildings and targeting police.
The ranks were filled not only by Belgians, but also citizens of neighbouring countries. The official headcount was around 50,000 although as ever, the figure was probably downplayed by authorities. Whatever the case, the clamour of discontent resounded strongly in the city's European quarter as organisers decried what they call anti-democratic and disproportional Covid measures.
The continent is coming to terms with a more contagious but less potent virus variant but nations seem divided about how to proceed: accept that Omicron cannot be contained and hope that the vaccination programmes will keep healthcare systems from being overwhelmed? Or clamp down with stricter measures and even mandatory vaccinations? Neither option is very appealing, which could explain Belgium's conservative position to keep things more or less as they are and cross fingers that things will get better soon.
Pandemic fatigue is probably something we are all feeling and, when organised sensibly with a clear message, previous manifestations of public dissatisfaction have successfully brought change. Most recently, this was the case when Belgium reversed the apparently unfair treatment of the culture sector.
But it seems that a minority of anti-establishment fringe groups see the protests as an opportunity to indulge in wanton vandalism and aggression that does nothing to help their cause. As the health situation evolves, so will the strategies to manage it. It may even be that change for the better could come sooner than we think.
Did you see the protests? Let @Orlando_tbt know.
BUT WAIT, one last thing: Want news from The Brussels Times in your inbox every morning? Sign up for The Recap, a free daily newsletter containing all the top stories from the day before. Perfect with your morning coffee.
Belgium in Brief is a free daily roundup of the top stories to get you through your lunch break conversations. To receive it straight to your inbox every day, sign up below:
It is now possible to go online and request a code for a free PCR test after a positive self-test for the coronavirus, Health Minister Frank Vandenbroucke said on Sunday. Read more.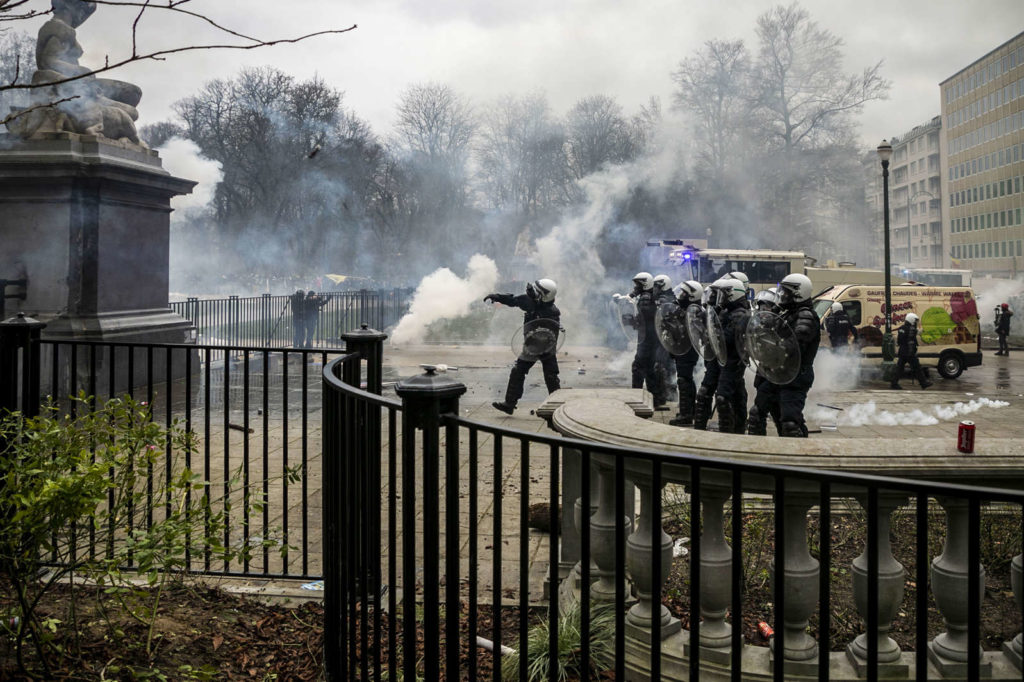 Some 240 people were arrested at the riots that broke out at Sunday's European Manifestation for Democracy demonstration against coronavirus measures, which took place in Brussels. Read more.
Representatives of the US government have begun discussions with Qatari officials with a view to supplying Europe with liquid natural gas from the Middle Eastern country should tensions between Russia and Ukraine lead to a gas shortage, Bloomberg reported on Sunday. Read more.
The 2022 edition of the Carnival at Binche has been cancelled following a decision from the municipal authorities of Binche and the leaders of the Association for the Defence of Folklore (ADF). Read more.
Uber drivers caused traffic disruptions during the Monday morning rush hour by forming a vehicle procession and driving to the offices of Brussels Minister President Rudi Vervoort, where they protested their lack of ability to operate freely in the Belgian capital. Read more.
A daily average of over 44,000 coronavirus cases have been recorded in the previous days, while the number of Covid-19 patients in hospitals has risen above 3,000. Read more.
The landscape of the Doode Beemde is quite different from anywhere else in Belgium. Read more.