While this summer's warm temperatures mean dry lawns and sunburns for most people living in Belgium, they are also seeing an increasing number of boats leaving the Libyan coast to make their way to Europe via the world's deadliest sea migration route in the Mediterranean.
As the EU continues to neglect rescue operations in these sea migration routes, civilian organisations are taking it upon themselves to save the lives of hundreds of people crammed into boats embarking on a journey for a better life.
However, their resources to continue this work are running out, Juan Matías Gil of Médecins Sans Frontières (MSF) Search and Rescue who works on MSF's ship, Geo Barents, told @LaurenWalkerH of The Brussels Times last week.
Since 27 June, Gil was part of three missions that rescued a total of 1,045 people from boats in distress. "Our ship can normally carry 300 people, but there are now 500 adults, mostly men, and 159 children on board, including 129 unaccompanied minors." On board were also five babies. The youngest was 24 days old.
Rescue organisations follow the principles of maritime law and request coordination for their operations, but the Libyan maritime authorities almost never respond, said Gil.
And when they do respond, they tend to send survivors back to Libya, even though the United Nations says the country cannot be considered a safe place as many migrants are kept in detention centres where they systematically face abuse.
"Most people we have saved say they would rather die at sea than go back to Libya," Gil said.
Belgium in Brief is a free daily roundup of the top stories to get you through your lunch break conversations. To receive it straight to your inbox every day, sign up below:
While Belgium has been experiencing warm weather and a very dry spell for weeks now, it will face its toughest one in the coming days, as it is starting what is expected to be the hottest week so far this year. Read more.
[caption id="" align="alignnone" width="1024"]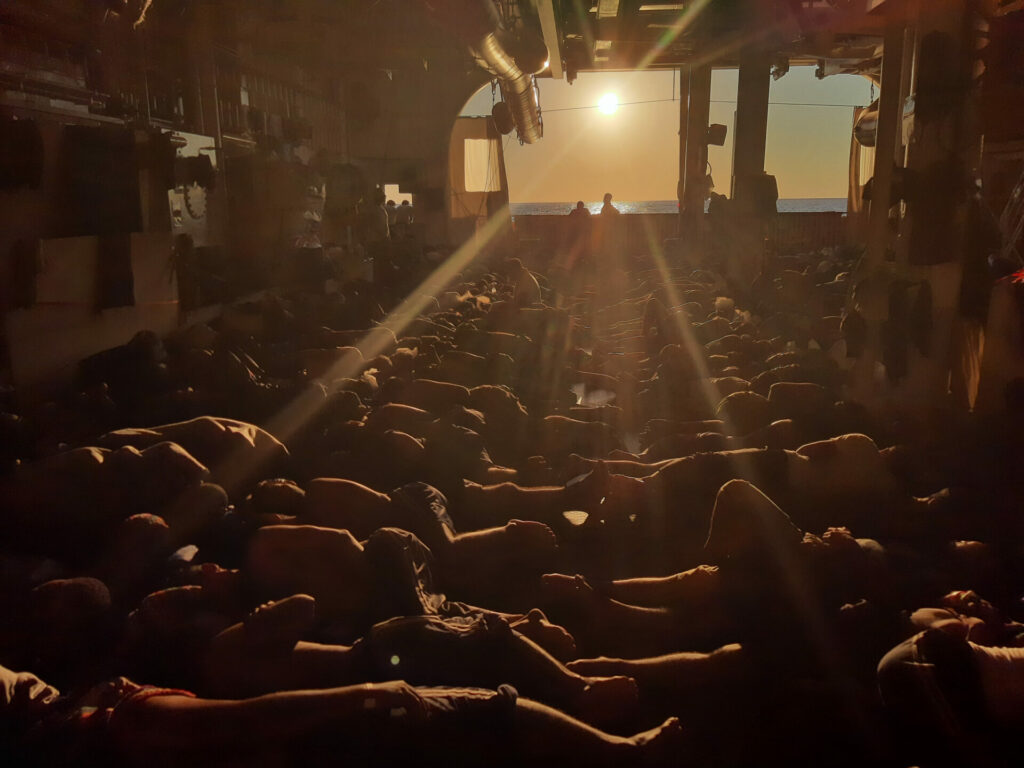 Credit: Rahul Dhankani/MSF[/caption]
The lack of state-run rescue operations means civilian organisations are currently saving the lives of hundreds of people who leave the Libyan coast on a journey across the world's deadliest sea migration route in the Mediterranean, but their resources to continue are running out. Read more.
Since 2020, motorists have been obligated by law to create an emergency lane when there is a traffic jam on road with at least two lanes, however, in practice, this is still not the norm for many people. Read more.
Doctors in Belgium are being urged to stop prescribing the drug Ozempic – which regulates diabetes patients' blood sugar levels – to people without the disease, as there is an imminent shortage as a result of people using it to lose weight. Read more.
After a period of very warm weather, it is a relief when the temperature outside drops. However, the heat remains in our homes, soaked into walls and circulated in trapped warm air. How do you get your home fresh after such hot days? Here are five practical tips.
Brussels has recently hosted a number of celebrities. After Mick Jagger of the Rolling Stones visited, American socialite and DJ Paris Hilton has now been seen in the capital. Read more.
Several adventurous hikes begin at a viewpoint on the River Semois near the village of Rochehaut. Read more.