The deportation of a Moroccan national accused of spreading hate propaganda and being a "threat to Belgian society" is being blocked by the Council for Immigration Disputes.
Analysis from OCAD (the Belgian intelligence body) and State Security describe Abdallah Ouahbour from Maaseik as a "hate propagandist" with serious threat level, reports De Standaard.
But the council said those reports 'do not form a solid basis' to deport someone from the country and that the accusations are 'too general' and 'too vague.'
Previous terrorism convictions shouldn't be taken into account, says council
It thinks that the State Security should make its statements more concrete, for instance by quoting what was actually said in alleged hate speech, and criticised the fact that the analyses were made in connection with previous convictions for terrorism, which it said should not be taken into account.
State Secretary for Asylum and Migration Sammy Mahdi (CD&V), who has been cracking down on radical and anti-Semitic preachers in Belgium, told HLN that the charges against Ouahbour constitute "no small figure."
"My struggle just continues," Mahdi said in regards to the ruling of the Council for Immgiration Disputes. "I do not accept that there are radical figures on our territory that threaten society."
Mahdi geeft niet op @brinckie. We zullen een nieuwe beslissing nemen om rechter duidelijk te maken dat elementen in dossier van lid terroristische organisatie niet "te licht" zijn.

Dergelijke radicalen hebben hier niets te zoeken. https://t.co/Imm6nQMXaH

— Sammy Mahdi (@SammyMahdi) January 27, 2022
Mahdi said that the judges making such decisions regarding deportation aren't given full access to intelligence dossiers that detail the extent of allegations.
"[I will] not give up," he tweeted. "Such radicals have no business here. Together with the judiciary, we need to look at how judges can better access the full dossier of security services. The verdict is pretty surreal, but it will take more than that to discourage me from expelling dangerous radicals from this country."
Jail time served for terrorism
Ouahbour has strong ties to Islamic radicalism: as a member of the Maaseik Group, of which the Immigration Department says Ouahbour is 'a leading figure,' he and others (including Khalid Bouloudo) were convicted of terrorism.
The group was considered a logistical cell of the GICM, a terrorist organisation responsible for the attacks in Casablanca and Madrid which together killed 250 people.
Related News
Ouahbour was sentenced to seven years in prison and then released in 2010.
Conviction reversed because of tainted Moroccan intel
A ruling by the European Court of Justice reversed the conviction that same year, saying that it was partly based on information from Morocco that may have been obtained after torture.
A ten-year legal process followed, which ended in 2020 when a judge declared the case 'inadmissible' and spoke of an 'irreparable breach of the right to a fair trial'.
The government compensated Ouahbour for 'unlawful detention'.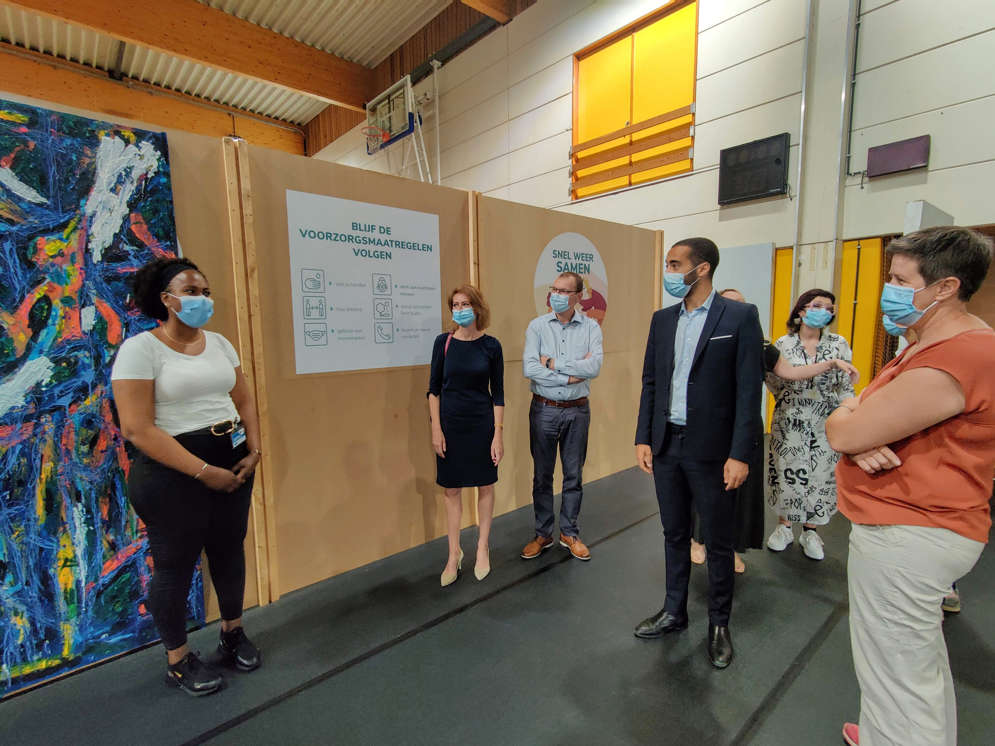 "The years in prison did not change his mind. He never distanced himself from his extremist ideology," the immigration department says, explaining that Ouahbour maintained contacts with Salafist networks at home and abroad, and that his sermons in the mosque of Geleen alarmed Dutch authorities.
OCAD said he displayed a "negative attitude towards Western society and the Belgian state system," and organised private retreats for followers in the Ardennes. It was also suspected that he recruited Syrian fighters. In a recent report, State Security suspected him of supporting IS both morally and financially.
Activist judgements
Belgian authorities involved in the deportation of alleged security threats have long had difficult relations with the courts that override their choices, accusing judges of behaving as activists for causes rather than objectively reviewing cases.
Such judges are not given access to classified security files, a gap in the system that Mahdi says he is trying to address.
.@SammyMahdi: "De strijd om radicalen het land uit te zetten, gaat gewoon verder" #deochtend https://t.co/2T4FVFP1MX

— Radio 1 (@radio1be) January 27, 2022
"The fight to deport radicals continues," Mahdi told Radio 1.
Ouahbour opposed his deportation, saying he has been suffering from post-traumatic stress syndrome as a result of his years in prison. He also fears that a return to his home country of Morocco, which asked for his extradition 15 years ago without success, would result in arrest.
The Immigration Department is investigating lodging an appeal to the decision not to deport him, or preparing a new expulsion order.