With temperatures remaining consistently high for months and set to rise again in the coming days, summer this year has been a marked change from last year – Belgium's wettest since records began almost 200 years ago.
In fact, we've swung from one extreme to the other, with this July declared the driest month since 1885 as barely 5mm of rain fell on Belgian soil. Little wonder that the countryside is parched with vegetation now a crispy brown. This loss of lustre (or "autumn mode") is a natural defence to conserve precious water – think of it as a plant equivalent of hypothermia.
Yet it's happening sooner and sooner, damaging ecosystems and preventing plants from activating what botanists describe as their "air-conditioning function", whereby foliage effectively sweats to keep the surrounding area cooler. More time in "autumn mode" means less time growing stronger and developing resilience to future periods of drought.
This is particularly visible on lawns, given the delicate nature of grass. Normally thought of as a domestic decoration rather than a fragile ecosystem that can balance ambient temperatures, people go to war with their turf in the name of aesthetics. Little regard is paid to its health or that of other vegetation in the vicinity. And then we complain when it goes brown.
Cutting lawns too short (even worse when the cut grass is collected rather than left to lie) or removing weeds (often with chemical sprays) are more acts of ecological brutality than care: for a short-lived visual satisfaction we make life hard for the land directly on our doorstep.
Belgians obsess about the state of their gardens; the countryside is full of manicured lawns and angular clipped hedges – emblems of the desire to impose a manmade vision of beauty on what is inherently abundant and free. Yet the once green fingers of amateur gardeners might actually be the touch of death.
Are you kind to your lawn? Let @Orlando_tbt know.
Belgium in Brief is a free daily roundup of the top stories to get you through your lunch break conversations. To receive it straight to your inbox every day, sign up below:
A walk through any residential area in Flanders is evidence of this summer's drought, with the grass in most gardens turning brown and sooner than in any previous year. The grass now isn't greener on any side as the vicious cycle of climate warming becomes visible. Read more.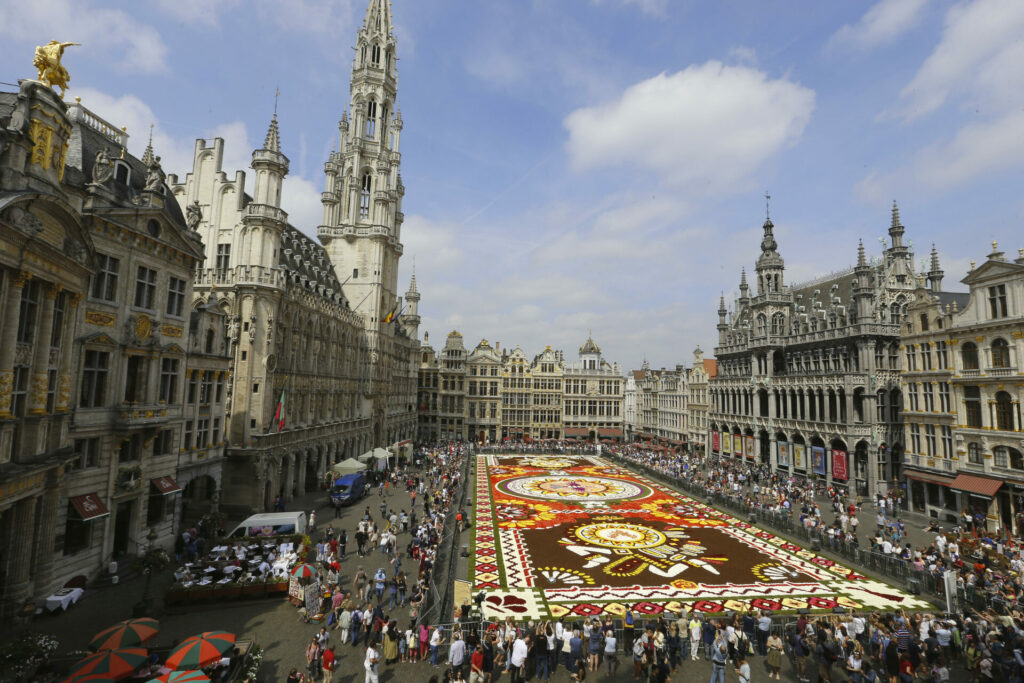 'Brussels in Bloom,' a floral trail through the city centre, is currently open to the public until 15 August. Read more.
In July, solar panels in Belgium generated a record amount of electricity. According to data from grid manager Elia, the share of solar energy in the electricity mix continues to soar in 2022. Read more.
The number of Covid-19 infections and hospitalisations as a result of the virus recorded every day in Belgium continues to decline after weeks of being on the up again. Yet the number of deaths following an infection remains relatively high. Read more.
With barely five millimetres of rain, July was the driest month in Belgium since 1885, announced on Monday David Dehenauw, the Head of Forecasting at the Royal Meteorological Institute (RMI). Read more.
Rising geopolitical tensions are driving some governments to spend billions on nuclear weapons, which is resulting in humanity findings itself on the brink of nuclear annihilation, warned the UN Secretary-General Antonio Guterres on Monday. Read more.
When the wind is right, you can ride a sand yacht along a 30-kilometre stretch of wide sandy beach between De Panne and Dunkirk. Read more.