Overnight between 6 to 7 October, the A12 will be closed in both directions of Brussels and Antwerp between 21:00 and 06:00.
The Roads and Traffic Agency (AWV) is working on the traffic lights on the A12 at the intersection of Veurtstraat and Breendonkstraat, in Puurs-Sint-Amands. A new traffic lighting scheme will come into effect on 15 October.
There are alternative routes shared by AWV on their website.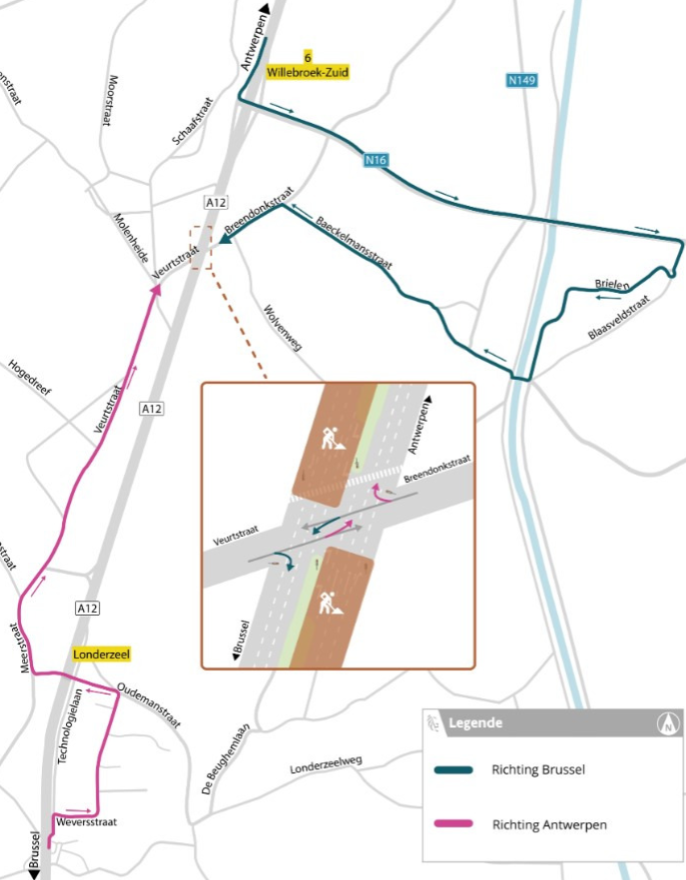 Crossing the A12 via the Veurtstraat and Breendonkstraat will still be possible.
Traffic towards Antwerp leaves the A12 in Londerzeel via the Technologielaan and the Weversstraat.
Traffic towards Brussels leaves the A12 via the Willebroek-Zuid complex and Koning Boudewijnlaan (N16).
Increasing the safety of the intersection
The new regulation increases road safety at the intersection in various ways, explained AWV on its website. "Firstly, a so-called ' dilemma zone monitoring ' is introduced in the lighting control to reduce the number of rear-end collisions." A dilemma zone is an area where drivers decide whether to drive through the orange or stop, elaborated the traffic agency.
Extra detection will be added in that zone so that the light stays green for a little longer if a vehicle is in the dilemma zone, before changing to orange.
In addition, a flashing light will warn traffic turning onto the A12 from Veurtstraat or Breendonkstraat that cyclists and pedestrians can cross the A12.
"We also adjust the lights in such a way that cyclists and pedestrians have green for the same amount of time," said the AWV. Currently, cyclists' green light has a longer duration than pedestrians', which can be confusing for drivers.
On 15 October, the central reservation at the intersection will be closed and traffic will not be able to cross the A12.