Keep calm and carry online: next week Stonemanor – The British Store customers face the prospect losing in-store shopping for the second time in a year.
In February, The British Store temporarily closed because of Brexit-related supply delays. Now, an ongoing problem with product labels will likely see the store having to close its two Brussels-area locations by January 20, according to social media posts quickly shared among the Belgian expat community.
The British Store's niche market goods are the sort of British food items not easily found on the continent and are caught in the middle of different interpretations of the European Union and Belgian laws regulating product labelling.
"In the eyes of Belgian law, the labels have to be in the language of the local commune," Ryan Pearce, shop manager, told The Brussels Times. "But E.U. law says labels need to be in the language of the consumer."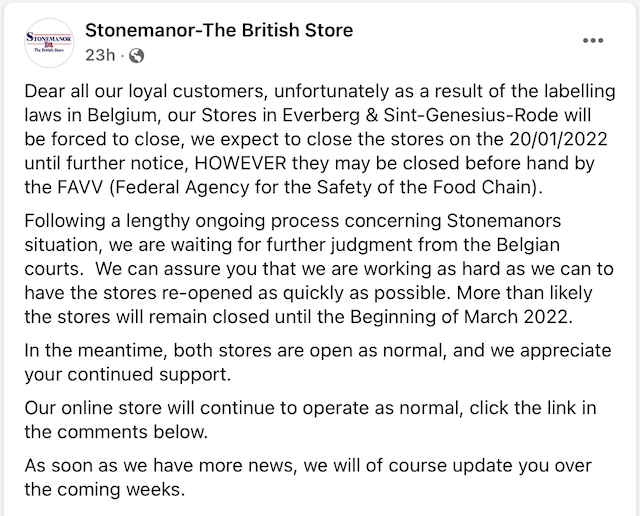 The stores are expected to remain closed until a solution can be reached with the Belgian Federal Agency for the Safety of the Food Chain (FAVV). Store managers hope they'll be able to reopen at the beginning of March. The British Store's separate online retail operation, britishstoreonline.com, is not affected by the FAVV action causing the closure.
British Store but must be in Flemish
The British Store first opened in 1982. Since the early 1990s, it has had issues with product labelling but next week's closure relates to a more recent court hearing. The store's lawyers have offered Belgian authorities ways to comply with local law, but so far, Pearce is not aware of any response from FAVV.
When contacted by The Brussels Times, FAVV officials insisted that Belgian law is clear.
"The language of mandatory food information on the label must at least correspond to the language of the language area where the product is sold, in other words: Dutch in Flanders. The products sold at Stonemanor branches are labelled only in English. So next to English the mandatory food information needs also to be in Dutch because the two shops are situated in Flanders," Liesbeth Van de Voorde, a FAVV spokesperson, told The Brussels Times.
Related News
"This decision was not taken lightly; the company was given plenty of time to adjust the labelling. Stonemanor has been given several opportunities in recent years to solve the problem but no action was ever taken to change the labelling, which led to the situation as it is today," Van de Voorde said in an email.
Thanks to the online store, it is still possible for customers to get the products normally sold in the store. But Pearce highlighted the store's social element that will be lost. The Everberg store caters to between 600 and 1,200 customers per week, depending on the season, Pearce said. The Sint Genesius-Rode location averages about a third of the Everberg traffic.
"Our customer base is very multinational," Pearce said. "When they come here, they're expecting the goods to be of British origin."