Brussels offers huge subsidies to communes looking to map out their housing vacancies in one of the tightest European markets for both renters and home buyers alike, but while many happily took the money, only three actually made a vacancy register as promised.
Brussels-City, Molenbeek and Forest are the only Brussels communes to have set up a register, Bruzz reports.
Each year, every Brussels commune can apply for regional subsidies to put towards mapping out the vacancy rate in their territory. The amount is around €25,000 per commune, which comes to a total of around €200,000 for the region.
A table obtained by the Dutch-language news outlet shows that many communes have gotten the subsidy nearly every year since 2016, but still never actually made a vacancy register.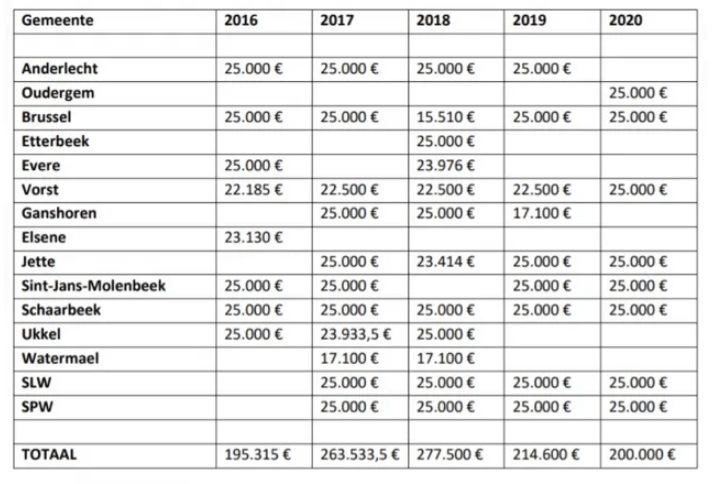 Anderlecht has collected €100,000 in subsidies for mapping vacancies, and has no register. The same applies to Jette, which collected slightly less than €100,000.
Schaarbeek has taken the subsidy every year since 2016 for a total of €125,000, and has not established a vacancy register.
"As so often in Brussels, the principle 'everyone has jurisdiction, no one is responsible' applies here again," said Brussels MP Mathias Vanden Borre (N-VA).
"I call upon State Secretary [Nawal] Ben Hamou to stop counting on the municipalities to carry out its housing policy, because this simply does not work."
Related News
Last year, researchers from the VUB and ULB carried out the first scientific study to provide a reliable estimate of residential vacancy in Brussels, arriving at a figure of 10,000 buildings containing between 17,000 and 27,000 dwellings.
The vacancies are a huge issue in a city that struggles to provide affordable housing to its residents, and where home ownership has become all but impossible for anyone but the very highest wage earners.
Some homes are even deliberately kept vacant so as to be rented out by wealthy landlords to tourists on platforms like Airbnb, which critics say upends housing markets and displaces locals.