Yesterday's brief considered efforts by Brussels City to steer cars away from the centre of town and rejuvenate the city as a capital to explore by foot – efforts that apparently bearing fruit in spite of vocal opposition from a few more car-dependent locals.
With traders going into full festive mode, now isn't a bad time to tread the pavements. Brussels authorities make a conscious effort to position the city on the global stage with attractions that aspire to world-renowned urban gems – be it the Ferris wheel that evokes the London eye (despite clearly being a far smaller affair), the muddy canal that will never compare to the Seine (no matter how many bridges they decorate it with), or the "Small Manhattan" Northern Quarter (I am certain that no one finds themself humming Empire State of Mind as they wander the drab boulevards).
Endearing as these attempts might be, I can't help feeling they are symptomatic of an inferiority complex among the local administrators, so eager to elevate the city to international heights that they overlook the street-level charm of Brussels – a vista down narrow Marolles alleyways to the scaffold-clad Palais de Justice or an unassuming frituur catering to a queue lining wet cobbles.
It's a city of grandeur and grime pushed against each other with a delightful lack of pretence. There's something for everyone (though perhaps a bit less if cruising the centre in an SUV is your thing) and the idea that we must emulate bigger players in the world metropole league is fated to fall short.
But Brussels does now have an accolade that amounts to more than another audacious claim by city ambassadors after the Christmas market was named best in the world by a popular travel site that we are assured is not in the pocket of Brussels City. Agreed, it still seems a touch early to be decking the halls and subjecting ourselves to the dreaded Christmas playlist, but "Winter Wonders" opens this weekend so feel free to dip your toe in. Or ramble elsewhere, there's plenty to see.
Where do you like to hang on Brussels weekends? Let @Orlando_tbt know.
Belgium in Brief is a free daily roundup of the top stories to get you through your coffee break conversations. To receive it straight to your inbox every day, sign up below:
This weekend marks the start of Brussels' official Christmas festivities, there are plenty of other things going on in the Belgian capital in the coming days, from exploring cityscapes through dance to the city's iconic jazz festival. Read more.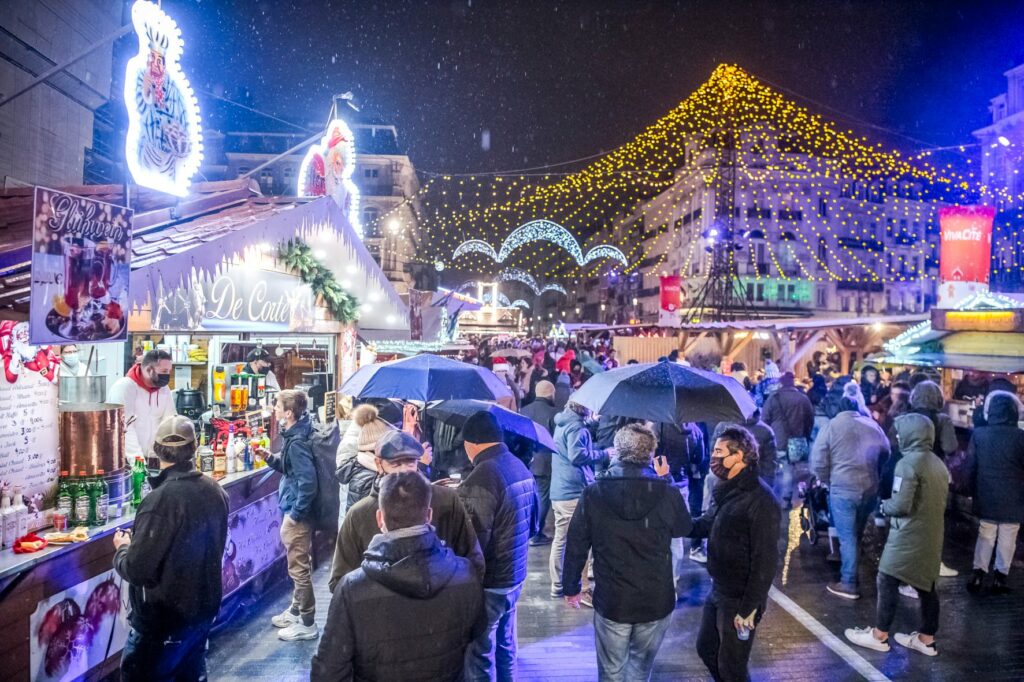 Winter Wonders ('Plaisir d'Hiver' in French, 'Winterpret' in Dutch) has been named the best Christmas market in the world by popular travel website Big 7 Travel, beating the famed festive attractions in Berlin and Dresden. Read more.
Within the European Union, airlines will be able to install the latest 5G technology on their aircraft, allowing passengers to use their smartphones and other connected devices just as they do on the ground. Read more.
Twitter is closing its Brussels office entirely, raising serious concerns over the social media company's ability to comply with the EU's strict new digital guidelines, The Financial Times has reported. Read more.
Belgian national railway operator SNCB is looking to expand its current discount formula for families to include those of all sizes by 2024, the company's spokesperson has said. Read more.
Le Chou is Europe's most dedicated source of news. Catch up weekly on the biggest headlines with our roundup, all with an intentionally inaccurate and satirical streak. Follow live updates on Twitter or Mastodon and watch Le Chou TV on Instagram. Read more.
An inexplicable stone staircase leading nowhere stands behind the car park at the Signal de Botrange. It was built in 1923 on the highest spot in Belgium, in the middle of the cold and bleak Hautes Fagnes moors. Read more.