Between the first quarters of 2021 and 2022, there was an extremely sharp increase in employment across the European Union. However, some jobs are more popular, or accessible, than others.
Data from Eurostat, the EU's statistics agency, reveals that food preparation assistants are now in increasingly high demand. There was a 25% increase in working-age people finding jobs in the field, growing to a total of around 1.4 million employed Europeans.
The second fastest growing field is personal service workers. This relates to people working in positions such as travel attendants, conductors, guides, waiters, bartenders, hairdressers, beauticians, housekeepers and more. In the space of a year, there was a 9.6% increase in people finding jobs in the field. At the start of 2021, some 7.6 million Europeans worked in these fields.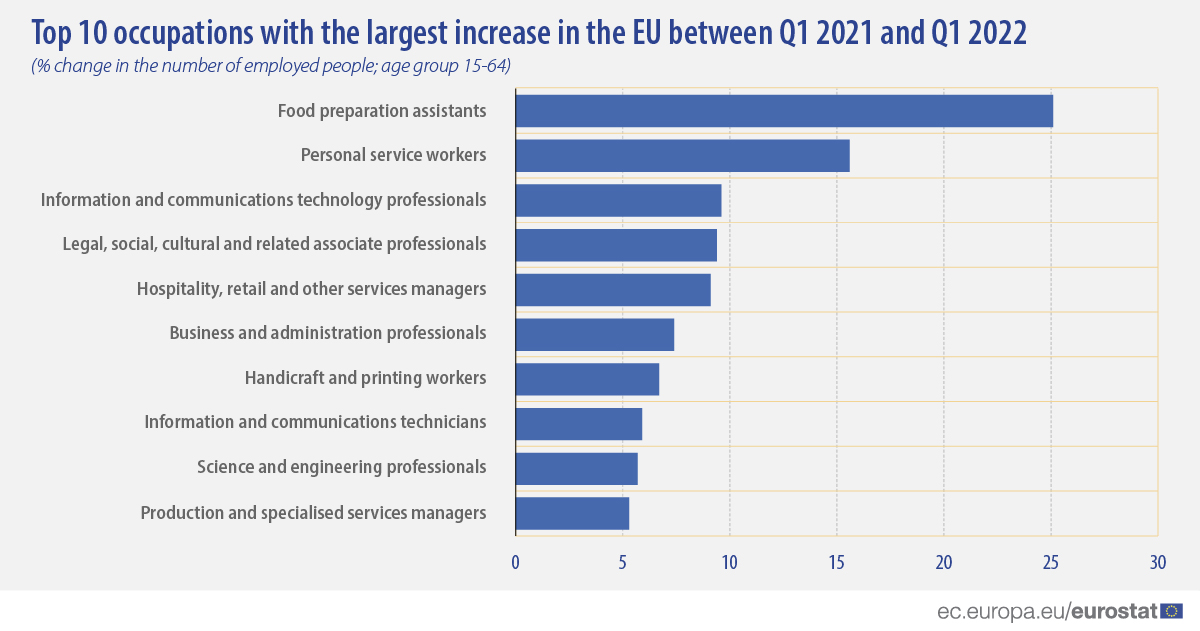 Even highly-skilled employment is swelling. The IT sector, which includes software and applications developers, analysts, database and network professionals, and others, saw an increase of around 400,000 professionals in the space of a year. As of this year, over 4.5 million Europeans now work in IT.
Other large increases were recorded in the legal, social, cultural, and association professional fields (+9.4%), hospitality, retail, and service managers (+9.1%), business and administration professionals (+7.4%), handicraft and printing workers (+6.7%), information and communications technicians (5.9%), science and engineering professionals (+5.7%), and production and specialised services managers (+5.3%).
Related News
Only one industry category saw a decrease in the rate of employment growth. The agricultural, forestry, and fishery sector hired 12.6% less staff in 2021-2022. The sector have been hit hard by the high price of fuel and reduced fishing catches.
Employers in Belgium are urgently looking for workers in a growing number of fields.
Regional Brussels employment administration Actiris recently announced that there are over 100 positions which employers are struggling to recruit for. The Brussels administration suggests that Belgian students consider training that makes them suitable for these positions, as students are likely to be hired quickly, and usually for an attractive salary.