For a few weeks last spring, Belgium was mesmerized by the threat of would-be Rambo Jürgen Conings lurking in the forest, waiting to pounce on virologists and politicians. While Conings failed in his plans to blow the lid on an assumed oppressive state apparatus, he opened up a Pandora's box of rightwing extremism, writes Justin Stares
Last summer, news headlines in Belgium were dominated by the coronavirus and floods, and the manhunt for a renegade soldier: Jürgen Conings.
For a month, Conings was Belgium's most wanted man. A fugitive far-right soldier, Covid-sceptic and survivalist, the 46-year-old had issued death threats to politicians and the country's top virologist before disappearing into the wild. On June 20, his rotting corpse was eventually found in the Dilserbos forest in the northeast of the county, just five miles from the border with the Netherlands.
Dubbed 'the Belgian Rambo', Conings, a specialist marksman, had not been seen since May 17 after taking four anti-tank missile launchers, a submachine gun and a bulletproof vest from his barracks. His disappearance sparked a massive manhunt, involving elite soldiers from both Germany and the Netherlands.
It also highlighted the presence of far-right sympathisers, both in the army and across Flanders - and as the dust settles on the disturbing incident, Belgium is still trying to understand whether Conings represented a virulent streak of extremism.
Support from soldiers
Many Belgians saw Conings as a weapons freak who had gone postal, went AWOL, or had left the reservation. But within the armed forces, support for him was so strong that top brass publicly berated the lower ranks. "I regret that some of our staff and of the population in general see Jürgen Conings as a resistance fighter or even a hero," said Admiral Michel Hofman, chief of staff of Belgium's armed forces. "He certainly is not."
He was initially described as "potentially lethal" due to his experience in Afghanistan, Iraq, the Balkans and Lebanon. However, it was later pointed out that he was not an experienced sniper but rather a simple sharpshooter, meaning he was the best in his unit at hitting targets in practice. While he had been awarded 14 medals, not one of them was for bravery, according to a leaked report from the army's human resources department: part of a concerted effort to counter popular support which, online at least, had taken on worrying proportions.
A Conings group on Facebook claiming to lobby for a fair trial grew to more than 40,000 members before it was deleted. Far-right Flemish politicians were warned that their social media accounts would be blocked if they did not desist with their messages of support.
Red flags missed
Aside from the public relations nightmare, other problems surfaced within the army. Intelligence services knew Conings had dangerously extreme views but had failed to even revoke his access to heavy weapons, including rocket launchers and FN P90 compact machine guns capable of firing rounds that can pierce bullet-proof vests.
Conings took one of each when he fled, claiming that he would "join the resistance", consisting of those who refused to be "led to the slaughter like lambs".
The corporal had flirted with neo-Nazis and immigrant haters but was considered to be close to passing from words to action. In one chatroom, he had asked for the address of Marc Van Ranst, Belgium's best-known virologist.
Spooks wanted Conings shadowed constantly, and he was flagged as a potential terrorist. However, when a meeting was called to decide on possible restrictions, the intelligence services were oddly not represented. Due to scarce resources, priority was instead given to shadowing a different soldier on the Kleine-Brogel airforce base, where the US stores nuclear weapons.
Extremism at home
But rather than blowing the lid on a state apparatus that was oppressing its people via Covid restrictions, as seems to have been his plan, Conings instead opened up a Pandora's box of far-right extremism.
The presence of potential terrorists in the army of a NATO member was understandably an image that ministers wanted cleaned up. During the manhunt, it seemed at one point that the government wanted Conings dead at any cost. Those tracking him down had been given a 'licence to kill', Belgian press reported repeatedly.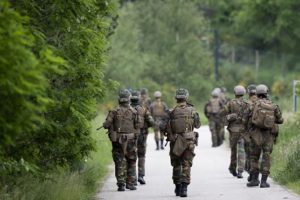 These stories made polarisation worse. Sympathisers, who held (poorly attended) marches, claimed Conings was a 'war hero' who had committed no crime – although this was probably untrue, given his threats and the absconding with weapons.
In the days after Conings disappeared, Frédéric Van Leeuw, Belgium's public prosecutor, called a press conference to point out that the state was seeking a peaceful outcome to the crisis, and that there was no such thing as a licence to kill. Conings was urged to contact "someone he trusted" as part of what the state hoped would be negotiations to bring him in.
By this time, it was possibly already too late. Conings had told his girlfriend that he would not be taken alive. His prediction turned out to be correct.
He was found wearing military gear and with a bullet wound to the head. According to Bild, a German magazine that secured a photo of his dead body, he was hardly recognisable due to the advanced state of decomposition. His death, according to the autopsy report, was said to have occurred "one to four weeks" before the corpse was discovered.
Conspiracy theories
Belgium is fertile territory for conspiracy theories. There is no lingua franca, and the mere fact that all events have to be translated from French into Dutch and vice versa already renders putting your finger on reality tricky. Much is lost in translation, and that's before you factor in the 'Magritte effect', which adds a surreal touch to everything that happens here.
Conings' death was no exception. Sympathisers, including his aunt, said they did not believe the official version, that he killed himself. "No-one believes anything they are saying", she said. "He wouldn't commit suicide. He was killed."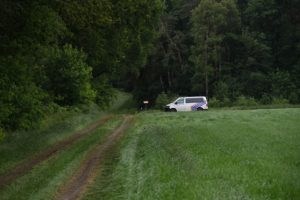 Why had it not been discovered by the hundreds of soldiers and police who had scoured the area? Did the hunter discover the corpse first, or was it the local mayor who said he had smelt what he was sure was a decomposing human while separated from his friends on a mountain bike trip? Rather than investigate further, the mayor sent the GPS coordinates of the smell to the local police.
The conspiracy theories gained such traction that the government eventually put out a plea for the public to ignore them, after which Belgium's state-subsidised media stopped repeating them.
The Flemish question
As attention slowly shifted back to the pandemic, heads began to roll. The head of military intelligence, Philippe Boucké, was forced out amid protests from generals. Many in the corridors of power must have breathed sighs of relief that Conings committed no irretrievable act of terror.
As the weeks pass, his name appears less frequently online. However, the Pandora's box remains open.
It was revealed in August that another two soldiers are under investigation with a view to classifying them as potential terrorists. Around 50 far-right activists are on Belgium's watchlist today: up from around 20 three years ago, though still fewer than the number of potential Islamic State jihadis.
While far-right extremism is by no means a phenomenon unique to Belgium, there is an undertone to Jürgen Coning's story that is largely unspoken: he was from Flanders.
Far-right extremism is a Flemish issue, and the latest polls show that the two Flemish nationalist parties can command the support of half of the region's voters. As Coning's story shows, Belgium's unending identity struggles now overlap with extremism. The question is whether he was an outlier, or whether he reflected deeper sentiments in the country.