As the world's highest-profile transgender politician, Petra De Sutter is used to being in the spotlight. But as Belgium's Deputy Prime Minister, with one of the biggest government portfolios, she is also incredibly busy.
Petra De Sutter knows what it is like to be in the eye of the storm. This year alone, as Belgium's Deputy Prime Minister, she has had to explain why her government is sticking with nuclear energy, even though her Groen party, the Flemish greens, have long been vehemently opposed to it.
As the minister responsible for state-owned enterprises, she has had to field questions about alleged child labour, human trafficking, fraud and forgery at PostNL Belgium. And that's not to mention the ongoing fascination over her personal life and her position as a transgender politician.
And yet she is the picture of calm in her office in Brussels' Finance Tower. It is a mix of approachableness and cool, even-voiced commentary that has made De Sutter stand out among what can be a slew of emotions.
Most media narratives last March suggested her Groen party were humiliated when the government eventually agreed to extend the life of two of Belgium's nuclear power reactors. De Sutter, however, calls the decision "pragmatic" and "reasonable". Countries across Europe are struggling to end their reliance on gas from Russia, and maintaining nuclear energy is an obvious choice, she says.
"Our party does not consider nuclear sustainable or the energy of the future," she says. "But we did not foresee that prices would get this high, that Russia would invade Ukraine, or that we would not be sure if gas will continue to flow into Europe."
Plague or cholera?
Energy is a defining policy for Europe's green parties, some of which were even created to oppose nuclear power. But with gas options now uncertain, and Belgium's solar and wind energy currently insufficient, the power generated by the reactors at Doel and Tihange is expected to be crucial. Still, five of the seven currently operating reactors at the two sites are being shut down by 2025, as originally planned.
De Sutter accepts that Belgium needs to extend the life of these two reactors, which are good for two gigawatts of power. "But we also want a faster transition towards renewables. And the government has invested more than €1 billion to accelerate that," she says, noting that many countries are doing the same thing.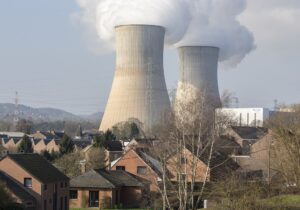 Neighbouring Germany is not, though: it is shutting its three remaining reactors at the end of this year. Could Belgium do the same? "Germany still uses coal and lignite," De Sutter is quick to answer, adding that Berlin does not have a business case to keep its reactors going. "It's all about how economically viable it is to prolong – or not – nuclear plants," she says.
Belgium's own case has yet to be proved: the federal government is in talks with nuclear power manager Engie "to see if it is technically and economically feasible," says De Sutter. "We might have a business case. But if not, it's not going to be a solution. In that case, we might need even more gas in the transition to renewables."
She is still sceptical about non-renewable energy referring to nuclear and gas as a choice between "the plague and cholera." But she recognises that the energy transition will take time. "We don't want either! We want 100% renewable energy. But we're not there yet," she says.
Hospital to parliament
De Sutter says her policies are grounded in a determination to improve health and wellbeing. It's why she got into politics in the first place, eventually leaving her post as the head of the Department of Reproductive Medicine at Ghent University Hospital to become a federal minister.
A gynaecologist and leading researcher in human fertility and embryology, she began warning about endocrine disruptors, the chemicals that harm the hormonal system. Leached into water and soil – or even into food through the packaging – they can disrupt the growth of a foetus, the effects of which can last generations.
"I was shocked that they were not better regulated because they are really harmful," says De Sutter. "But there are huge economic interests at stake. I began to understand that I could be a scientist and publish papers on it, but that some minister had to make a decision on it – and they didn't care too much about the science. That's when I became politically conscious."
She joined the Groen party, volunteering behind the scenes. As she was a regular spokesperson for fertility issues in the media, the party soon asked her to represent it publicly and put her on the election list in 2014.
She was not elected, "but I campaigned, and that was an eye-opening experience," she says, "talking to people on the streets who cannot pay their bills and a host of other issues people are concerned about. Honestly, as a specialised professor at a university, in my ivory tower, I really wasn't aware. I thought, 'What the hell, there is so much to be done, so many problems to be solved.' I felt the need to do more than stay in my speciality."
Groen eventually appointed De Sutter to the Senate. She joined Belgium's delegation to the Council of Europe, chairing the Committee on Rules of Procedure, Immunities and Institutional Affairs.
So taken with European politics, she agreed to head the election list for Groen at the 2019 European Parliament elections. This time she won a seat and was further elected to chair the Committee on the Internal Market and Consumer Protection, the first green party politician to get the job.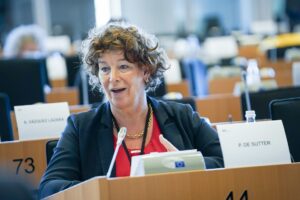 Through it all, she was splitting her time between politics and patients. But when her party called on her to become a minister in 2020, she knew she had to make a choice. She chose politics.
De Sutter is tenured, so she can go back to the university whenever she wants. This, she says, offers her a special kind of freedom in doing her job. "A lot of people in politics are worried about what will happen to them in the next elections. I do this because I like doing it; I don't have to do it."
Transgender identity
De Sutter speaks about her early days of politics as the time when she "came out as a green." She smiles wryly at the double reference, but then politely rebuffs efforts to discuss her gender identity.
However, this is an integral part of her public image, whether she addresses it or not. De Sutter is Belgium's first transgender minister, not to mention Europe's first transgender parliamentarian. While she spoke at length about her transition – now some 20 years ago – when she first became an MEP, she is reluctant to do so now.
"I would rather that it's not an issue and that I don't have to address it," she says matter-of-factly. "I know that people need role models and that they see me as someone who can make change happen and move forward with anti-discrimination rights, for instance. So, I accept that role – but I would rather not."
Although she made an appearance at the Pride parade in Brussels on May 21, "I'm not an activist. If I wanted to, I could give interviews like that every day in the media, at the international level. And that would mean that everything I do gets reduced to just that one aspect of my identity. I always tell people: If you admire me or you hate me, do it because of what I think and what I say and what I do, not because of who I am."
Broken deliveries
So it's back to policy and politics. De Sutter's ministerial post puts her in charge of partially state-owned concerns Bpost and Proximus. She was instrumental in the government's response to the exploitation of labour charges that saw the arrest of nine PostNL Belgium staff in March, including the CEO.
While federal inspectors have clamped down on tax evasion among the package delivery firm's subcontractors, an undercover operation by Belgian media revealed what De Sutter calls "modern slavery" in the form of human trafficking, child labour and forgery.
Because most problems are with PostNL's subcontractors, who actually deliver the packages, PostNL claims it's not responsible for the incident. That's too easy, says De Sutter, who wants to bring all package delivery services onto a level playing field by imposing legislation that would require at least some of the couriers to be staff, covered by a Belgian labour contract. And that would make package delivery services responsible for the labour infringements of its subcontractors.
"People who have no legal status," are working for the subcontractors, she says, "even people who have no driver's license. Can you imagine? These people are in the streets delivering packages, and they have no driver's license. This is because the pressure on these subcontractors is so high and the margins so low. We have been taught that it is normal that this package comes just like that the very next day for free. So the whole model has to change, the whole e-commerce model is not sustainable."
Indeed, De Sutter is convinced that the broader package delivery system is broken. "Consumers never asked for next-day delivery, but the big players – Amazon, Bol.com – use that to attract customers," she says. "It's not a sustainable model, and someone has to pay the price. And that's the environment and that poor guy who is working all night with little in the way of social protection."
Consumers may have to wait a few days for their packages – or pay extra, she says. Or pick them up at a neighbourhood package automat, which are already operating in some Belgian cities. Or delivery services could be forced to use electric vehicles within city centres, a model employed by the Netherlands.
All these potential options have their critics, but De Sutter accepts it is part of her job. "What is my choice as a politician?" she asks, reflecting more broadly on her political mission. "Do you want to raise the standards for everyone? This is what I want to do. We give everyone who works in that sector the same conditions, the same rights. That's my choice. That's an ideological and a political choice."