Books are piled high on a table in Countess Isabelle de Borchgrave's Brussels studio – biographies, collections, textbooks. Contained within them, or sometimes spilling out of them, are hundreds of colourful papers: bookmarks, photographs, notes, drawings, paintings and plans.
The Brussels-born artist is preparing for the launch of what may be her greatest exhibition yet, and her research – its foundation – is kept ever accessible in a room just off her workspace. The room's vaulted ceilings accommodate towering bookcases that line the walls on all sides, lending the appearance of a library, complete with an antique table at its centre at which De Borchgrave sits.
"There are so many exhibitions on Frida Kahlo," she says, reaching for one of the books atop it, this one a collection of the Mexican painter's later works. "But none like this."
De Borchgrave's appearance on the Royal Museums of Fine Arts of Belgium's exhibition list should broker no surprise. A heavyweight in the Belgian art scene, her success spans continents and mediums, museums and commercial spaces (De Borchgrave even has her line at the major American retail store Target).
She began studying at the Centre des Arts Décoratifs when she was just 14 years old, then later at Académie Royale des Beaux-Arts.
Her exhibition Papiers à la Mode, featuring historical fashion trends recreated entirely in paper, has toured France, the United States and Asia. She was commissioned to recreate Jackie Kennedy's wedding gown for the John F Kennedy Library and Museum in Boston, made a painted paper dress for Belgium's Queen Fabiola, and has seen her pieces installed everywhere from the Fortuny Museum in Venice to the Palace of the Legion of Honor in San Francisco.
In the US, she's represented by the famous Serge Sorokko, whose galas are so popular that even the most esteemed celebrities find themselves stuck outside on the pavement due to crowds.
The only surprising thing about De Borchgrave at the Royal Museums of Fine Arts is that it's taken this long, but that suggestion only evokes a wry grin from the artist. "Nul n'est prophète en son pays," she explains. No one is a prophet in her own country.
The Blue House
The Kahlo exhibition's roots took hold some years ago when De Borchgrave was given a series of photographs from an American who wanted her to recreate some of Frida's dresses in black and white paper for a special exhibition.
De Borchgrave made the dresses, but the exhibition never took place. The gowns remained in her studio, their muted paper out of place among the colourful collages, playfully patterned furniture, vibrant tilework, and bright creations that shared the space.
The monochrome gowns bothered De Borchgrave, to an extent. She was well acquainted with the artist's life and work. Frida Kahlo was anything but black and white. "She lived her life in full colour," De Borchgrave says. "People always focus on Kahlo's pain and suffering, on the infidelity of her husband or her disability, or her struggles with mental health. But she was so much more than that. She was also joy. Pure joy."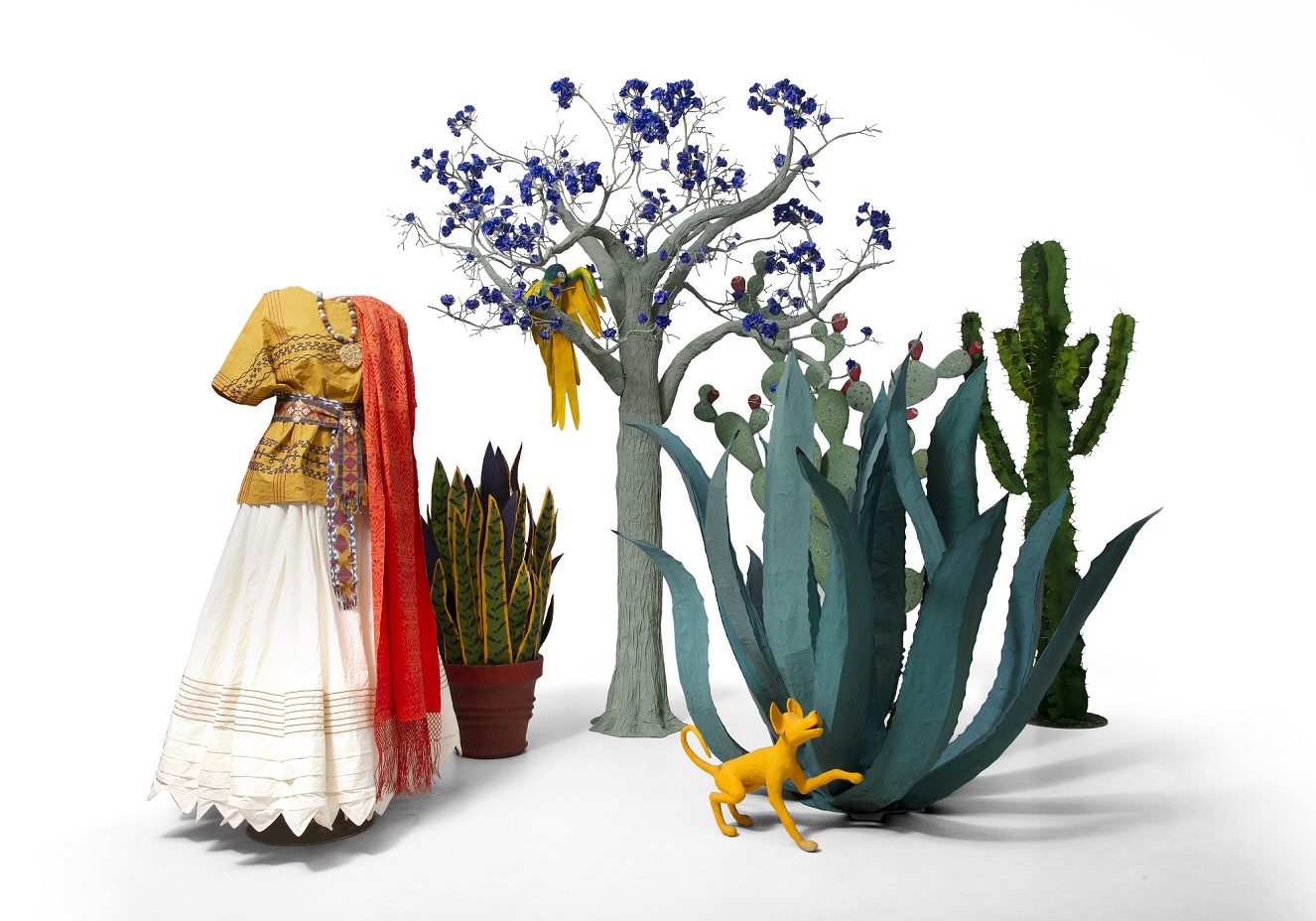 A dog trots into the room and directly to De Borchgrave, who lifts it onto her lap without pause. "Frida was a socialite. She hosted parties and took men and women alike as lovers. She loved to cook and entertain and laughed loudly and often. She was an ambassador of her country's many cultures, and she was an artist and a woman in equal measure."
She pets the creature in her lap, and adds, "She also loved dogs."
There will be dogs in the exhibition, too. They'll be made of paper, like every other object in the museum displays. From an enormous armoire to miniature pastels that rest on Kahlo's easel, the exhibit is thousands of pieces. Each is carefully crafted using one of the most accessible art supplies a parent first hands their child, what De Borchgrave's parents first handed her: paper.
De Borchgrave has been called the 'Queen of Paper,' but just as Kahlo is so often characterised by the suffering that came with her disability, her struggles with depression, or the betrayal of her lover and fellow artist Diego Riviera, this is an oversimplification of the Belgian artist, too.
De Borchgrave has worked with textiles, with canvas, with glass and with metal. She's made furniture and dishware, tapestries and pillowcases. "I need to create," she explains. "The need to create for me is equal to my need to breathe."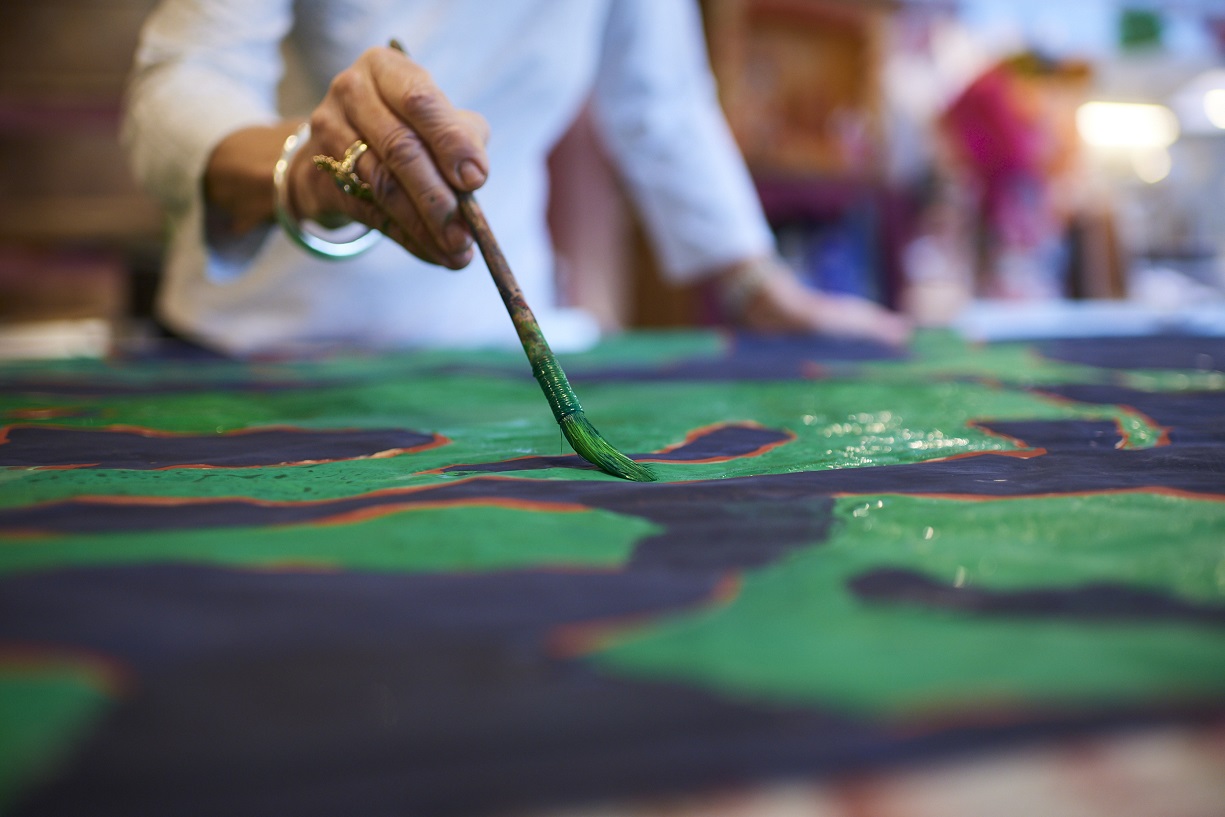 Miradas de Mujeres, as this new exhibition is titled, is a creation nearly three years in the making. Visitors will enter a replica of Kahlo's Casa Azul, or Blue House, the historic home in the Colonia del Carmen neighbourhood of Coyoacán in Mexico City in which Kahlo was born. She grew up in the home, and later died there. "It didn't use to be blue," De Borchgrave says. "Frida painted it blue later. Colour was important to her."
The very first display to greet visitors is perhaps a deceptive one: a wheelchair against a black backdrop, occupied by a shaped black shirt and pants meant to represent their wearer. This is the Kahlo depiction museumgoers have come to expect.
But beyond the curtain awaits a world of colour. The number of pieces and the amount of detail that's gone into each one of them is staggering. Potted cacti look as alive as their real-life counterparts. Fringed carpets sprawl out across the floors of fully furnished rooms. A straw hat hangs beside a pair of work overalls just outside the door to the garden. All in paper.
The rooms include the kitchen, a salon, and a backyard, along with Kahlo's bedroom and dressing closet. Each is packed with items from Kahlo's life, and the love of painting is omnipresent. Everywhere is colour, except in the white wedding gown she wore when marrying Rivera, a treasured item of Kalho's that she cherished no matter the course their relationship took.
Visitors to the exhibition are entering the most intimate space of an artist – her home.
Simply Frida
Like Kahlo, De Borchgrave's studio is also her home. If one leaves the library and passes through the sunny workspace, where a team of apprentices are busy helping bring De Borchgrave's vision to life in minute but critical ways, a staircase will take them into the artist's living quarters.
Down here, the sunlight filters in not through skylights but via floor-to-ceiling windows, passing first through shaded gardens and then reflecting off tiered ponds, within which swim fat koi fishes.
Like Kahlo, De Borchgrave is a socialite, and like Kahlo, her kitchen reflects her passion for entertaining. It is open to two large dining tables, beneath whose glass lies a surface she painted herself, so that she can talk and laugh with her guests while she cooks for them.
Exposed shelving shows off eclectic dishes and tableware, also painted by De Borchgrave. A long bench against the garden window holds an array of flamboyantly mismatched pillows – again, designed by de Borchgrave – fighting for space on a plush purple cushion.
And, also as in Kahlo's home, there are flowers. Always, there are flowers. Two vases are stuffed to capacity with fresh blooms, and their perfume fills the space.
"Frida was a woman," De Borchgrave says. "With this exhibition, I want to tell her story. I want people to see the world she lived in, through her own eyes. She is remembered for so many things, but I want people to see the version of herself that she knew."
Perhaps one of the most important ways in which Kahlo is remembered is as a champion of her own country and her people, De Borchgrave says. She elevated fashions from cultures that were traditionally snubbed in Mexico, bringing them to a world stage.
Her works in the native folk-art style explored and provoked questions of identity, gender, class and race in post-colonial Mexican society, making her an important figure not only in art but in history, as well.
And as for herself? Does De Borchgrave feel as much a Belgian artist as Kahlo is a Mexican one, especially now that she is finally seeing the level of success at home she's already enjoyed abroad?
"La Belgique est mon pays," she says. Belgium is her country. "I am Belgian. I love that I am Belgian." To have Belgium love her back is a greater accomplishment than any of her many accolades obtained thus far.
But despite her dazzling credentials or prestigious titles, there is no pretension with the Countess, who works in her home studio in jeans, sneakers and a black tee shirt.
There is no pretension in her exhibition, either, she explains. "This is a joyful representation. This isn't Kahlo. This is Frida."
The Miradas de Mujeres exhibition will take place from October 14 to February 12, 2023 at the Royal Museums of Fine Arts of Belgium. The museum is open from Tuesday to Friday from 10:00 - 17:00 and on weekends from 11:00 - 18:00. Tickets are €10.00 for adults and entry is free for seniors and people under the age of 18.