The 81 tram stands awaiting its departure under the trees which surround Place Montgomery. Wikipedia describes the huge, fountained roundabout on the edge of Woluwe-Saint-Pierre/Sint-Pieters-Woluwe as a "major transport hub". Indeed so! By my calculation, there are no fewer than six tunnels under it - the Metro 1, traffic going east and west, traffic going north and south, the underground stop for trams 39 and 44 heading east, and trams 7 and 25 running north and south.
The wind- and rain-swept passengers may resent the fact that the tram sits cosily under the elms while they must wait at the stop just outside Montgomery metro's west exit.
They can, however, seek some small comfort in the rather handsome Art Nouveau shelter and, slightly further afield, from the life-sized statue of Field Marshal Bernard Law Montgomery of Alamein, KG, GCB, DSO, PC, DL, as he stares eternally east down Avenue de Tervuren.
As well he might. On September 2, 1944, in Douai northern France late in the evening, Lieutenant-General Brian Horrocks, commander of Britain's XXX Corps, gave the order to march on Brussels. Montgomery's army set out the next morning and covered 120km on the first day! By the evening of September 4, footsore but triumphant, they entered the city heading west down the tree-lined Avenue de Tervuren to a tumultuous reception (when I got here in the 1970s, I knew a couple of Tommies who had married local girls and simply never left). Monty got there a few days later for the official ceremonies.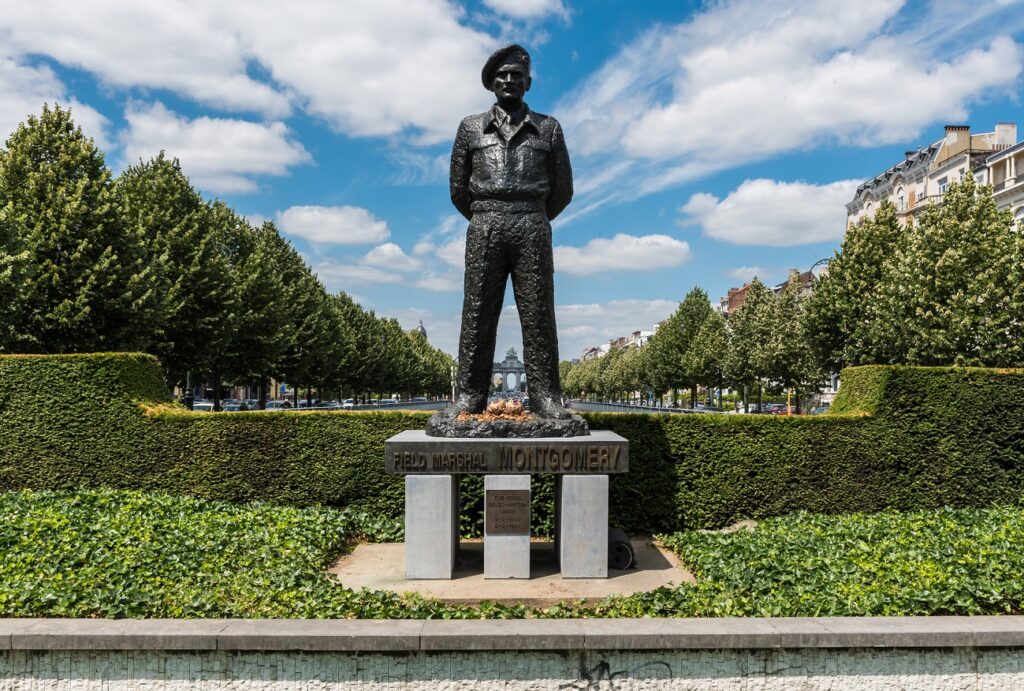 The tram that finally moves to the stop is a pleasingly old-fashioned beast. Seat covers are of natural fibre, a bell tings mechanically as you announce your intention of alighting, no screens or monitors are to be seen, and alarmingly contiguous seats designed for a smaller generation cause alien knees to brush accidentally. This archaism is appropriate. The route has, barring minor changes, been running since May 1914. Even then it was adapted from the old 51 which brings us back to the 19th century.
The tram's first stop, at Merode, is just before it veers left and plunges into the Etterbeek hinterland. The busy little shopping district of Rue des Tongres/Togerenstraat is to your right. It has several independent dress shops, a sausage butcher with a perpetual queue, a classy gent's outfitter, and a branch of the massive, 200-year-old, French wine retailer Nicolas.
To your left lies a Brussels institution, La Terrace. With its brasserie grub, waistcoated barman and venerable interior it has, it must be said, a Parisian feel. Its eponymous terrace is now so hemmed about with plastic roofing and windbreaks that it feels more like being indoors than out - but without the architectural heft. Thick hedges protect one from the noise and fumes of the traffic.
Ahead of you lies the Cinquantenaire Arch. One of Belgium's few attempts at vainglory, it has a positive cluster of museums: The Royal Museum of the Armed Forces, Autoworld, the Aviation Hall, and the Art and History Museum. I visited the Aviation Hall with my pilot brother a few years ago and had some trouble getting him out of there after two hours! For the more earthbound petrolhead, I recommend Autoworld: from pink Cadillacs to Rolls Royces, to long-forgotten Belgian makes, to Harley Davidsons, to an original black Citroen DS (the most beautiful car ever?), to a 1941 electric car - all lovingly restored and curated.
Gritty Etterbeek
The 81 trundles south through Etterbeek's grittier purlieus. At one stop (La Chasse/De Jacht) I tried to locate the abandoned Leopold Palace Cinema. Its conversion to a hardware store is distressingly complete. At the next (Eglise Saint Antoine/Klerk Sint Antoine) I gazed in awe and wonder at yet another massive late neo-gothic, buttressed parish church. By the next (Germoir/Mouterij) I wandered from street level to the hidden-away, unmanned railway station of the same name. It looks as though it has been there since the dawn of steam power. I was therefore astonished to read that it was opened only in 2004.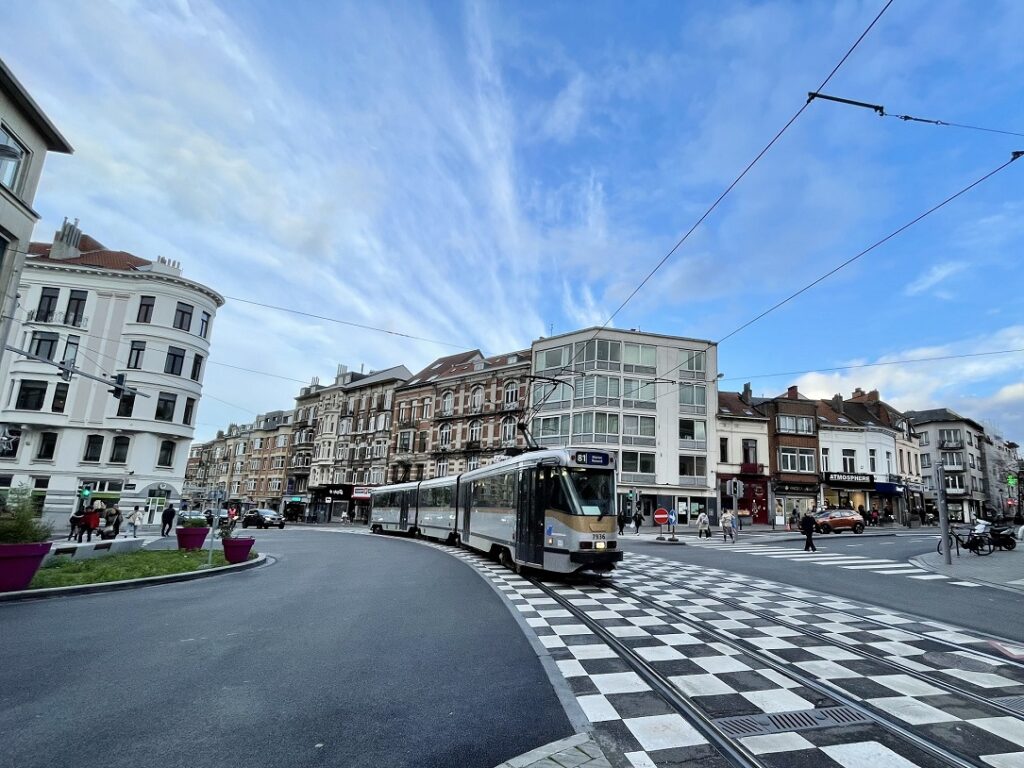 The 81 then shoots down Rue de la Levure/Giststraat, one of the 10 or so streets that pour into Place Flagey/Flageyplein. The square or rather trapezoid, with its handsome modern tram and bus stop, is dominated by the Art Deco Maison de la Radio/Radiohuis. It is an architectural masterpiece in yellow brick and housed the national radio service until repurposed as a cultural centre. Nicknamed 'the steamboat' for obvious reasons, it is home to the Brussels Philharmonic Orchestra, has world-class acoustics, and has been visited and recorded in by such luminaries as Chuck Berry, Jerry Lee Lewis, and Chet Baker for that very reason.
The steamboat is also home to the massive Belga Cafė. Every time I have trundled past on the 81 it has been going like a dingbat. Seats in and out are bum-numbingly hard, the service youthfully and cheerfully fast, the prices reasonable, the architecture rewarding, and visiting DJs weave their brand of magic till the wee wee hours.
Beyond it you will see Ixelles lakes, or Étangs, which bear, it always seems to me, a passing resemblance to a miniaturised New York Central Park. And if you look to your right, "in the direction of the traffic", as the tram announcements have it, there stands Frit Flagey. It almost always has a long line of patient, double-fried frite fanatics, which, let me assure you, is for a very good reason!
The 81 reaches rue de Bailli/Baljuwstraat, flanked by small independent shops, one of Brussels' best tea leaf emporia (La Septieme Tasse), gothic bank buildings converted into buzzy bars, the Brussels Beer Project with its 30 beers on tap (where once stood the Michael Collins pub) and juiceries galore.
The wandering church
If you stare ahead of you past the driver you will see the handsome facade of the 19th century Eglise de la Trinité/Dirievuldigheidkerk. However, it's not quite what it seems.
In 1338 a convent was set up on the banks of the then comparatively pristine Senne/Zenne river. The Augustinian order then took over the convent buildings, and built a handsome church for themselves next door in 1643: the church, known as the Eglise des Augustins/Augustijnenkerk, stood at the south end of Place de Brouckère/Brouckèreplein, where the Phillips Building is now.
It stayed there as a house of worship innocently enough until the occupying French revolutionary troops closed it down as part of their fiery anti-clericalism. It reopened for Catholic worship in 1805, but that didn't last long. It was taken over as a hospital for the wounded of the Battle of Waterloo in 1815 (imagine an injured soldier in a pre-painkiller, unsprung cart-ride over cobblestones for 20km from Waterloo to central Brussels). The occupying Dutch used it as a Protestant church from 1816 onwards and indeed one Dutch king, William the Third, was baptised there.
When Belgian patriots kicked the Dutch out in 1830, they sacked the church and gave it over to lay purposes. It served as a concert hall, a meeting room, and even a post office (intriguingly, the Brussels head post office is still on the same site). The church survived the covering up of the Senne river in the 1860s, albeit at enormous trouble and expense. Nonetheless, it was demolished 20 years later as being unfashionable, unloved, and unused. Presciently the stones were numbered!
Back onboard tram 81. it approaches the Trinity Church. On the facade, you can see those 1880 numbers scrawled on the stones. These were carefully carried up the hill from de Brouckére and reassembled to embellish and dignify the fast-developing rue de Bailli.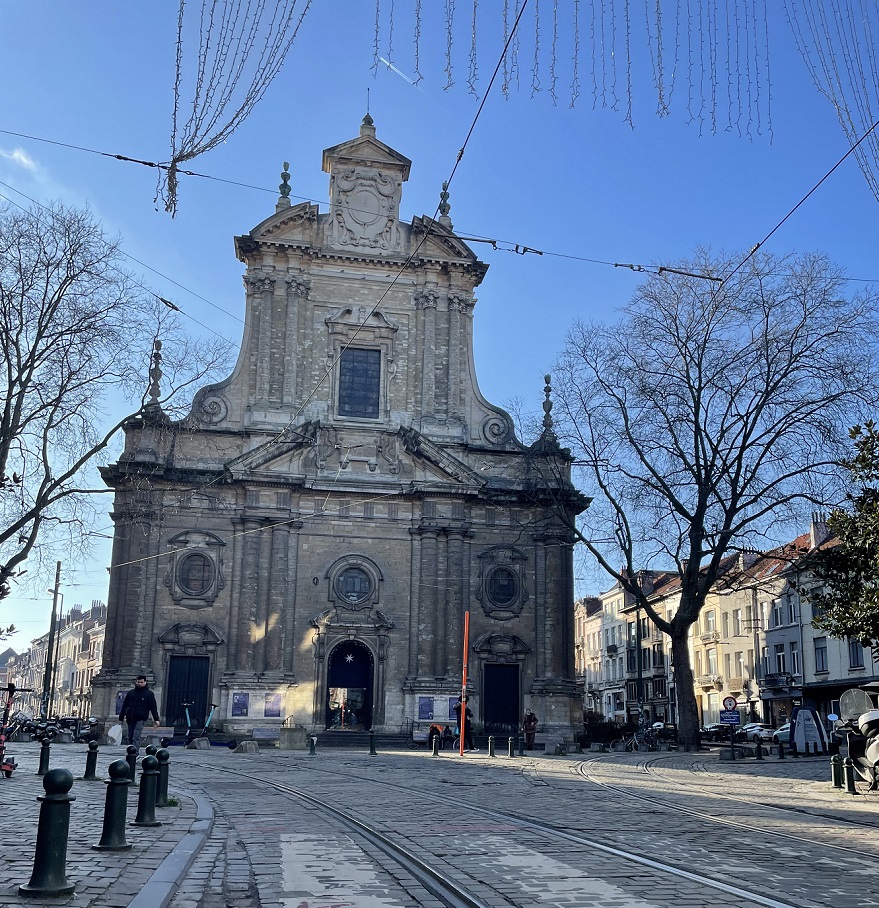 The stop (Trinité/Drievuldigheid) is a short walk up to Horta House at 23 to 25 Rue Americaine. Baron Victor Horta's residence/workshop is one the most exquisitely beautiful houses in a town rich in them – not least thanks to him. It is, to put it mildly, worth a visit: an exquisite harmony of colour, shape, and light. Give yourself a quiet, reflective, Brussels-at-its-best, treat.
The tram then starts its long descent down to the Gare du Midi/Zuidstation. Look around as it crosses La Barrière/De Bareel in Saint-Gilles. A handsome enough square, with elegant blocks of flats, it is bedevilled by traffic chaos - not, as one commentator put it, for the inexperienced! To make matters worse my tram had to stop, and the driver get out and manually change the points.
The Gare du Midi/Zuidstation has neither the sublime aesthetics of Horta House nor the buzzy charm of Saint-Gilles. Indeed, those who wish to see only grubbiness, cheap eateries, graffiti, dark tunnels, sneak thieves, beggars and watchful cops will have plenty to feast their eyes upon.
But look closer. It handles 60,000 passengers a day; five trams and 19 buses pass through it; it is the epicentre of one of the world's densest railway networks; and there are few places in Europe you cannot get a train to if so inclined. It also hosts, in its close environs, a massive market every Sunday and a giddy, if somewhat louche, fair in July and August.
Albert and Anderlecht
From there it is three brief tram stops to Albert I (which, until mid-2023, is a temporary terminus) and another, lesser known but equally vibrant, market. Based around the old city abattoir, guarded as it is by two life-sized, metallic bovines, it is housed in and around the slightly dilapidated ex-slaughterhouse which bears a passing resemblance to a forlorn Victorian railway station.
It teems with sharp-tongued, beglittered Roma women, rich with the sounds of Romanian, Polish, Moroccan Arabic, Berber, Lingala, and crammed with stalls offering everything from lurid puffer jackets to upmarket laptops the Marche d'Abattoir engenders a massive coming together of west Brussels inner suburbs' many tribes. The attraction is clear enough. One stall proudly proclaims, "Everything €1!" Shampoo, kid's socks, toothpaste, candle lighters, mugs, kerchiefs, nail clippers, fluffy toys, bargains galore.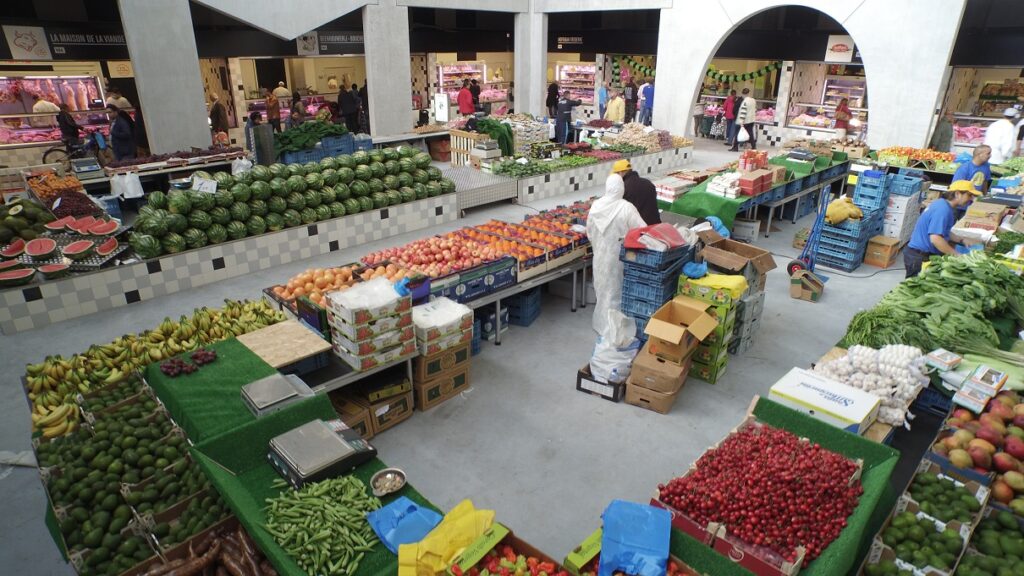 The pièce de résistance is the food market. Housed in the modern Foodmet, it is truly an assault on the senses. Dozens of stalls selling fish and meat with a queuing system that seems at once orderly and arcane. Competition is fierce and prices low. Fresh herbs and vegetables are grown on the roof. One vendor sells nothing but olives, 30 different types at least. Elsewhere, I spotted jackfruit, the evil-smelling durian, pomelo and further exotica altogether unfamiliar to me.
After extensive works are completed in the spring, the tram will again trundle towards the Sint Guido/Saint Guidon metro station. This unsung quarter has a cornucopia of treats for the curious. At nearby Place Vaillance there stands the massive mediaeval church of Saints Peter and Guido. The sheer size is something of a mystery as Anderlecht was a village of 300 souls when it was started in the 14th century. Presumably the church hierarchy sought to attract worshippers from nearby Brussels.
Attached to it is an abandoned beguinage which is now a museum dedicated to these largely forgotten quasi-nunneries. Just in front of the church is a cluster of uncared-for, filmic mediaeval houses defiantly defaced by a car park. A few steps east is the exquisite late Gothic Erasmus House where Europe's leading intellectual, translator of the Bible and advocate of religious tolerance stayed briefly in 1521 before moving to the somewhat safer Basel. The museum, like the nearby tram tracks, is undergoing renovation. The tram stop and metro station are the nearest to the stadium of RSC Anderlecht, by far Belgium's most decorated football club, even if it is currently in the doldrums. It is surrounded by pleasingly laid-out Astrid Park past which the tram sweeps majestically once it gets its mojo back.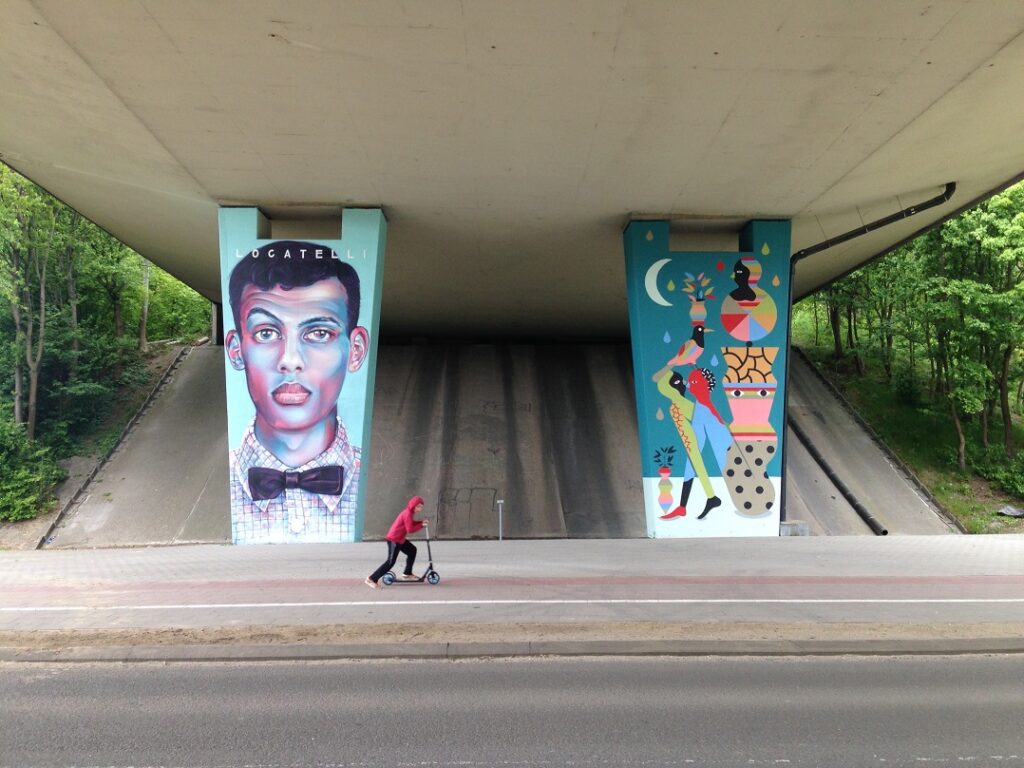 It then follows a many-named highway past elegant townhouses which would not disgrace uber-affluent Uccle, and then massive blocks of flats until it finally comes to rest under the ring road (stop Marius Renard). Unexpectedly the concrete underpass is brightened by some enormous, skilful and, one assumes, sanctioned graffiti. Bow-tied Belgian post-rapper Stromae looks quizzically down from a giant concrete strut as the traffic whizzes overhead. His moniker is an example of the French slang construction known as verlen which involves inverting syllables. Verlen is l'envers backwards and Stromae is the verlen for…maestro. The only French language artist ever to fill Madison Square Gardens, he boasts clarity of diction, tight rhyming, musical inventiveness and poesy.
West of the Mount Rushmore-sized Stromae – I exaggerate somewhat – there is good walking to be had beyond the ring road. Anderlecht morphs gently from suburbia to woods, farms and ponds; eventually giving way to the Flemish pajottenland.
From the leafy, affluent arrondissements of the European quarter where it sets out, to the rumbustious, cheery, multi-lingual haggling at the Abattoir Market and thence – soon we are promised – to the westernmost point of the ring road where the bilingual commune of Anderlecht goes bucolic and then invisibly borders with the strictly Dutch-speaking Flemish countryside. The 81 embraces and links Europe's most multi-ethnic city. And all with a very Belgian lack of fuss!