Tram 92 starts its journey at the architecturally distinguished Schaerbeek Station.
For a while there it was, redolent of past glories, as it slowly crumbled into unmanned partial use. This has now been mitigated by the establishment of Train World, the official and well-funded museum of Belgian Railways. I spent a happy couple of hours there with a chum marvelling at the 200-odd exhibits such as the oldest railway engine in continental Europe. Good, innocent, nerdish fun. It is heart-warming that such a fine building has found a worthwhile and relevant role.
Tram 92 then scoots towards the nearby Schaerbeek town hall, another piece of Flemish neo-Gothic architecture. It is easy to see that this commune was once the richest in Belgium. Indeed, the whole of Colignon Square is in harmony with its glorious municipal centrepiece. The square is - like Schaerbeek itself - being slowly and fitfully gentrified. A sprinkling of coffee shops, an excellent independent wine merchant, and a couple of good eateries, all comparatively recent arrivals, rub shoulders easily enough with old-fashioned ironmongers and laundrettes.
There is not much good one can say about the nearby Pogge triangle, (Place Pogge/Poggeplein) grubby, unloved, and pigeon- and garbage-infested as it is. But one reason to alight here is the Muslim baker on the hypotenuse, near the town hall. He sells tooth-searingly sweet desserts by the kilo. Hijabbed women toddle in and then toddle out burdened with enough dessert and flatbreads to feed an army. And occasionally a middle-aged indigene in red cords enters with his well-coiffured memsahib. They buy dessert for their upcoming soirée and are astonished at how much they get for their money.
Les Ecuries van de Tram is Brussels' first tram depot and, as the name implies, has stables for the horses they used back in the day. It still functions as a tram depot and has a bio market on Fridays and Saturdays.
The tram then cuts through the Turkish quarter. One travel writer claimed it is called "little Anatolia"; but I've never heard anyone call it that. It has superb fruit and vegetable shops, night stores, welcoming cheap eateries and a mosque where besuited gentlemen, tieless in grandpa shirts, sporting raffish skullcaps, and with the regulation two days' growth to a man, click prayer beads, play backgammon and gossip intensely on the pavement outside.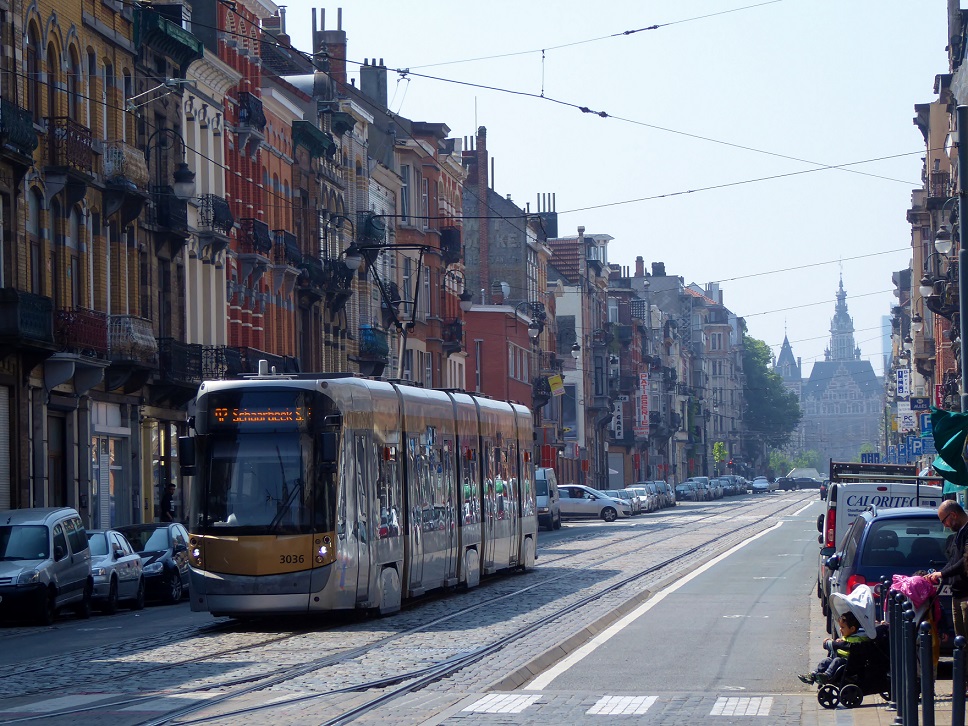 The tram halts at Porte de Schaerbeek (Botanique/Kriudtuin). Should you choose to walk from there down to the North Station, do not even think about the racetrack that is the inner ring.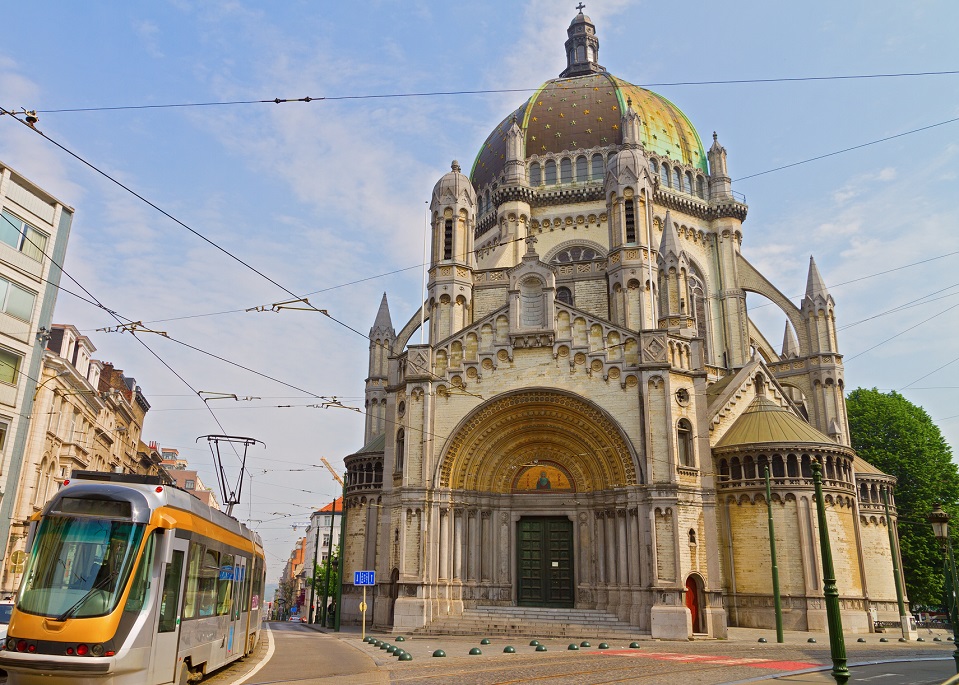 Rather stroll back a few steps to the huge Botanique cultural centre and step into the oasis of peace in the gardens (Brussels moved its official botanical gardens to Meise in 1938 but the name is still valid).
The superb Hotel Astoria on your left (Congrès/Congres) has been closed for renovations since 2007; a grand opening is promised in 2024. Let us hope so. In its heyday, it attracted such luminaries as Winston Churchill, Salvador Dali, David Ben Gurion, Bob Dylan, and James Joyce. I vaguely recall an exquisite bar where I was happy to pay eye-watering prices for the privilege of admiring the superb marquetry and a background chamber orchestra.
Past the Tomb of the Unknown Soldier on your right you arrive at the Royal Park (Parc/Park). The eponymous greenery is on your left, the King's Palace at 11 o'clock, and at one o'clock one of Brussels' most splendid assets - the Bozar. The tram stops right outside both (Palais/Paleizen).
Arts and architecture
Bozar's website calls itself "monumental yet discreet". Well, yes but poor old Victor Horta, its architect, was dealt a bit of a poor hand. Albeit the master's last great work, the site was too small for the project – and to make matters worse, the King decreed the building should not be too tall lest it spoil the view from his palace! Oh, and the plot was on an incline both north-south and east-west.
It was built on a site that once housed a school where Emily Brontë taught English in the 1840s. Her novel Villette contains vivid descriptions of the streets of the old Brussels now almost entirely destroyed. She developed something of a crush on the married schoolteacher who employed her. There is a plaque on the Bozar commemorating Emily and Charlottes' stay there but it is too high up and pretty much ignored.
Horta's visit to the United States, and more specifically to the buildings of Frank Lloyd Wright, inspired him to simpler, cleaner and more geometric forms when he came to design the Bozar. The results are spectacular.
The great man, with a judicious combination of guile and aesthetic sensibility, and not a few blazing rows with the city fathers, managed to place inter alia and with extraordinary elegance, seven event halls, some underground but nonetheless flooded with light, the Brussels' cinema museum with its astonishingly eclectic programme, a large and elegant street front cafe, and a now Michelin-starred restaurant (of course; this is Brussels) all on an unsuitable plot of 80 by 100 metres. It is one of the cities' greatest treasures and its most visited cultural centre.
The tram then crosses the classical Royal Square (Royale/Konink) with the Belgian Museums of Fine Arts on the southwest corner. Founded by Napoleon in 1801 the older building contains masters such as Rogier van der Weyden, Hieronymus Bosch, Peter Bruegel the Elder, Peter Paul Reubens, and Anthony van Dyck. Next door to it is the 200-painting René Magritte collection.
There is something deeply Belgian about Magritte - all that inspired lunacy coupled with meticulous craftsmanship. He married his childhood sweetheart, lived in a respectable bourgeois house in Rue Mimosa, commuted on the 54 bus into his studio, made practical and discreet arrangements for both himself and his wife when the fires went out, and never bothered to lose his Walloon accent. He was a doughty fighter, stood up for Georgette when French surrealists called her out for wearing a cross, was addicted to lurid murder stories, and late in his career and as a world-renowned artist, thought nothing of decorating a casino for a bob or two. Hard not to like!
Up towards the massive Palais de Justice (Poelaert) and its attendant scaffolding which has been there for 40 years and some of it has fused to the stone! We have been promised it will be gone by 2024. Indeed if both the Astoria and this extraordinary building make their deadlines then this part of Brussels will be greatly enhanced.
A swing to the left and we are at a very busy tram stop (Louise/Louiza). Trams 92, 93, 94 and 97 pass through and Tram 8 terminates there. Tram 8 does a complicated pas de deux on a siding right in front of the Palais de Justice as it awaits its departure. This stop is the only one I know of which is, quite literally, a roundabout. The only way to get to it is by either risking your life or, more properly, descending and ascending via the metro station beneath.
Tram 92 then heads up the dreaded Goulet. Goulet, French for bottleneck or narrow passageway, is well named. With two-way tram tracks and trucks delivering to the many smart stores on either side, it is best avoided if you are driving. But nil desperandum; the pedestrian area just to the right has become, in the last decade or so, a mecca of informal eating - Mexican, Indian, Thai, Greek, veggie, Italian, coffee shops, and, to be fair, one very swanky steakhouse. Worth a mooch post-shopping or pre-cinema.
Uccle's avenues
After the Goulet, the tram turns right turn up the Chaussee de Charleroi/Charleroisesteenweg. Though broader than the Goulet it is still narrow enough with buildings which date back to the mid-19th century. It too is scrambling up the social scree. Popping up on either side are fancy kitchen suppliers, up-market wine shops, the almost compulsory pasteleria de nata and one shop, House of Socks, entirely dedicated to encasing the well-turned ankle. About halfway up the hill is the luxury Hotel Manos which, whatever delights may lie within, enhances the tree-less street with its ivy-bedecked and elegant frontage – what the website describes as "large et belle façade végétalisée".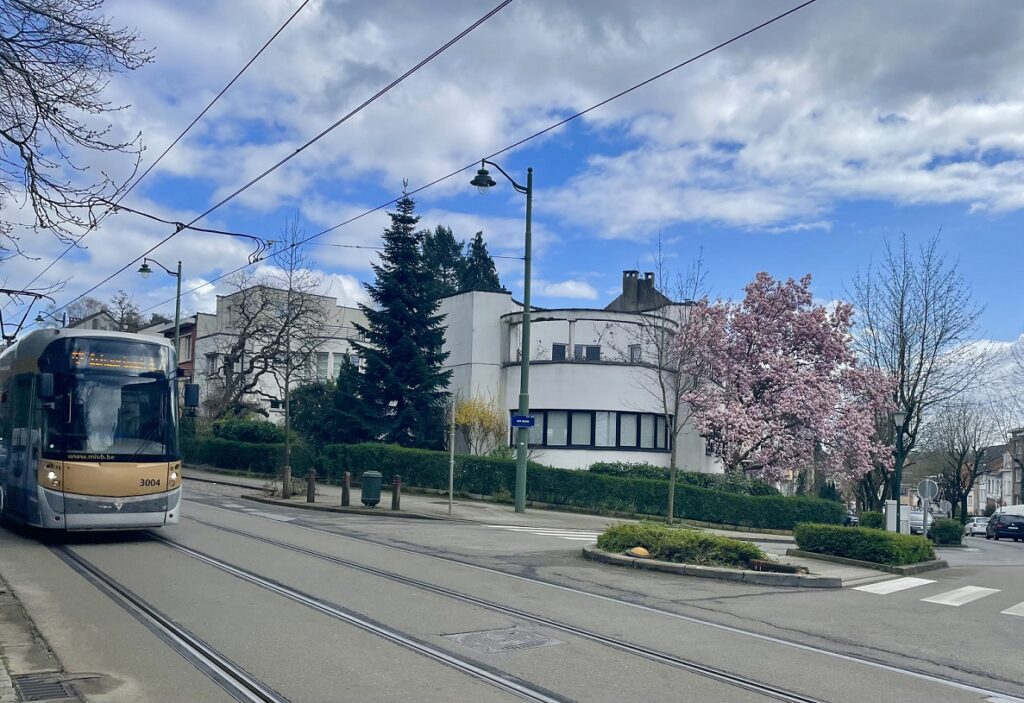 As the tram trundles over Ma Campagne and the road changes its name to Avenue Brugmann things start to spruce up a bit. The street was developed by serious money in the late 19th century and has exquisite townhouses on either side; some old enough for stables, some with art deco garages. I worked in one of them many years ago and will not forget the disused servants' quarters, the sweeping double staircase, the Italian-marble frontage and a vault which would not have disgraced Fort Knox!
When the tram reaches where Avenues Churchill and Brugmann meet (Vanderkindere) you are very close to, but cannot see, one of the most extensive developments in urban Brussels. The old Edith Cavell hospital (Cavell, I have learnt, should be stressed on the first syllable in English because that's how the family pronounces it) was built in 1915, and had run out of land by the 1980s. This despite having constructed a 12-story tower and converted some of its underground car park into operating theatres! The hospital has upped sticks and moved to Delta and the site is becoming a massive apartment complex.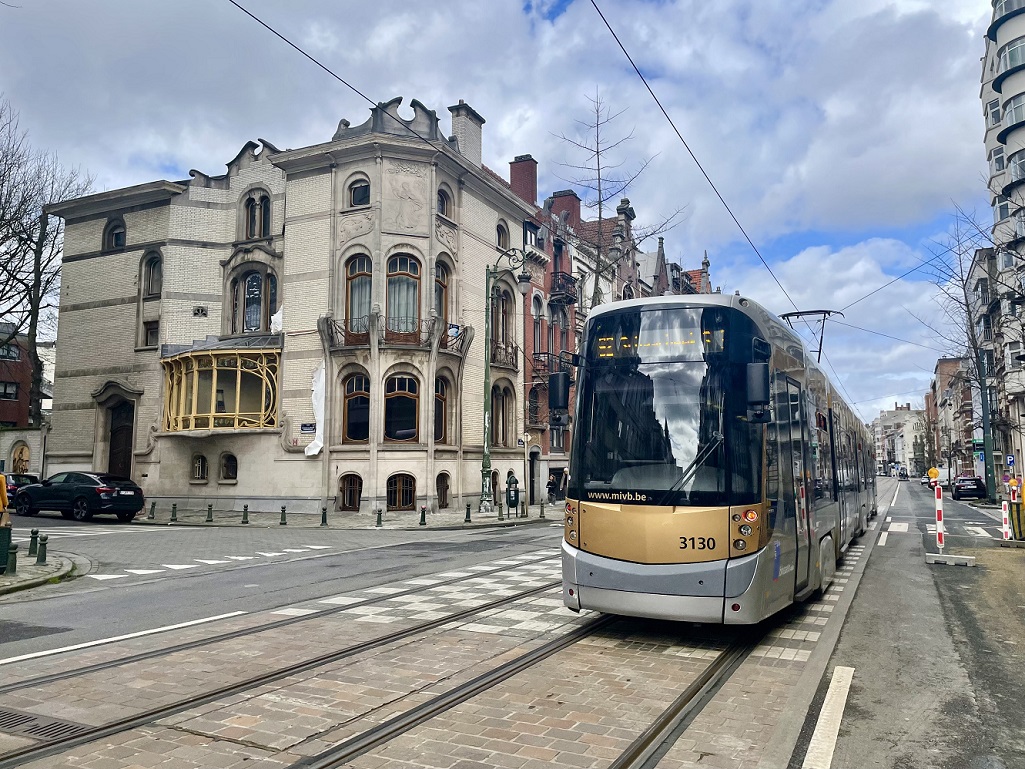 As the tram crests the hill at Churchill and proceeds downwards Avenue Messidor is on the left (Messidor). It is a street of painterly beauty with smart apartment blocks on the northern side; and facing them are mature trees, a high, red-brick wall and parkland beyond. The eponymous George Brugmann, a mid-Victorian banker, cloth dealer, immigrant (German), and philanthropist, left Brugmann Park to the city.
The park seems to be something of a twitcher's paradise. Birds I have never heard of can be spotted there. Long-tailed tits, marsh tits, small-toed tree creepers and Eurasian nuthatches besport themselves among the more quotidian sparrows, pigeons and robins. All, rare or common, must keep a wary eye open for the buzzards and, occasionally, sparrowhawks circling malignly overhead.
From then on, the tram ride becomes distinctly dramatic. As it reaches the bottom of the hill it slips by one of Brussels' most spectacular parks (Wolvendael). Its 18 hectares are on your left. For all the name evokes ravening packs of wolves terrorising toothless mediaeval peasants the truth is more prosaic. It appears to come from an old Dutch word meaning twisted. Woluwe has the same provenance. It refers, one supposes, to the stream that meanders there.
Intriguingly on the park's eastern side there is the cobble-stoned Crabbegat. The fragmentary remains of a route into Brussels from time immemorial it is sunken, cambred, be-forested. Alone, on a snowy early March day, tramping its slippery "kinderkopjes", it was not too hard for me to ignore etymology and imagine wolves peering hungrily from behind shadowy, snow-flecked beech trees. The uber-posh Avenue de Fré is a few metres away; consoling but hard to credit. Rus in urbis for sure.
Long and winding tramlines
Up another hill, and down another slope toward St Job Station. The hill is startlingly reminiscent of the Mid-Levels in Hong Kong! Fanciful? I think not. A solid wall of rock on the left, a jangly precipice on the right; and just as you've got used to that a sharp swing to the right, over a railway bridge, and the tram is jettisoned into St Job (Place Saint Job/Sint Jobplein). At one's ingress is the venerable Relais St Job - a traditional brasserie in a red-brick corner the building of which is 200 years old for sure.
The market square itself gets its first mention in 1209 under the village name of Kariloo. It flourished; then was duly ravaged by passing Frenchmen, Burgundians, Spaniards, Austrians, Dutchmen et al, first as Carloo until 1622 when the church of St Job was built and the name changed. Nearby and 100 years later they built the defensive Fort Jaco - and with bullying neighbours on all sides who can blame them?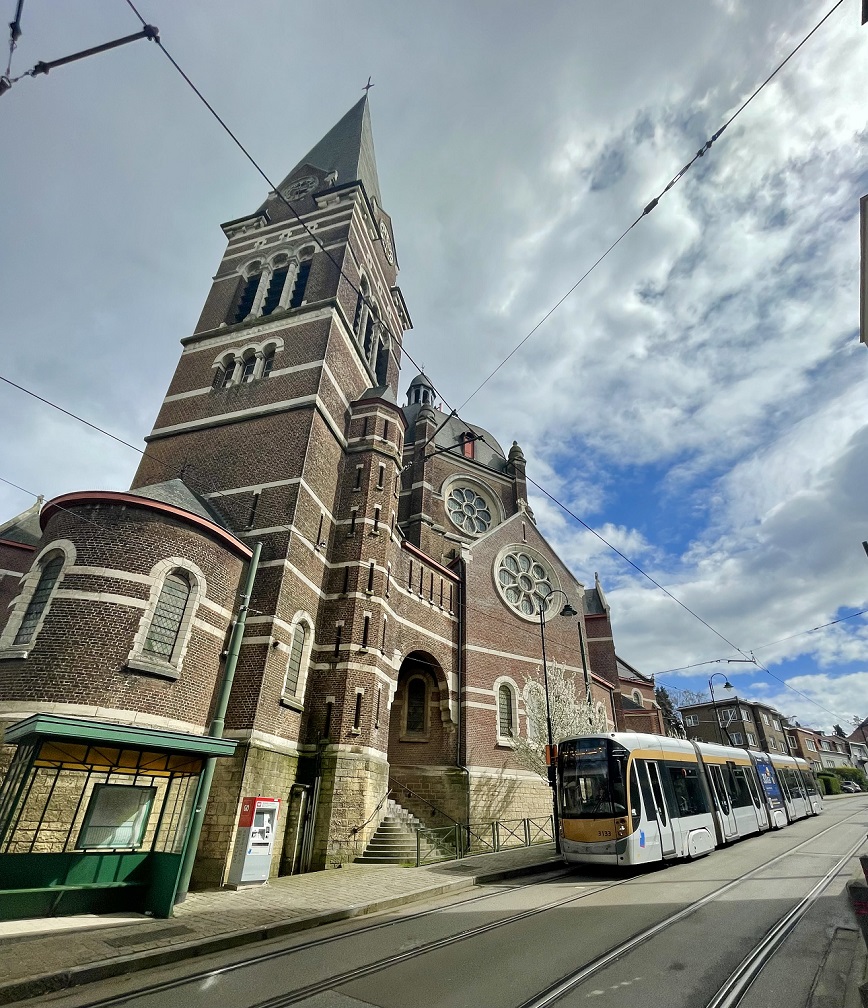 As you leave Place St Job you'll see the Carloo St Job church, staunchly upholding the old name. It is a noble edifice built on the slope leading up to Fort Jaco and on the site of a much older church – as is the way of these things. The flower arranger in the otherwise deserted church handed me a booklet published to celebrate its centenary in 2013.
I read a cluster of quirky facts: in 1847 a policeman is accused of "bad treatment" of a woman of the parish; in 1795 St Job is made part of Uccle whether it likes it or not. It does not because in 1888 it petitions unsuccessfully to break free; in 1891 steam trams start plying Chaussee de Waterloo; in 1928 the Halle-Schaerbeek railway line cuts through the parish; and much more.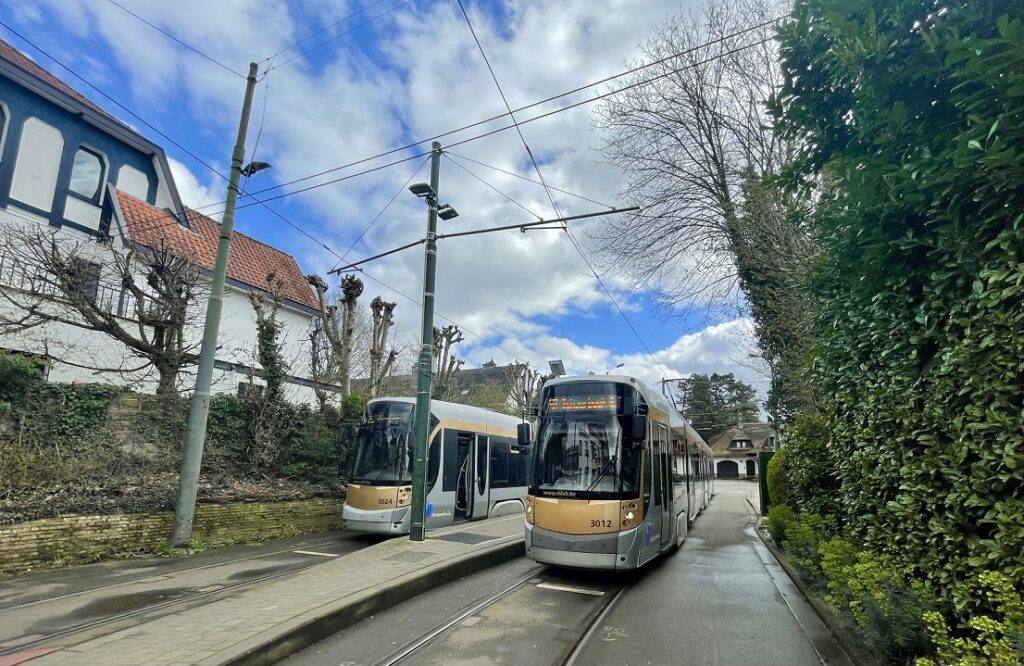 One of the fascinating things about Brussels, and perhaps European cities in general, is the way they age themselves in rings like trees. Thus the 92 skirts the old mediaeval centre of the city at Rue Royale, passes classical and Georgian architecture around the royal palace, careers past mid-19th century townhouses on the Chaussee de Charleroi, ups its game with the belle epoque toffs' residences of Brugmann, and then finally hauls you up Alphonse XIII with its pretty, even Disneyfied, mid-last century suburban maisonettes.
At the top of yet another hill you notice you're on a single track. Does that mean only one tram at a time can be at the quietly suburban Fort Jaco terminus? None of it. Up one little street; stops for a while at the two-tram berth; and then continues in the same direction down another suburban avenue. It rejoins the double tracks on Alphonse XIII and back to Schaerbeek it goes.
The passenger, on the other hand, can alight and browse the emporia of Fort Jaco a few metres away.