As the days get shorter and the jumpers get heavier, Belgian breweries release their offerings for the season. But what exactly is a winter beer, and which ones are worth trying? Breandán Kearney tests some of Belgium's thickest and spiciest brews
Every December, a remarkable Belgian beer festival takes place in Essen, a town north of Antwerp that sits on the border with the Netherlands. Each one of the more than 150 beers served during the two-day Kerstbierfestival is a Belgian winter beer.
Winter beers originated in Belgium during the Second World War when breweries decided to compete with the popular, imported Scotch Ales introduced by British soldiers stationed here. These were beers that were dark and malty, higher in alcohol, often quite sweet, and sometimes heavily spiced. Chimay Bleue – the famous Trappist beer – began life in 1948 as Chimay Bière de Noël, for example, before being released as Chimay Bleue as a year-round offering in 1954.
There is no agreed definition of what constitutes a winter beer, but there are common characteristics that drinkers have come to expect.
Winter beers are often high in alcohol, mostly falling between 9 and 12% ABV, their boozy warmth intended to stave off the sting of the coldest months of the year. They are often brewed with spices you might find in a hot toddy or a mulled wine: cinnamon, star anise, and cloves. And their flavours are driven by characterful yeast strains which present with notes of Christmas pudding: sultanas, plums, treacle, and alcohol.
There's quite some variety amongst Belgian winter beers. There are dark, sweet classics such as St. Bernardus Christmas Ale (10% ABV) or St-Feuillien's Cuvée de Noël (9% ABV). There are fruity, intense, booze-bombs, like Dubuisson's Bush de Noël (12% ABV). And there are even drier, hoppier, amber-coloured ales, such as Père Noël (7% ABV) from De Ranke brewery.
What follows are three of Belgium's most interesting – and unique – winter beers for you to try this coming season.
1. Stille Nacht (12% ABV) — De Dolle Brouwers, Esen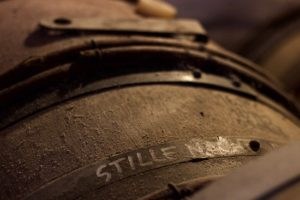 Stille Nacht or Silent Night – a Strong Belgian Pale Ale of 12% ABV – was first created 40 years ago by architect, artist, and historian Kris Herteleer, the charismatic owner of De Dolle Brouwers ('the Mad Brewers'). Herteleer's trademark outfit consists of pointed red-leather shoes, a polka-dot dicky-bow, and a jacket featuring images of his brewery mascot, Oerbier Man, who is a character depicting a yeast cell which Herteleer has illustrated himself.
Stille Nacht is a blend of 10 different batches of beer brewed immediately after the fresh harvest of hops arrives from Poperinge in the autumn. It started life dark, in 1981, but Herteleer resented that it was considered an amped-up version of his Belgian Dark Strong Ale, Oerbier. So he changed the recipe, using only pale malts.
Stille Nacht has become a much-garlanded prestige beer for Herteleer. Its long boil, use of white candi sugar, dry-hopping with hop variety nugget, and subtle lactic fermentation result in a strong, complex beer, with notes of caramel, raisins, and orange. It's a crowd favourite every year at the kerstbierfestival in Essen.
2. Gouden Carolus Christmas (12% ABV) — Brouwerij Het Anker, Mechelen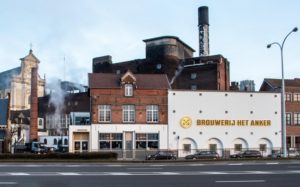 Het Anker brewery in Mechelen named their core range of beers Gouden Carolus. 'Golden Charles' were coins used in the city in the 16th century, the currency named after Emperor Charles V, who ruled the Holy Roman Empire from Mechelen at the time.
Het Anker brewery has its roots as a beguinage, a semi-monastic community of religious women who brewed beer on the site in the 1400s to comfort the sick and dying in their care. No-one is exactly sure why the brewery is called The Anchor. One story is that it is a maritime reference to the nearby port of Antwerp. Another is that it comes from the Dutch verb 'verankeren', meaning to firmly secure in position or provide a basis or foundation. Most likely is that it was as a mark of respect to the famous Mechelen maltster and brewer of the 1300s, Jan In Den Anker.
Gouden Carolus Christmas is a ruby-red coloured ale of 10.5% ABV. "The nose is floral and intensely spiced with liquorice and aniseed aromas," write scientists Miguel Roncoroni and Kevin Verstrepen in their 2018 tome Belgian Beer: Tried and Tasted. "It has a sweet palate of raisins, dried plums and port wine, complemented by biscuit, caramel and roasted barley flavours." The label of the beer features a snow-scape of Mechelen, with Santa and his reindeer flying above the city on his sledge: just in case you miss the name and forget for which season it's intended.
3. Avec Les Bon Voeux (12% ABV) — Brasserie Dupont, Tourpes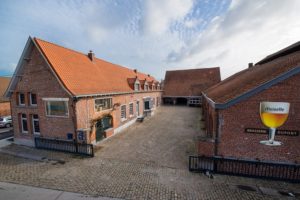 Bon Voeux, as it's often referred to amongst beer enthusiasts, was brewed as a one-off New Year's beer in 1970; an end-of-year gift to the loyal customers of the Dupont brewery in Tourpes. At the time, it didn't have a name, labelled instead with a short message: Avec les bons vœux de la brasserie Dupont (With best wishes from the Dupont brewery).
The beer was a hit, and the brewery kept the beer in production in small quantities, available to those on an ever-growing reservation list each winter. It found its commercial name in that first short message.
"Bon Voeux is an atypically festive beer," says beer writer Eoghan Walsh. "Bitter in place of sweet, citric instead of jammy, golden instead of dark, and with a beautiful pillowy, meringue-soft mouthfeel." There are similarities between Bon Voeux and Dupont's famous Saison beer – the black pepper spice and zesty lemon ester notes, as well a background hint of hop tannin – but in reality, it's its own thing, the most special of special winter gifts.