A small wooden cross stands next to a quiet country road near Ploegsteert Wood.
It was put up a few years ago to commemorate the Christmas Truce in 1914 when soldiers on both sides stopped fighting and began to sing Christmas carols.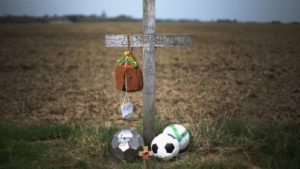 Some soldiers climbed out of the trenches to bury the dead, shake hands with the enemy and exchange little gifts.
They also played a game of football in a cabbage field, which was apparently won by the German side.
In recent years, this remote spot has become a shrine where people leave footballs, team strips and souvenir mugs.
Derek Blyth's hidden secret of the day: Derek Blyth is the author of the bestselling "The 500 Hidden Secrets of Belgium". He picks out one of his favourite hidden secrets for The Brussels Times every day.