The Archaeological Society of Namur, SAN, on Wednesday presented some of its latest acquisitions to the press and its members, including a very rare manuscript from the Grandpré Abbey in Faux-les-Tombes. In 2018, the Society registered 50 additions to its collection of about 750,000 items. Some were bought, while others were temporarily or permanently given to it.
The 15th-Century musical manuscript from the Abbey of Grandpré is the only work left over from the building, which was destroyed during the French Revolution. Some later annotations make it even more unique and alive. The King Baudouin Foundation, which handed it over to the SAN, acquired it thanks to the intervention of the Pierre-François Tilmon Foundation.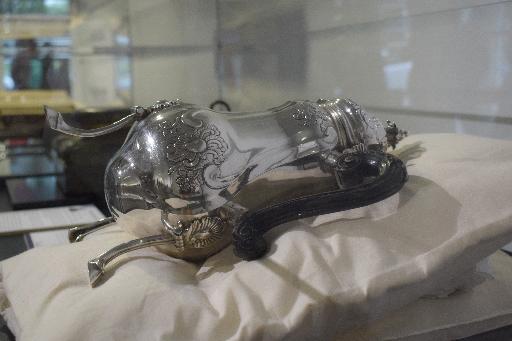 The second significant exhibit also came from the King Baudouin Foundation. It is a silver coffee pot from 1774 and came from the Abbey of Leffe, as indicated by the coat of arms that it bears.
Most of the works acquired by the SAN in 2018 are to be presented soon to the public. The manuscript, for example, "should be on display at the TreM.a in Namur in 2020," said Aurore Carlier, custodian of the SAN's collections. "However, we need to be very careful to make sure that it is preserved."
"Generally, it is said that this type of object needs to be kept in a dark place for three years after being exposed to the light for three months," Carlier explained.

The Brussels Times