Brussels, and Belgium, has one of the best restaurant scenes in Europe: some critics even say it has surpassed Paris. Whether it is cuisine from the west of France you´re looking for, a good old fashioned steak, a Thai feast, an African buffet or simply a light salad, you´re sure to find it on a menu somewhere here.
Gastronomy in Belgium is an art, an art de vivre. From street foods like frites or waffles with the toppings of your choice to traditional dishes like croquettes or mussels, the choices are endless.
Indeed, Belgian gastronomy and the country's sizzling, starred chefs take centrestage each year at the Culinaria food show and 2012 was even declared the "year of gastronomy" in Wallonia and Brussels.
Belgian food is closely linked to French cuisine but some recipes are reputed to have originated here.
French fries; Vlaamse stoofkarbonnaden aka carbonnades flamandes (a beef stew with beer, mustard and laurel); Paling In 't Groen (river eels in a sauce of green herbs) and Waterzooi (a broth made with chicken or fish, cream and vegetables).
But Belgium, of course, is renowned throughout the world for both the quality and range of its beers and, increasingly, these are being used by some of the country´s best chefs in their cooking.
Take, for example, Stefaan Couttenye, based in Watou, who has been working with beer in his kitchen for more than 30 years.
For him, beer cuisine - preparing food with beer - is a way of life and something he is particularly passionate about.
"Beer cuisine has been around a long time but it is only in the last 5 or 6 years that everyone has started," he said.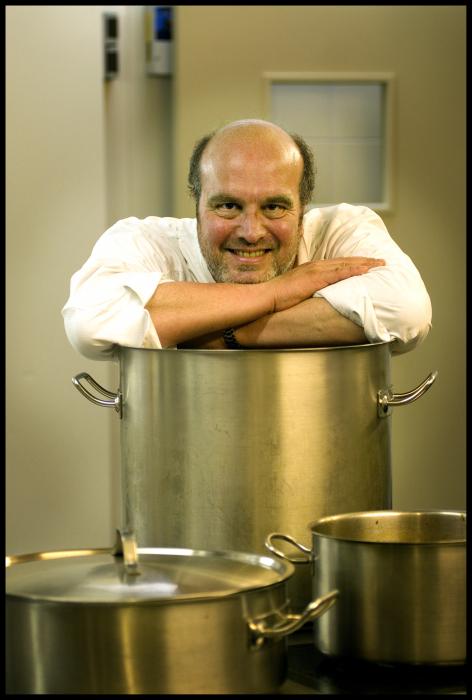 Stefaan Couttenye
Sharing the same passion for making beer and food go together is Vincent Florizoone, who runs Grand Cabaret restaurant at Nieuwpoort.
All dishes are matched with a beer, many of them rarely found in Belgium thought some can be on the strong side. One example is monkfish cheek, served with Keikoppen beer which translates as "stubborn head."
Vincent graduated from the Groene Poorte hotel school in Bruges and his many awards include being named best young chef in Belgium in 2007.
Apart from cooking with beer, he is also a great believer in using locally sourced produce in the gastronomic dishes he creates.
These include shrimps from the horse back fishermen in Oostduinkerke and pork from pigs raised behind the dunes of West Flanders.
Alex Joseph is a Californian born chef who has worked in several top restaurants and now owns Rouge Tomate on Avenue Louise in Brussels.
He says, "It always amazes me how much love Belgians have for their food. It seems to be a part of the culture to have great ingredients, market fresh produce, meats and fish are all readily available. I also believe that because Belgians are typically a well travelled people, they often have a good sense of quality on the plate. Here in the cosmopolitan city of Brussels we are spoiled for choices for exquisite places to dine."
His comments are echoed by Brussels-born Christian Semail who is similarly well travelled, having worked as a chef in Chicago, Boston and Perth. However, such was his passion for Belgian gastronomy that, nine years ago he returned to open Happy´s, his restaurant near Wavre where his chefs now use some of this country´s finest produce.
He said, "I have worked in restaurants all over the world but, while we serve everything from sushi to French classics, you will find it hard to beat our cuisine."
Further comment comes from Natercia Tavares, of Marriott Hotels of Brussels, who says, "One of the big advantages of Belgian cuisine is to be able to offer dishes that differ from typical "French" cuisine such as Waterzooi and Fles Carbonnade. Many food items are sourced locally through intermediaries with rapid "Farm to Fork" delivery, be it vegetables or some of the marvelous meat cuts that have become a signature item. "
Belgian food (and beer) is now proving increasing popular in Britain, home of fish and chips and warm beer.
Take, for example, Brouge Bistros Belgian at Twickenham near London where the menu is crammed full of traditional Belgian dishes.
Blade Llangozi, one of the owners, says their efforts to blend the best of Belgian food and beers is proving a hit, "The locals can´t get enough of it!"
Peter Goosens is founder and head chef of world famous Michelin starred restaurant Hof van Cleve, based in West Flanders, which, for the first five years of its existence served steak/frites, pheasant Brabanconne, hare a la royale and vol au vent, "all Belgian classics."
It is now better known for its gastronomic dishes and the multi award winning Goosens, who was just ten when he realised he wanted to be a chef, insists, "Belgian cuisine is the best in the world."
For those who have sampled the best of Belgian food, it would be hard to disagree with the esteemed Goosens.
Factfile
- Belgium produces 172,000 tons of chocolate per year in over 2,130 chocolate shops;
- There are over 400 different types of beer in Belgium running the gamut from white to raspberry beer;
- Belgium and Flanders are particularly famous for waffles and chips; Beer features in a number of recipes, including meatballs with "rabbit sauce" - also called "hunter sauce";
- Brussels has 138 restaurants per square mile;
- Famous Flemish brewery Hoegaarden was founded by a milkman;
- Beers such as Kriek and Framboise are often served in champagne glasses to bring out their full flavour;
- When producing its Kriek beer, Belle-Vue uses one pound of cherries for every three litres of beer.
By Martin Banks