Liège is Wallonia's most brilliant place to be, not as a tourist, but as a visitor to its many treasures and eyewitness to its unique identity. It is the most overlooked place in the country, and it is probably the one I like the most. The city of Liège may have practically no museums or landmarks to visit, but it is a thousand times more enjoyable than a tacky open-air museum like Bruges. If you have never been to Liège, you are missing out on a great experience. This is where you will find the most lovely people in the world: the thing to see is the city's biggest asset, namely the Liégeoispeople themselves. So don't look for monuments or tourist sites to see, just talk, drink, eat, explore, and enjoy a city that is rightfully known as the Burning City, la Cité Ardente, the city of Liège.
It always stood out from the rest of Belgium. Liège is its own little world with its own specific culture. Its fate is fascinating. The story of Liège deviates from everything you know about Belgian history. Flemish nationalists claim their movement has historical roots. This is nothing compared to Liège's claim to independence: it was its own city-state for a millennium, it was its own very Luxembourg when Luxembourg was a tiny fortress, it was a microstate avant la lettre. The Principality-Bishopric of Liège encompassed not only the city itself but also a band of territory spreading to the rural, gorgeous, forested area of the Walloon Ardennes. And it also owned what is today the Province of Limburg. For a thousand years, this territory was Liège, and no overlord ever tamed the ardour of that country.
I once wrote that the Belgian spirit is a mixture of the Burgundian taste for opulence and the Liégeois fierce desire for autonomy. As explored in a previous article in The Brussels Times last year, Belgium still bears many traces of its former Burgundian rulers and their desire to create a land of riches, big food, arts, and feasts. But Liège was never under Burgundian influence. Its contribution to the Belgian psyche is this typical Liégeois trait of not caring for what other people think of you, as long as they leave you alone–something that defines present-day Belgium.
It is a common misunderstanding that Belgium only started to exist in 1830 and was, before then, an Austrian or Spanish country. In fact, the foreign rulers bared little influence and were tolerated as overlords in name because they left the Belgian lands free to do whatever they wanted. This is even more pronounced in Liège, where there were not even a theoretical foreign prince to be their ruler on paper.
Liège was once ruled by a Prince-Bishop, who shared both temporal and spiritual power. The palace of the Prince-Bishop, which symbolized his political power, is still standing today in Liège. It bears the coat of arms of the principality and current province (you will quickly observe it is extremely different from that of other provinces) and also serves as the provincial seat today. In front of it was the massive Saint-Lambert Cathedral, which represented the Prince-Bishop's religious power. In revolutionary times, the people of Liège outperformed their French counterparts by dismantling the huge cathedral entirely. It left a spacious square that serves today as the city's main hub. A few steel columns were erected where the stone columns of the cathedral once stood, in order to give you an idea of how enormous the building was.
But the Prince-Bishop had limits to his powers. He was challenged by popular rule and had to limit his ambitions to those expressed by the Liégeois. The true landmark of Liège is a humble fountain located just a few metres away from the former cathedral: the Perron. Situated right in front of the city hall, Perron is the true symbol of Liège and features on the city's coat of arms and almost all of the city's marketing tools. Perron is more than an ornamental fountain: it is where the representatives of the people of Liège would stand to read the law to the population. Perron is the symbol of communal freedom and of the liberty of Liège. When a Burgundian Duke briefly occupied the city, the first thing he did was to remove Perron and bring it to Bruges. When Liège quickly recovered its freedom, the first thing they demanded was for Perron to be returned to them because it exemplifies the heart of the city.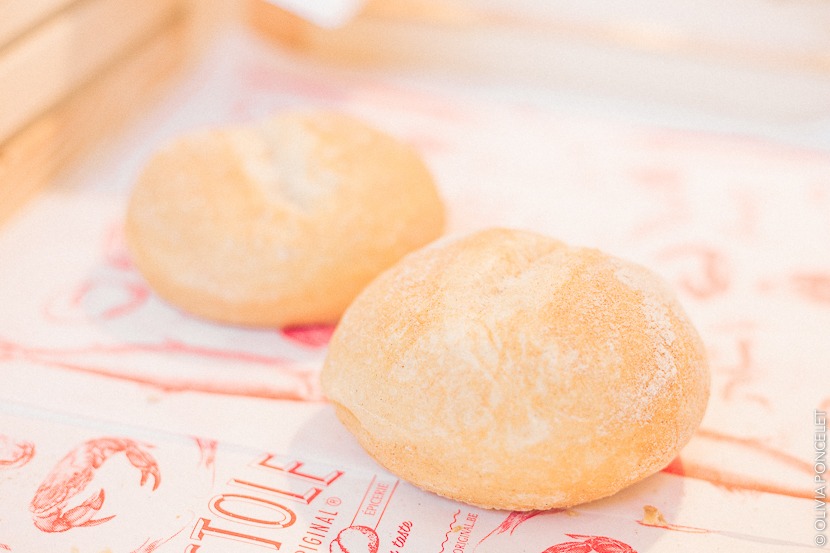 En Neuvice, an old medieval street once in disarray, is now one of the most vivid and enjoyable place in Liège, a uniquely Belgian experience
And just behind Perron starts a medieval pedestrian street that could represent the city as a whole: En Neuvice is the oldest street in Liège and one of the oldest in the country. Narrow, tortuous and dark, it features cobblestones and impressive Renaissance-era buildings that are typical of the domestic style of architecture. Walking through En Neuvice is like walking through a utopian Middle Age, a medieval fantasy and an ideal taste of old things. At the very end of the street is what, after visiting so many places around the world, I still call the best tea shop ever.
Just like the street, it is narrow and dark. And it smells of the divine aroma of fresh tea. The joyfully messy shop sports countless tin boxes of teas from all around the world. The lady who owns this wonderful place goes to the countries herself to buy them. Classic rock music plays softly on the radio, because after all, this is the country of classic rock music. At the back, you can seat on old chairs and sip tea. I always go there to meet friends in Liège and, there is not one teacup like the other. This has always been my first stop in Liège, before exploring the rest of the city. I remember bringing foreign friends there, both traveling on a budget and asking for only one cup: the lady offered them another one, proclaiming that "everyone in my shop will have a different tea". No pretentions, no luxury, but a lot of taste and joy, no doubts about which city I am in.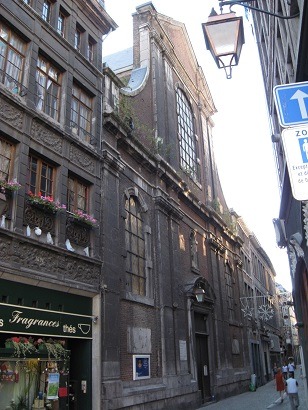 In the rest of the street I run into what I immediately recognize as Ardennais people. The Walloon area known as Ardenne takes a part in spicing up Liège. Although Ardenne people would not like to be affiliated with Liégeois, they provide a prosperous, joyful, tremendous hinterland to the city. Inhabitants of the sparsely populated Ardenne regularly visit Liège because it is the closest city, or at least the easiest to reach by road or public transport. Conversely, Liégeois urbanites would easily find a bit of fresh air in Ardenne.
In an art gallery in En Neuvice, I observe a couple of Ardennais. In their fifties, wearing colourful clothing, they quietly discuss the price of an artwork that will soon decorate their big house in the middle of a forest and provide some ambient light to a dinner of game meat and laughter. The artwork is a shelf made of two signs that were recuperated by the side of a nearby highway–everything in this gallery is made of salvaged crap, a brilliant symbol of Walloon inventiveness and resilience in the face of their own industrial collapse and their taste for creativity in all circumstances. The two signs are lit up from inside and point in an opposite direction, one indicating Maastricht, Netherlands and the other Aachen, Germany. The young man with unruly hair runs the place and tells me "Those are the two closest foreign cities from Liège, both only a few kilometres away. So this is like a symbol of our town, we are a crossroad, a shelf between Maastricht and Aachen."
For him, En Neuvice was an opportunity. "It used to be nicknamed Junkie Street. I won't deny we first settled there because it was very cheap. Now it is different". He hands me a flyer proudly displaying the name of the street. "The alternative scene of Liège has taken over that street, to do something great out of it, and we created a committee. We want to share some expenses among all the shops to reduce costs and create events. We are alternative in what we offer and in the way we work".
A few houses further, a totally different kind of person operates a totally different kind of shop, but the spirit remains the same. There, they sell uniforms and work clothes, from baker's aprons to blue collared overalls. The owner tells me this is one of the oldest operating shops in the street. "The eighties were the golden age, all the shops were occupied, and there were events all the time, parades, festivals... Such things are everywhere now but at the time it was unique. Then the decade passed and the atmosphere changed". After suffering through the economic crisis, he too says the street has been rejuvenated. "There are only craftsmen in this street", he adds, "from the cheesemaker, who received a national prize, to the art gallery. I want to resurrect the spirit we used to have in this street, in this town. When they told me about the committee, I immediately said they could count me in".
Out of the street, I find a restaurant and eat something with Liège sauce–any meat goes well with Liège sauce–but meatballs are the specialty. The sauce is made for game and the best restaurants would serve it with pheasant, deer and boar. The local drink is a Genever, which you find under different names all around the Low Countries, but known here as péket. It can be served in different flavours–at one point, the violet-flavoured one was extremely popular with youngsters.
And there are a lot of young people in Liège. The city hosts Wallonia's biggest university. The average age is lower than in any other major town in the country. Young people in Liège precipitate the tremendous nightlife in the Carré precinct, a maze of pedestrian alleys full of lively bars and pubs. Avoid it at night if you like a quiet place, but if you are young and want a good time, it will bring you beyond anything you ever dreamed of!


Tchantchès is the main character of a local puppet show. With his working class attire and permanent smile, he represents LIège better than anyone else. (Credit: Musée Tchantchès)
Liège is one of the Walloon towns that suffered harshly from the collapse of industry in the 1970s. But the heart of the people still burns like a thousand steel furnaces. Its identity, built around fierce independence and blue-collar ethics and lifestyle, is still as vivid as ever. Perhaps the best symbol of the city is the local puppet theatre character Tchantchès, who is dressed like a coal miner and has a constant, huge smile. Over the Meuse river, locals proclaimed a fantasy Free Republic of Outremeuse, another testimony to the local taste for autonomy. Through this association, they maintain local folklore with Tchantchès as their mascot. In Outremeuse, again, no fancy touristic attractions, but a humble and colourful lifestyle that exemplifies the joy of being Belgian more than any other place in the country.
So do not overlook that place. If you think you know everything you need to know about Belgium, think again: there is an entire country to discover in the narrow streets of Liège.
By Julien Oeuillet