The new pedestrian zone in the city centre is one of the biggest urban projects to hit Brussels in a generation. Some people dislike it. Others are willing to give it a chance. The city recently won a European Urban and Regional Planning Award for its visionary plan, so someone clearly thinks the city is going in the right direction.
It all started in 2012 when the philosopher Phillipe van Parijs called for a mass protest on the square outside the Bourse. Inspired by an action held on Grand'Place in the 1970s, which eventually led to cars being banned from the city's main square, the new movement was named Picnic the Streets.
The city government was positive, but local restaurants were hostile to the plan, arguing that it would kill off business. The barriers finally went up in the summer of 2015, leading to complaints from restaurants and hotels. The zone has been shrunk several times since then, but now seems to be more stable.
While still a work in progress that won't be finished until 2018 at the earliest, it's still worth taking a look at the changes so far, and you can already find many interesting authentic Brussels addresses along the way, dedicated to Belgian beer, roast coffee, comic books, meat balls, vintage records, sandwiches and indie concerts. Here are the places we think are worth a visit.
BOURSE
This is where the protests began in 2012. Once a symbol of Belgian capitalism, the bourse now lies empty, waiting to fulfil a new purpose as a Beer Museum. Built by Léon Suys in the 1870s, the stock exchange is a heavy neoclassical building laden with symbolic sculpture, some carved by the young French sculptor Auguste Rodin.
CIRIO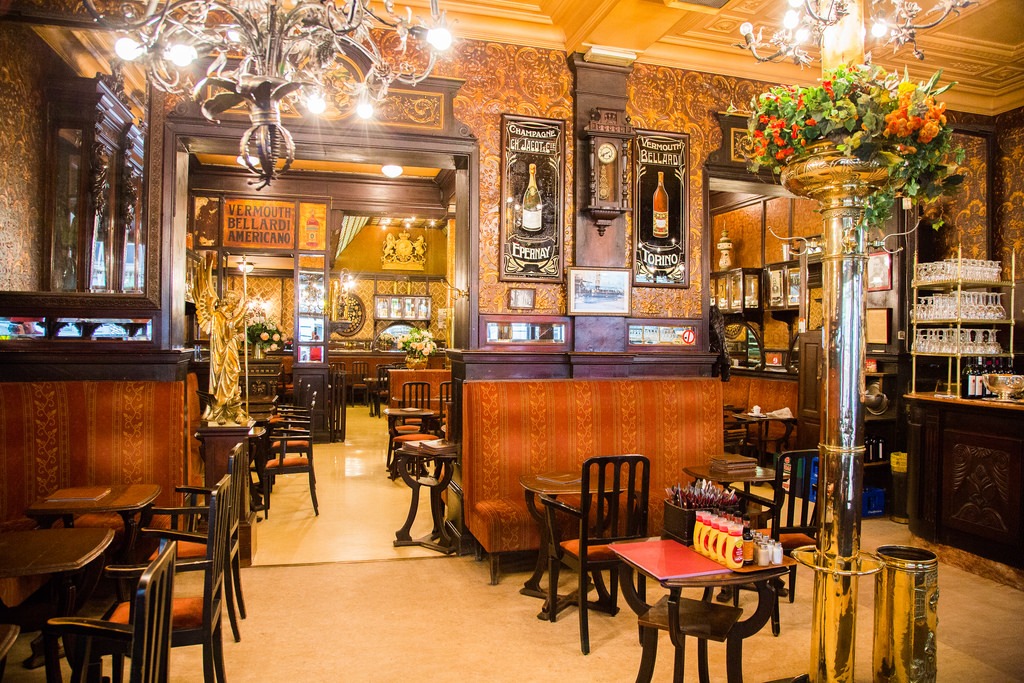 The most beautiful café in Brussels, Cirio has hardly changed since it opened its doors in 1886. It takes its name from an Italian entrepreneur who invented a tomato-canning process and then went on to open cafés across Europe. Cirio is one of the last survivors, a lovely period piece with gleaming brass, old cabinets and striped sofas. The café is popular in the afternoon with elderly ladies who come in from the suburbs to drink Cirio's half-en-half – white wine and Spumante – while a younger urban crowd takes over the striped benches in the evening.
Rue de la Bourse 18
Central Brussels
CAFÉ DES HALLES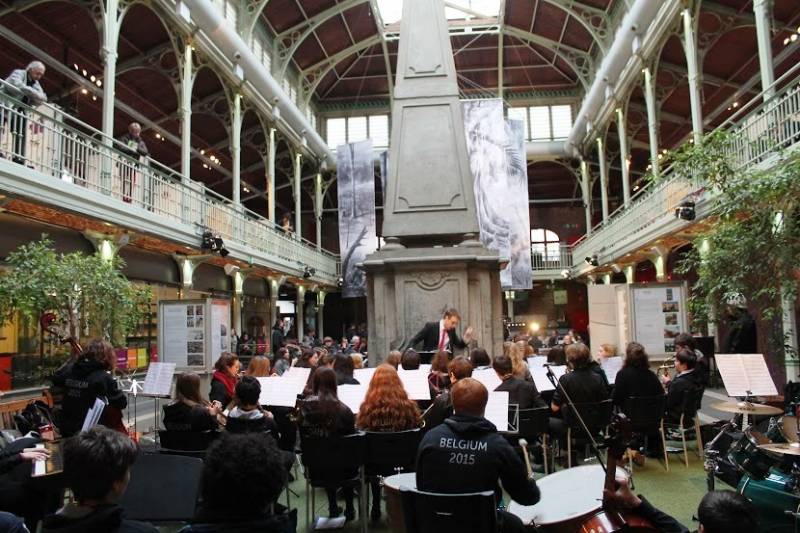 Located inside a former 19th century meat market, the Café des Halles is slowly emerging as a cool urban bar with palm trees and deckchairs scattered around. Look out for classical piano concerts, DJs evenings and a vintage market on 4 September.
Place Saint-Géry 1
Central Brussels
Tel 02 289 26 60
www.sintgorikshallen.be
ARCHIPEL
A plain old Brussels bar on the edge of the pedestrian zone decorated with mirrors, wood and a tiled floor. The new owner has attracted a young crowd with an inspired programme of live bands including the dreamy Antwerp indie band The Girl Who Cried Wolf. The beer list is limited, but regulars appreciate the relaxed atmosphere.
Rue du Marché aux Poulets 12
Central Brussels
OR COFFEE
Coffee entrepreneur Katrien Pauwels opened this laid-back coffee bar in downtown Brussels a few years ago. It's decorated with exposed brick walls and small wooden tables. The cheerful team serves coffee from the family's coffee roasting factory in the Flemish village of Westrem. The room on the first floor is a quiet place to escape with your laptop.
Rue Orts 9
Central Brussels
Tel 02 511 74 00
www.orcoffee.be
VELOFIXER
You might want to pick up a decent bicycle now that Brussels is becoming a more bike-friendly city. Amor Mistiaen sells cool German bikes and accessories in a tiny shop in the car-free zone. He is happy to ride across town on his cargo bike to carry out repairs for a modest fee.
Rue des Pierres 9
Central Brussels
+32 (0)473 48 06 98
www.velofixer.com
EL METTEKO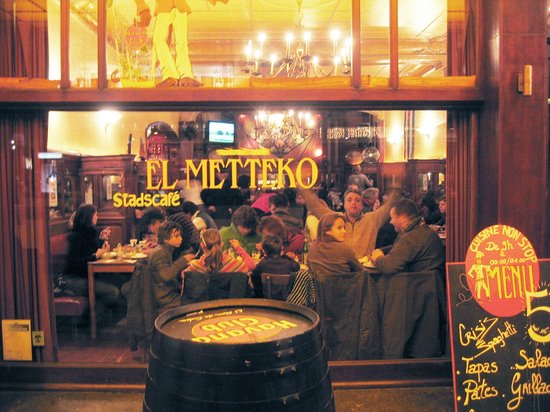 This is an authentic Brussels café right in the heart of the pedestrian district where you can now sit on the pavement terrace without the din of passing cars. The interior is decorated with high ceilings, red leatherette benches, mirrors and a clock stopped at 2.20. Time really does stand still in El Metteko. The kitchen produces Belgian specialities like boulettes à la Kriek – meat balls cooked in Kriek beer, while the bar offers some interesting Belgian beers. Concerts are sometimes organised on a Sunday afternoon. Best of all, the staff are really friendly.
Boulevard Anspach 88
Central Brussels
AU SUISSE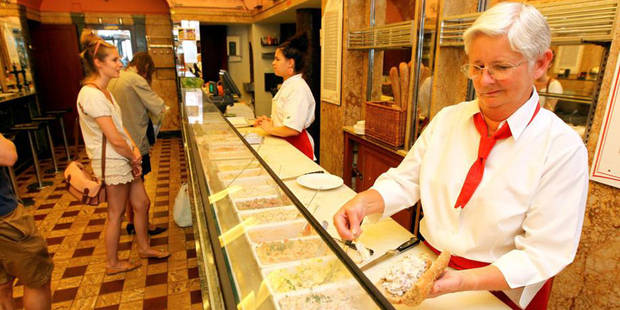 The oldest sandwich bar in Brussels was founded in 1873 by a Swiss woman called Madame Togni. The shop was given a modern streamlined upgrade in the 1930s, but not much has changed since then. You order a sandwich at one counter and then perch on a stool at the opposite counter to eat it.
Boulevard Anspach 73
Central Brussels
Tel 02 512 95 89
www.ausuisse.be
CAROLINE MUSIC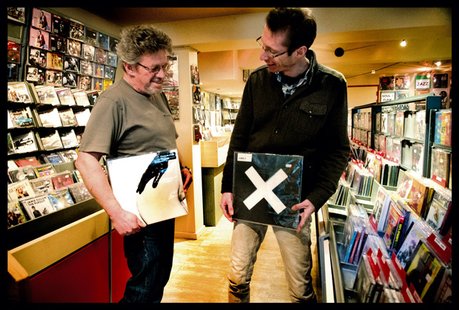 One for nostalgic record buyers, Caroline maintains the best of rock, pop, techno and indie music, as well as French chanson from the 1960s. It also sells tickets to rock concerts and music festivals across the land.
Boulevard Anspach 101
Central Brussels
+32 (0)2 502 10 83
www.carolinemusic-bxl.be
ANCIENNE BELGIQUE
The AB hosts well-known bands that sell out a few hours after tickets go on sale, but it also encourages alternative music and new sounds. Bands love the atmosphere at AB, along with the local bars nearby like Bonnefooi where they can drink after a concert without being mobbed by fans.
Boulevard Anspach 110
Central Brussels
Tel 02 548 24 84
www.abconcerts.be