It was two years ago in 2015 that Europe first felt the twitches of a refugee crisis caused by the civil war in Syria. ISIS, as it was then known, was at its zenith, marauding through Syria and Iraq, prompting an exodus from the region. Most of the refugees were heading west, towards Europe.
The trickle soon cascaded into a torrent, mostly from Syria, Afghanistan and Iraq but also places like Nigeria, Eritrea, Pakistan and Somalia. Many crammed into rickety boats, commandeered by ruthless people smugglers. Some died making the perilous journey across the Mediterranean. Most landed in Greece and made their way north through the Balkans and central Europe; Germany and Sweden were the destinations of choice. At its peak, around 220,000 migrants arrived in Europe in October 2015.
Initially sympathetic, Europeans became divided. While German Chancellor Angela Merkel declared, "We will manage", other countries baulked. Borders closed in central Europe, quotas were announced, a refugee deal negotiated with Turkey, and a new EU coast guard planned.

Syrian refugees being welcomed by Germans as they arrive at Munich train station back in December 2015.
By 2016, the numbers were down again. Frontex says that from 283,175 in 2014, up to 1.82 million in 2015, they fell again to 500,250 last year. By mid-March this year, there were only 21,143 arrivals recorded by the UN-affiliated International Organisation for Migration (IOM), even though the past year has seen a jump in passages between Libya and Italy.
So, does this mean the crisis is over? Aid agencies and migration experts warn it would be premature to assume the numbers will remain at pre-2015 levels. While the flow has slowed, Europe could again find itself struggling to cope with a new surge of refugees and migrants. And as voters across Europe flirt with populism, it would not take much more pressure to trigger another political crisis.
The current uneasy calm is down to various factors, including the tighter border controls in the western Balkans, the turnaround in the fight against ISIS, the EU's naval patrols against people smuggling, and the hostile message from parts of Europe that do not want any more migration.
One of the reasons often cited for explaining the fall in numbers is the EU's controversial Turkey pact: Ankara agreed to prevent migrant outflows, mainly of Syrians, in exchange for billions of euros in aid, visa-free travel and the speeding up of long-stalled EU membership talks. While it is hard to attribute exact causality to a multifaceted migration crisis – negotiations on the pact began in November 2015, but it was only signed in March 2016 – it is clearly a major element. The European Commission says that about a million refugees had not tried to come to Europe in the year since the deal was struck.
NGOs like Refugees International and Human Rights Watch say there is little cause to celebrate the drop in numbers as the policy has left thousands of refugees and asylum-seekers stranded in Greece in abysmal conditions and has eroded the right to seek asylum in Europe.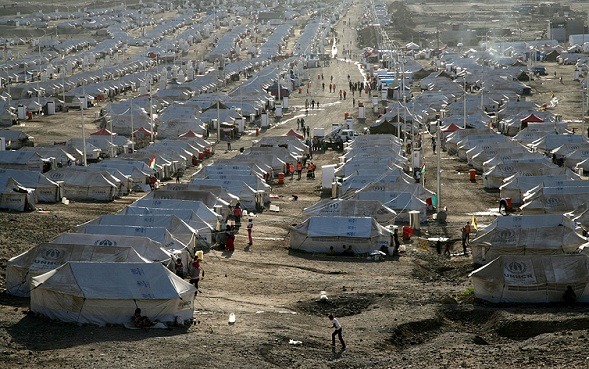 Refugee camp in Turkey. There are currently 2.8 million Syrian refugees in Turkey.
Amnesty International says the premise on which the Turkey deal was constructed – namely that Turkey is a safe place for refugees – was flawed, as protection for asylum-seekers and refugees varies widely in the country. It describes the deal as a "shameful stain on the collective conscience of Europe" and "one in which Europe's leaders attempted to buy themselves out of their international obligations, heedless of the cost in human misery".
Other parts of the deal – for instance the promise of a meaningful, safe and legal way out of Turkey – largely remain unfulfilled. As of March 2017, the number of Syrian refugees transferred from Turkey to EU member states was 3,565 – a number made even more negligible when contrasted against the 2.8 million Syrians currently in Turkey.
Now, as relations between the EU and Turkey fray, President Erdogan regularly blusters about scrapping the deal. Turkish Interior Minister Suleyman Soylu has threatened to "blow the mind" of Europe, sending 15,000 refugees a month to the EU amid a diplomatic spat with The Netherlands.
Meanwhile, the politics across Europe, already tetchy in 2015, have hardened further against migrants. Populist parties have depicted them not as refugees fleeing war, but as economic migrants sponging off state benefits, as undercutting domestic working class labour, or as returning Jihadists (every new Islamist terrorist act is now tied to refugees).
This has seeped into mainstream politics. Hungary led the resistance to European Commission plans to spread the refugees across the bloc, and was the first country to build new border fences to stop migrants from passing through. In March this year, the Hungarian Parliament went further, voting in a law that foresees the mandatory detention of all asylum seekers, including many children, for the entire length of the asylum procedure. The measure, which could mean detaining them in shipping containers surrounded by high razor wire fence, earned a stiff rebuke from the UNHCR.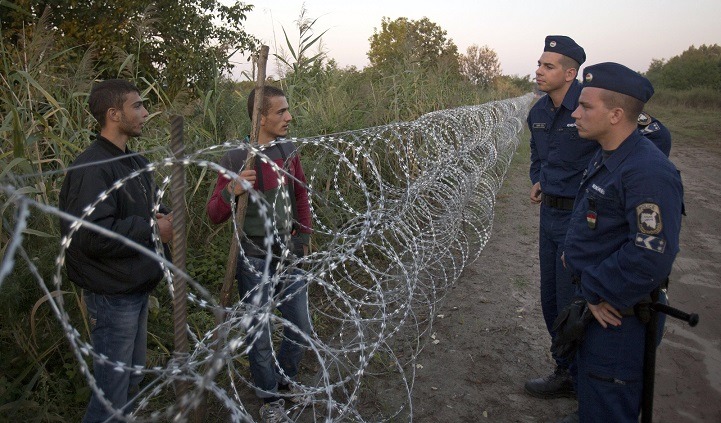 Hungarian police chat with Syrian refugees at a barbed wire fence on the Hungarian border with Serbia.
Indeed, Europe's treatment of refugee children, who have made up almost a third of those seeking asylum on the continent over the last two years, has come under fierce criticism from agencies and NGOs. A damning report from the Council of Europe this March said that bundling them in overcrowded detention centres, where they are often separated from their families, will increase the danger of their later radicalisation and drift into criminality.
Unaccompanied children under 18 who applied for EU asylum in 2015 were almost a quarter of all applicants, yet local authorities were not doing enough to prevent children being forced into slavery, inappropriately treated by the police, or pushed into arranged marriages while on European soil.
Elizabeth Collett, the founding director of the Migration Policy Institute Europe, says that floundering within the EU since 2015 drained vital political capital when it comes to refugees, and there is little goodwill left to help those in need. "We are now in a political situation where there are two different views on how to manage migration and refugees," she says. "Most agree that refugees are a shared responsibility, but the central and Eastern European countries say they are not prepared to take them on."
With the EU-Turkey deal under threat, Greece over-stretched and unable to cope, and Libya unable to control its borders, she fears a re-run of 2015. "There is likely to be a new crisis, which will be very different: it will be more political, with leaders coming under attack for not doing more to stop it. It may well prompt ugly, illiberal policies across Europe," Collett says.
The EU is already enduring the most testing time in its 60-year history, as it negotiates Brexit, domestic populism, and the enduring fallout from the long economic crisis. The last thing it needs is a resurgence of the refugee crisis that paralysed it in 2015. Yet that is still a risk, and one that European leaders do not appear much more prepared for.
By Leo Cendrowicz