The Flemish Parliament approved a historic agreement to divide Flanders into 15 districts as part of an "internal Flemish state reform" that aims to untangle the mess of inter-municipal partnerships and supra-local cooperations in the region.
The provisional agreement to simplify the Flemish "complicated spaghetti" of agreements, partnerships and collaborations across different areas such as waste collection, water distribution and mobility was already agreed on in March 2021 aiming to "the administrative efficiency in Flanders" a boost.
"Over the years, the Flemish administrative landscape has become clogged up by a tangle of inter-municipal collaborations. Today, we have an 'internal state reform' that puts an end to this and permanently strengthens local governments," Flemish Minister for Domestic Administration Bart Somers said in a press release.
"The choice is clear: fewer structures, fewer mandates, more transparency, efficiency and local strength. People have been talking about this since the conclusion of the Egmont Pact in the 1970s," he said, referring to the agreement that laid the foundations for the creation of Belgium's different Regions and Communities.
Providing a structural framework
Over the years, the growth in local partnerships and inter-municipal companies has taken place in Flanders. Each of these partnerships were created with a specific logic and reasoning, but all put together led to "a jumble" of at least 2,229 cooperation agreements across 300 municipalities and five provinces in which citizens, companies, associations and administrators can no longer find their way.
"Behind every partnership is logic and specific reasoning, but the lack of a structural framework led to a tangle. The most recent study in 2012 showed that just 33 municipalities had more than 100 partnerships between them, and the average Flemish municipality had 68," said Somers. "They all have their own structures, mandates, administrations, websites, etc. That is incredibly expensive, inefficient, not transparent and prevents democratic control."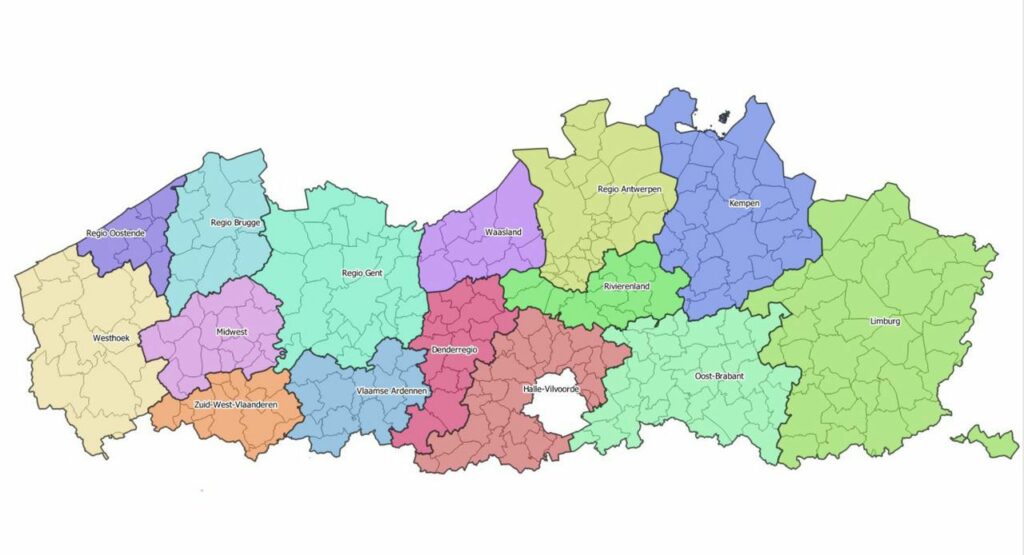 At the beginning of 2021, the Flemish Government reached a historic agreement that divided Flanders into 17 reference regions – the boundaries for 14 of them had already been drawn, but an agreement on how to divide the Limburg province into three different districts had not yet been reached.
Now, however, it was decided to keep the province together as one large district, mainly because several well-established and effective partnerships already exist at the provincial level – bringing the total from the planned 17 to 15 Flemish districts. The amalgamation structures can be eliminated and authorities can work towards "fewer intermediate structures, fewer mandates and more decisiveness."
Related News
For any new cooperation that is being set up, the decree will enter into force in the spring of 2023 for any new cooperations that are being set up. Existing structures will have until the end of 2030 at the latest to reorganise. Additionally, inter-municipal waste companies have until the end of 2036 to conform to the new decree to make sure that the restructuring does not fall in the middle of their statutory terms.
"With the districts, we are not creating a new layer of government – there are no new elections or additional structures," Somers stressed. "What we do offer is more transparency and better democratic legitimacy. With these districts, complex societal challenges can be tackled better. It is an immense efficiency exercise that allows local authorities to work together better and gives them more influence."