Novak Djokovic is not just the number one ranked men's tennis player in the world, he is now cemented as being among the world's top anti-vaxxers.
Since arriving in Australia on January 6, the 34 year-old Serbian tennis star has sparred with Australian authorities over whether his vaccine status would prohibit him from entering the country and competing in next week's Australian Open. Djokovic hoped to defend his Australian Open championship and, in the process, take home his 21st Grand Slam title, setting a new record for the most ever.
Friday, Djokavic's entry visa was cancelled for a second time by Australian government officials. A brief statement released by Australia's Immigration Minister Alex Hawke explained that Djokovic's visa was cancelled "on health and good order grounds, on the basis that it was in the public interest to do so."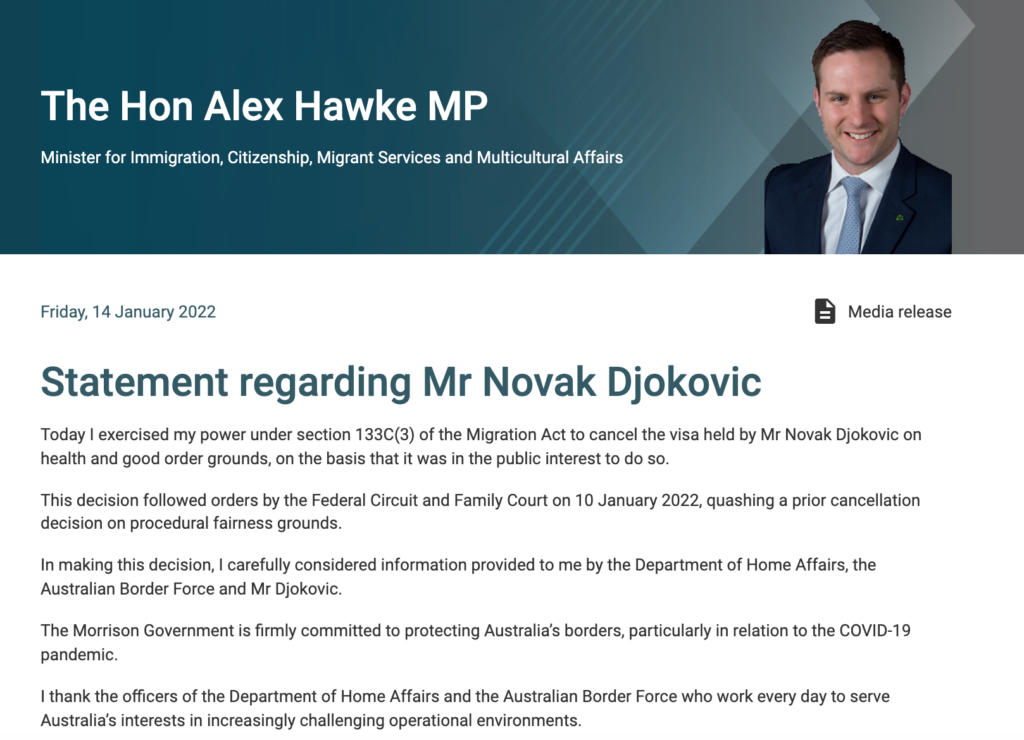 In doing so, Djokovic's visa saga also became the latest flashpoint in an ongoing debate over whether governments should and could mandate Covid-19 vaccinations. When Djokovic's lawyers pressed their case for allowing the star to remain in Australia, more than 44,000 people tuned into the YouTube livestream of the Federal Circuit and Family Court of Australia proceedings, taking place on Friday night in Australia.
For those against government vaccine mandates, Djokovic has quickly become a standard-bearer. For those in favour of vaccine mandates, the Australian government's response is seen as critical to ensure that everyone – citizen, celebrity, sports star – is treated equally.
Australia's strict vaccine rules
Australia has tight vaccination rules for nearly everyone seeking to enter the country. Djokovic's vaccination status had been a bit of a mystery, however, based on several media reports regarding his arrival in Melbourne, Djokovic told government officials he is not vaccinated.
"Together we have achieved one of the lowest death rates, strongest economies and highest vaccination rates, in the world," Australian Prime Minister Scott Morrison said in a statement. "Australians have made many sacrifices during this pandemic, and they rightly expect the result of those sacrifices to be protected."
Related News
When Djokovic arrived in Australia, he was denied entry by Australian border authorities who stated he had not provided appropriate proof of qualifying for a Covid vaccination waiver. After spending days at a hotel used to hold people awaiting deportation or permission to enter Australia, a judge overturned the initial visa denial.
Friday, Djokovic's visa was cancelled by Hawke, using Australia's Migration Act. Hawke is allowed to deport anyone deemed a potential risk to "the health, safety or good order of the Australian community," according to a BBC report.
"Our strong border protection policies have kept Australians safe, prior to Covid and now during the pandemic," Morrison said in a statement.