While the FIFA World Cup has started in Qatar with entertaining and suspenseful football games and full stands in the stadiums the question about how they and other infrastructure were built with migrant workers under the so-called Kafala system continues to concern the EU and labour unions with the jury still out if the system has been sufficiently reformed.
The overwhelming majority of the work force in Qatar and other Gulf countries consists of foreign workers employed under a kind of sponsorship system (Kafala) which gives their employers near total control over their working conditions and which denies them the right to change job or form labour unions.
Human rights organisations in the West have described the Kafala system as a form of forced labour but according to Abdullah Al-Arian, a Qatari history professor, it was a British colonial invention inherited by the newly independent states in the 1970s. What is sure is that the British and other colonial powers exploited their colonies, first with slavery and then by indentured workers.
Amnesty International has been following the labour rights issue in Qatar and writes in its latest report from October that Qatar's overhaul of its labour system since 2017 "has led to some noticeable improvements for the country's two million migrant workers – hundreds of thousands of whom have been engaged in projects essential to the World Cup".
In the report Amnesty reiterated its call on FIFA and Qatar to establish a compensation fund for abused migrant workers.
"Although Qatar has made important strides on labour rights over the past five years, it's abundantly clear that there is a great distance still to go. Thousands of workers remain stuck in the familiar cycle of exploitation and abuse thanks to legal loopholes and inadequate enforcement," said Steve Cockburn, Amnesty International's Head of Economic and Social Justice.
Human rights dialogue with Qatar
In the current energy crisis, EU's dependence on import of LNG (liquefied natural gas) from Qatar is growing. The European Commission seems more satisfied with the labour rights situation in Qatar. When Vice-President Margaritis Schinas, in charge of Promoting our European Way of Life, visited Qatar in his capacity as responsible for sport-related matters, he acclaimed the reforms.
In a tweet (20 November), he wrote that "Football unites the world. #WorldCup2022 the first post-pandemic global event that shows we are taking our lives back. Qatar, the first Arab and the smallest country ever to host the Cup, delivered reforms & merits a global success. Europe's sport model an inspiration for all."
Asked about the reforms in Qatar, Peter Stano, Lead Spokesperson for Foreign Affairs and Security Policy, explained at a press conference on Monday what the Vice-President was referring to. "Qatar was the first country in the region to cancel the Kafala system. Qatar has also adopted minimum wages for workers."
"That doesn't mean that no challenges remain. The EU will continue to encourage Qatar to address the challenges and make progress in other areas such as working and living conditions, access to justice, payment of remuneration, and labour inspection. We appreciate the reforms and look forward for next steps to address remaining issues where necessary."
He added that the EU has platforms in place for dialogue on human rights and labour market conditions with Qatar. "We have also recently opened a delegation in Qatar which is an additional tool for conducting the dialogue with our partners and following-up on everything that has been agreed with them."
Are the reforms only on paper or does the Commission know that they are being implemented, for example as regards payment of compensation to injured workers or to their families if they were killed in work accidents?
"To achieve improvement, you must first of all have a framework in place. This is the case for the Kafala system and minimum wages where a framework has been established and implemented," he replied. "Implementation and track record on the ground are very important for us. These are issues we are tackling in our regular dialogue in all platforms that we have established with our Qatari partners."
In a speech delivered this week in the European Parliament, the Commissioner for Health and Food Safety, Stella Kyriakides, talked on behalf of EU's foreign policy chief Josep Borrell and summarized EU's position on the labour rights situation in Qatar.
She referred to figures from the International Labour Organization (ILO). "50 people died in Qatar and some 500 others suffered serious injuries in work-related accidents linked to building the World Cup infrastructure in 2020." If previous estimates of up to 6,500 fatalities during the construction work since Qatar was awarded the games in 2010 are correct, this indicates a clear improvement.
But according to Amnesty, the deaths of thousands of migrant workers over the past decade and beyond—on World Cup-related projects or otherwise—remain unexplained. At least hundreds of these fatalities were likely a consequence of working in the extreme heat, according to Amnesty.
Kyriakides summarized that Qatar has made significant progress on labour rights over the past years. "The organisation of the World Cup and the fact that it has made existing deficiencies become more evident have, in fact, accelerated labour reform in Qatar". That said, "the human rights path for Qatar is far from complete. And, as for any other country, it is a continuous journey that will never be finished."
Is the glass half-full or half-empty?
Whether the glass is half-full or half-empty depends on whom you ask and is difficult to ascertain without on-the-spot checks. European and other international companies have been involved in building the new stadiums and the infrastructure in Qatar required for the World Cup but also for its future economy after the World Cup.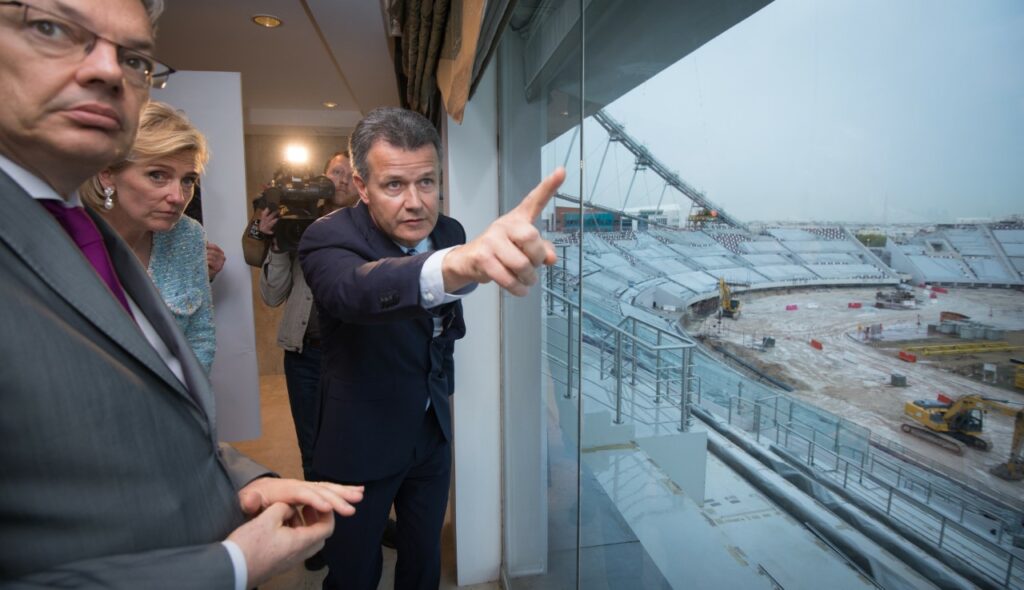 Vice-Prime Minister and Foreign Minister Didier Reynders, Princess Astrid, and BESIX project director Hans Hirchhauser visit Khalifa International Stadium in Doha, Qatar on 22 March 2015, Credit: Belga/Benoit Doppagne
To what extent European companies that built the infrastructure in Qatar are responsible for abuses and exploitation of foreign workers in the past or still are is not known to the Commission. ILO commented that it was not in a position to comment on individual companies, but has called on all companies to comply with national legislation and fundamental principles and rights at work.
As previously reported, only three deaths were recorded on the construction sites of Belgian company BESIX – one of the main sponsors of the Red Devils. According to Belgian media its subsidiarity company Six Construct had already intervened six months before the accidents and cancelled contracts with the most 'rogue subcontractors'.
The BESIX group has a long history in the Gulf region and has been present in the Middle East since 1965 through its subsidiary Six Construct. On its website it writes that it has built emblematic buildings including the Burj Khalifa, the world's tallest tower, infrastructures as well as sports and leisure facilities.
From 2014 to 2019, in preparation for the World Cup, the Group renovated the Khalifa Stadium and designed and built the Al Janoub Stadium. While this was done mostly with migrant workers, the company states that its policy is to respect and promote their rights in cooperation with international labour unions.
The average seniority of the migrant workers within the group is 9 years. More than 35% of them have been with the group for more than 10 years. According to BESIX, an agreement signed with the Building and Woodworkers International (BWI) in 2017 has enabled BWI to independently audit all the group's sites in Qatar and elsewhere in the world.
BESIX told The Brussels Times that its experience, after having been operating in Qatar and the region for several decades, has shown that the ideal way to have a positive impact is to work hand in hand with the public authorities and involved organisations.
How many foreign workers were employed by BESIX/Six Construct or your local subcontractors?
"We worked a total of 100 Mio man-hours over 5 years for the construction of one stadium and the renovation of another one," the company replied. (This would be the equivalent to around 2.500 workers full-time on the two sites over five years).
Were their working and living conditions regulated by the Kafala system which since then has been abolished or reformed (2017)?
"The Kafala system was never applied in our Group. The agreement with BWI includes the establishment of an independent monitoring mechanism for human rights practices with free access for BWI to construction sites and accommodations for migrant workers."
Did you ensure that workers were insured against work accidents and compensated for injuries or fatalities (their families)?
"Of course. BESIX Group applies a uniform, consistent and rigorous Health and Safety Policy in all countries in which it operates, including Qatar. After every accident, regardless of the country in which it happens, we take up our responsibility, be it on operational, human or legal level."
Still gaps in the implementation of reforms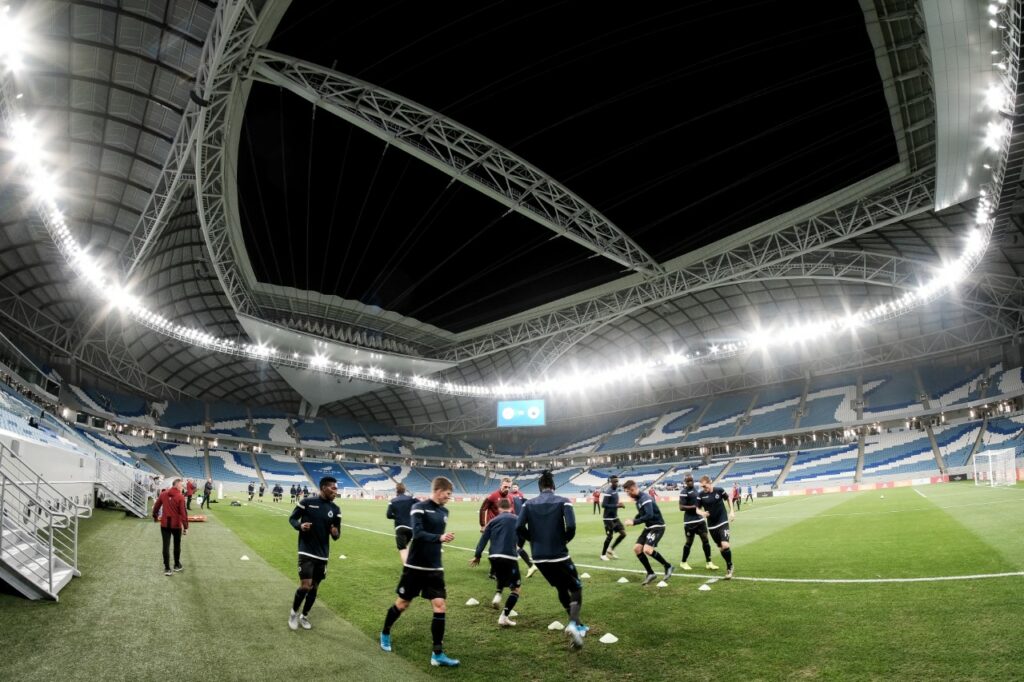 The Al Janoub stadium during a friendly soccer game between Belgian team Club Brugge KV and Dutch club Ajax Amsterdam on 11 January 2020 in Doha, Qatar, during their winter training camps, Credit: Belga/Bruno Fahy
The Brussels Times contacted also the International Labour Organization (ILO) to hear its opinion. Ruba Jaradat, its Regional Director for Arab States, replied that ILOs engagement with Qatar started in 2014 after international trade unions submitted a complaint to the ILO that accused Qatar of not complying with ILO Conventions on forced labour and labour inspection.
"At the heart of this complaint were allegations that the Kafala system was resulting in the exploitation of migrant workers and that the inspection systems and the complaints systems in the country were not adequately detecting or resolving the concerns of migrant workers."
After a period of negotiations, Qatar and the ILO agreed on a programme to enact major labour reforms, which was endorsed by the ILO Governing Body, and led to the closure of the complaint in 2017. Five months later, in April 2018, the ILO opened an office in Doha.
She described the programme of work agreed with Qatar as comprehensive and ambitious with the dismantlement of the most problematic elements of the Kafala system, such as the ability of workers to leave the country without their employers' consent and, most importantly, the ability of workers to change jobs without their employers' consent.
"These changes led to the approval of around 350,000 applications by migrant workers to change jobs in the two years since these reforms were introduced."
That fundamentally helps to address the power imbalance that existed between workers and employers, according to ILO. "With the introduction of these reforms, workers now have more rights, they have more bargaining power, and employers are incentivised to ensure better working and living conditions, and paying better wages, in order to attract and retain their workforce."
The labour mobility also benefits employers. Companies can now hire the workers they need from the existing labour market in Qatar. This reduces the risks and costs associated with international recruitment. Furthermore, the economy benefits by retaining workers' skills and experience within the country.
Have the Kafala reforms and the rise in minimum wages stayed on paper or are they implemented?
"There is a universal recognition that there are gaps in terms of the implementation of the labour reforms," Ruba Jaradat replied. "This is not surprising given their magnitude. It takes time to build institutions and change mindsets. The ILO is supporting the government to ensure more effective implementation of these reforms."
"As part of ILO's mandate in Qatar, workers are able to visit or contact the ILO Project Office with queries on labour law and their ongoing cases or applications. This allows the office to be in touch with the challenges that still remain in the application of the laws, and how the institutions could be further strengthened."
That said, among ILO's top priorities, there is the need to address the retaliation by some unscrupulous employers against workers who wish to change jobs, e.g. by cancelling their residency permits or filing false absconding charges against them. "We need to ensure that all workers can benefit from the laws around labour mobility."
While there are still too many workers who wait months to see their salaries paid, 94% of companies are now registered with Qatar's Wage Protection System (WPS), which is a tool to monitor the payment of workers' wages. The WPS obliges all employers in the private sector to transfer their employees' wages through Qatari banks.
Penalties for non-payment of wages have also been increased and are being more strictly enforced. Combined with an improved complaints mechanism (new labour courts and an online complaints database), labour courts have ruled in favour of workers in 84% of cases in which case employers must pay all outstanding dues or suffer sanctions by the ministry of labour blocks.
"Lastly, there is a need to ensure that in case workers are not paid their due wages and benefits, the mechanisms to lodge complaints and recover wages are timely and fair. A fund established by the Government has disbursed US$350 million to workers since 2019, demonstrating the scale of wage abuses.
The minimum wage was raised from ca 200 euro to 275 euro per month. Is that enough considering the price level in Qatar?
"In the first year since the minimum wage law came in March 2021, over 280,000 workers, or 13% of the workforce, saw their wages increase. The minimum wage law not only establishes a minimum basic wage, but also minimum food and accommodation allowances on top of that." Recent research found that the median income for low-wage workers is higher and around QAR 1,400 (ca 364 euro).
Furthermore, the greater labour market mobility brought by the Kafala reforms may add additional recruitment and retraining costs on the employers where employee retention has suffered. New legislation provides greater protection to workers from heat stress during the summer time and requires employer-paid annual health checks.
Accommodation conditions have also improved according to ILO. "Since accommodation, food and transportation is provided by the employer, workers earning a minimum wage spend very little money in Qatar. According to a survey earlier this year, low-wage earners send on average 81% of their income in remittances to their family back home."
Is it accurate that foreign workers doing the same work are paid differently depending on how much they earn in their home countries?
"In some countries, e.g. the Philippines, there is a minimum wage for all workers that leave the country regardless of destination (USD 400). Qatar has adopted a non-discriminatory minimum wage which applies to workers of all nationalities and across sectors, including for domestic workers. No worker should be paid below this level, irrespective of their nationality."
Are foreign workers in Qatar insured against work accidents and paid compensation in case of injuries and death (their families) or is it a remaining question to be solved?
All workers in Qatar must have health insurance – a medical card is provided by employers for QAR 100 per year – which provides access to public health and medical institutions, she explained. "However, a new law is being gradually phased in from next year that requires private health insurance for everyone coming to Qatar (at the expense of the employer)."
All workers in Qatar are entitled to receive appropriate medical treatment for any accident they suffer, at the expense of the employer, while also receiving full wage during the treatment period (up to six months, and half of the full wage for the rest of the treatment period). Likewise, in case of partial or permanent incapacitation or death, the worker or his family are entitled to compensation
"The proper and consistent reporting of work-related injuries on site by the employers remains challenging, however, as some of them, don't report incidents to the authorities." Another remaining challenge relates to deaths that are attributed to 'natural causes' or 'cardiac arrest'. A ILO report calls for the establishment of a minimum set of criteria that would trigger investigation of these cases.
While labour reforms have been implemented or will be implemented, the World Cup is a triumph for Qatar and the Middle East, as Abdullah Al-Arian, the history professor, wrote in an op-ed in The New York Times.
Update: Since the article has been published, ILO has drawn our attention to the figure of 6,500 deaths mentioned in the article. According to ILO, the figure, originally published by the Guardian, has been extensively reproduced not always including the necessary context, and often attributing these fatalities to the construction of World Cup sites.
"It is important to note that the 6,500 figure includes all deaths among the South Asian migrant population over a period of ten years. Within this number, there are many people who died for reasons unrelated to their work. Based on some of the data sources, this number could even include migrants who were not economically active, including students and visitors."
M. Apelblat
The Brussels Times