A unique summer is about to come to a close in Brussels, during which beaches and ephemeral playgrounds popped up in some of the city's most nondescript areas, as officials seized on the lull brought on by the coronavirus pandemic to reimagine public space in the Belgian capital.
In an initiative dubbed Brussels on Holidays, over two dozen local non-profits were given free rein to set up activities, installations and neighbourhood projects across the city which aimed to make up for cancelled holiday trips and postponed summertime events.
Throughout July and August, streets and roads which are normally clogged up with vehicles gave way to playgrounds while squares and roundabouts were temporarily redesigned as meeting spots with attractions ranging from sandboxes and velodromes to lounging areas and open-air cinemas.
Each neighbourhood project was propped up at different moments throughout these two months. Depending on the arrangements with each municipality, some have packed up and left already while others are set to remain in place until the late summer in September.
"There is a real will among Brussels residents to rethink the way we use public space," Marie Thibaut de Maisières, spokesperson for Regional Mobility Minister Elke Van den Brandt told The Brussels Times.
[caption id="attachment_130750" align="alignnone" width="1024"]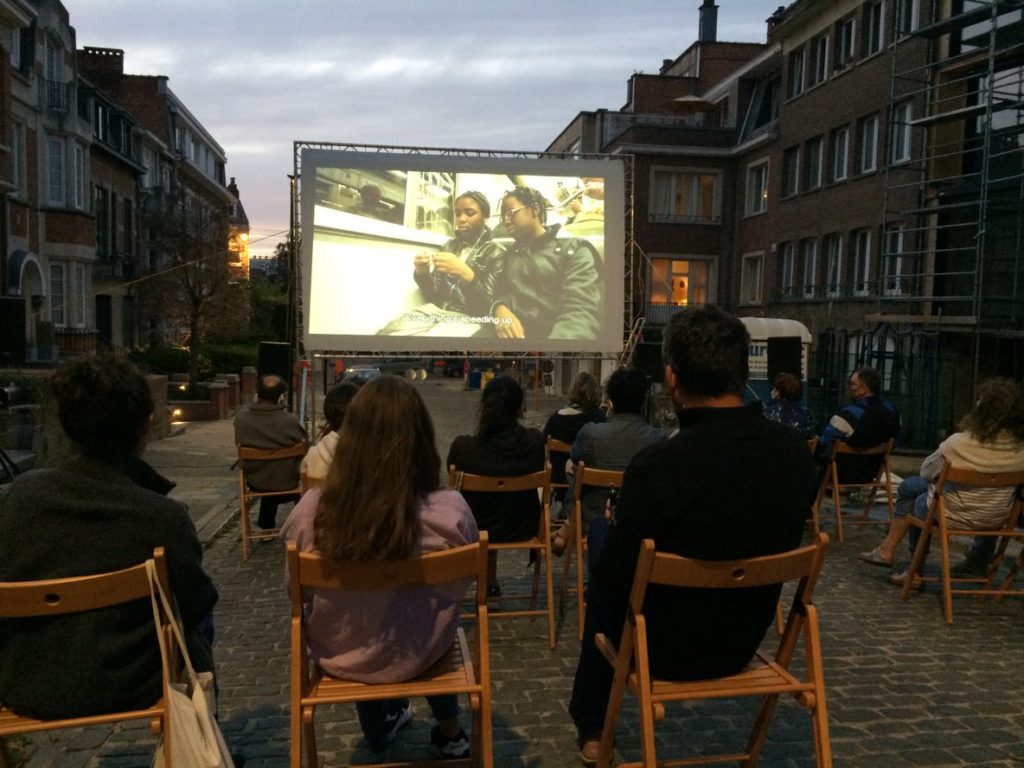 Credit: Provided by Brussels Mobility[/caption]
Ideas to rethink public space in the Belgian capital, which has numerous times been featured in global traffic jam rankings, rained in from all over after mobility authorities issued a call for projects, according to Thibaut de Maisières.
"There are projects all over the area, for example in Brussels City (Brussels 1000), a beach was set up in an area in Porte de Hal which is usually just a car park, and every evening there was a small karaoke organised for kids."
Propped-up by Brussels Mobility with funds huddled together from projects that had to be axed or postponed due to the pandemic, the initiative gave locals a peek of an urban policy which would put people, and not cars, front and centre — one of the flagship goals of the current regional administration.
[caption id="attachment_130744" align="alignnone" width="1024"]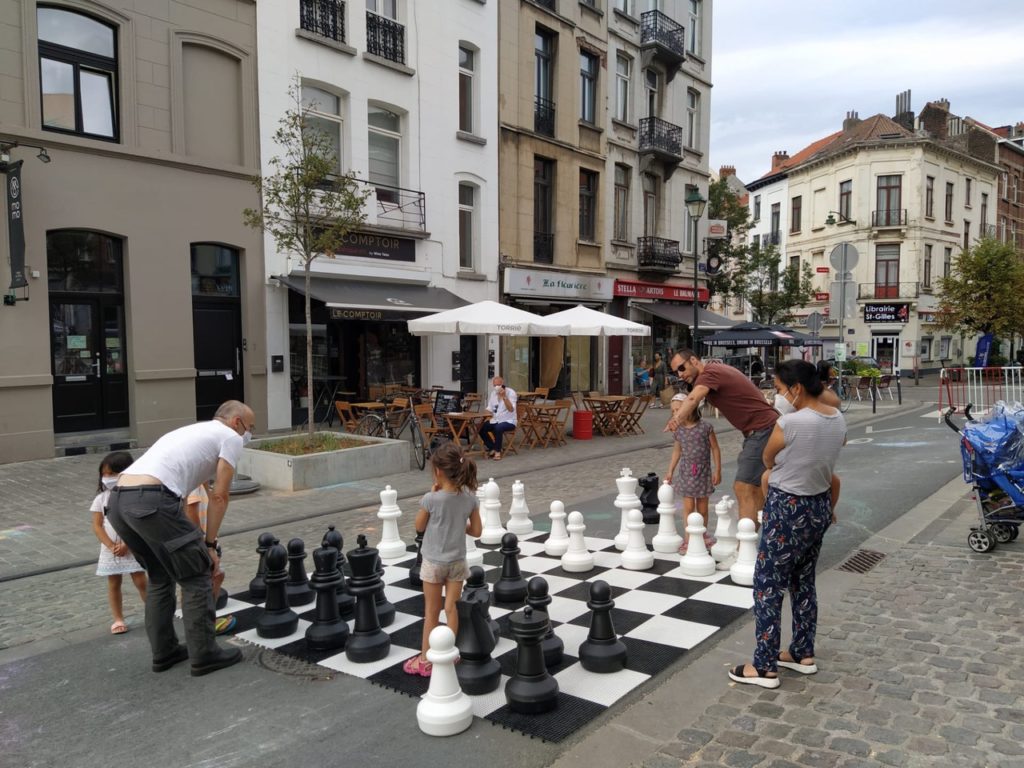 Credit: Provided by Brussels Mobility[/caption]
'Not going back to normal'
A total of 45 non-profits jumped on the call from the region to develop projects, seizing the opportunity to engage residents young and old on issues like sustainability by setting up urban agriculture plots or by promoting sport, music or arts among local youths.
Labolobo, a non-profit which focuses on issues of exclusion and isolation among the elderly, got Jette residents involved in the transformation of a crossroads into a "neighbourhood agora" from the start, setting up a construction workshop to build the urban furnishings that would allow residents to lounge around and engage with each other in the road junction throughout the summer.
In Kureghem, in Anderlecht, Myriam Zahri from the non-profit Entr'âges said that the project had brought to the fore new community dynamics in the municipality, one of Brussels' poorest and most densely populated areas where tensions with the police often run high.
[gallery size="large" link="file" columns="2" ids="130743,130742"]
Credit: Provided by Brussels Mobility
"We got to ask residents what they wanted, and many of the youth said they wanted an area to play football in," she said, adding that although simple, their request was impossible in an area where cars sometimes shot by at "crazy speeds."
Improved road security and more infrastructure, such as safe playgrounds, for children and youth of the neighbourhood was a central demand from residents, Zahri said. "They really want to be able to experience public space differently," she noted.
Both Zahri and Thibaut de Maisières said that the project underscored a tangible potential for change in the capital which had been accelerated amid the ongoing pandemic.
[caption id="attachment_130745" align="alignnone" width="1024"]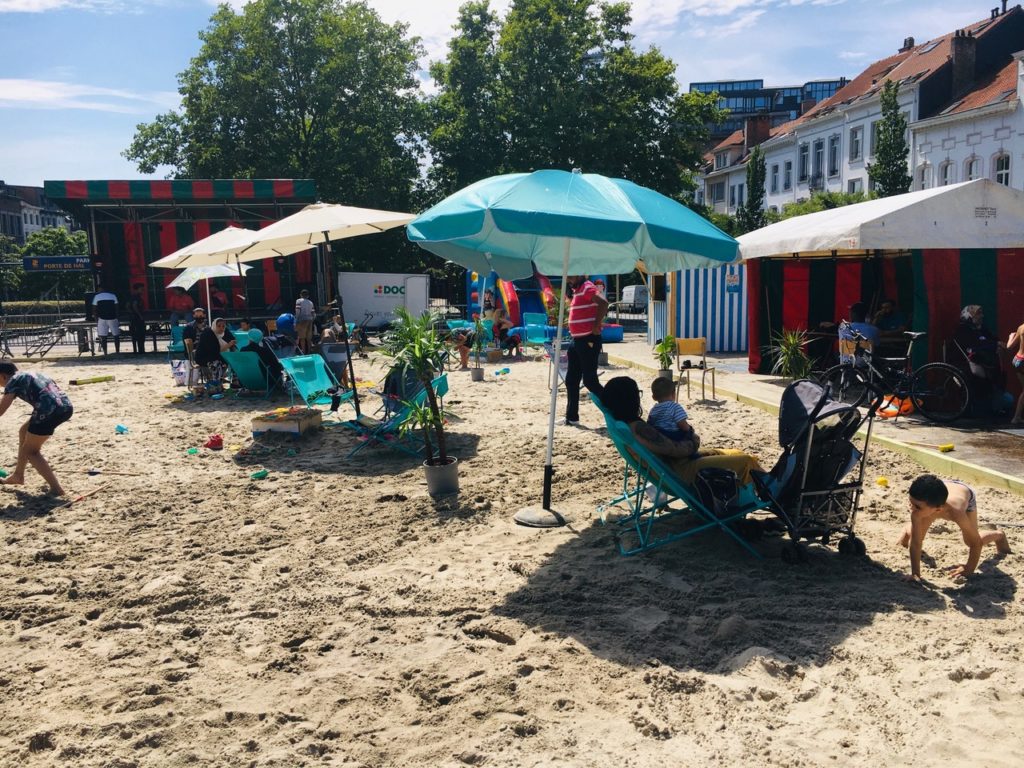 Credit: Provided by Brussels Mobility[/caption]
"While the coronavirus certainly delayed things, at the same time, it allowed us to move forward with developing a lot of local infrastructure," Thibaut de Maisières said. "So, maybe on paper we are running a bit behind schedule, but in practice, with these projects, we fast-forwarded so much."
"Everything is still really fresh, but the energy and will of people to change their neighbourhood is there," and should be put to use, she said, adding: "I think people really want to change the city and, this summer, they could experiment with it. I don't think we will just go back to normal after."
Gabriela Galindo
The Brussels Times