Chances are, you're reading this article from a smartphone, laptop, or other mobile device – and probably not thinking much about it – but it's all thanks to groundbreaking technologies in cellular connectivity that emerged decades ago.
From the early days of mobile voice calling and text messaging to mobile email access and social media, today the world continues to thrive on mobile connectivity. In fact, as billions of devices connect around the world, we'll need much more speed and capacity to allow them to communicate. Fast, reliable, and security-rich connections are now more important than ever, especially as people rethink how they work, learn, and interact.
Europe paving the way for 5G
Enter 5G, the fifth generation of cellular networks – the revolutionary innovation platform for the next decade. 5G aims to improve not just communication, but also other critical aspects of our lives, from remote education and automotive to smart manufacturing and telemedicine. Qualcomm invented many of the underlying technologies that made 5G work. The company partners with the industry to accelerate the development of 5G, sharing these technologies across the global ecosystem to support worldwide connectivity – and help Europe pave the way for their digital transformation.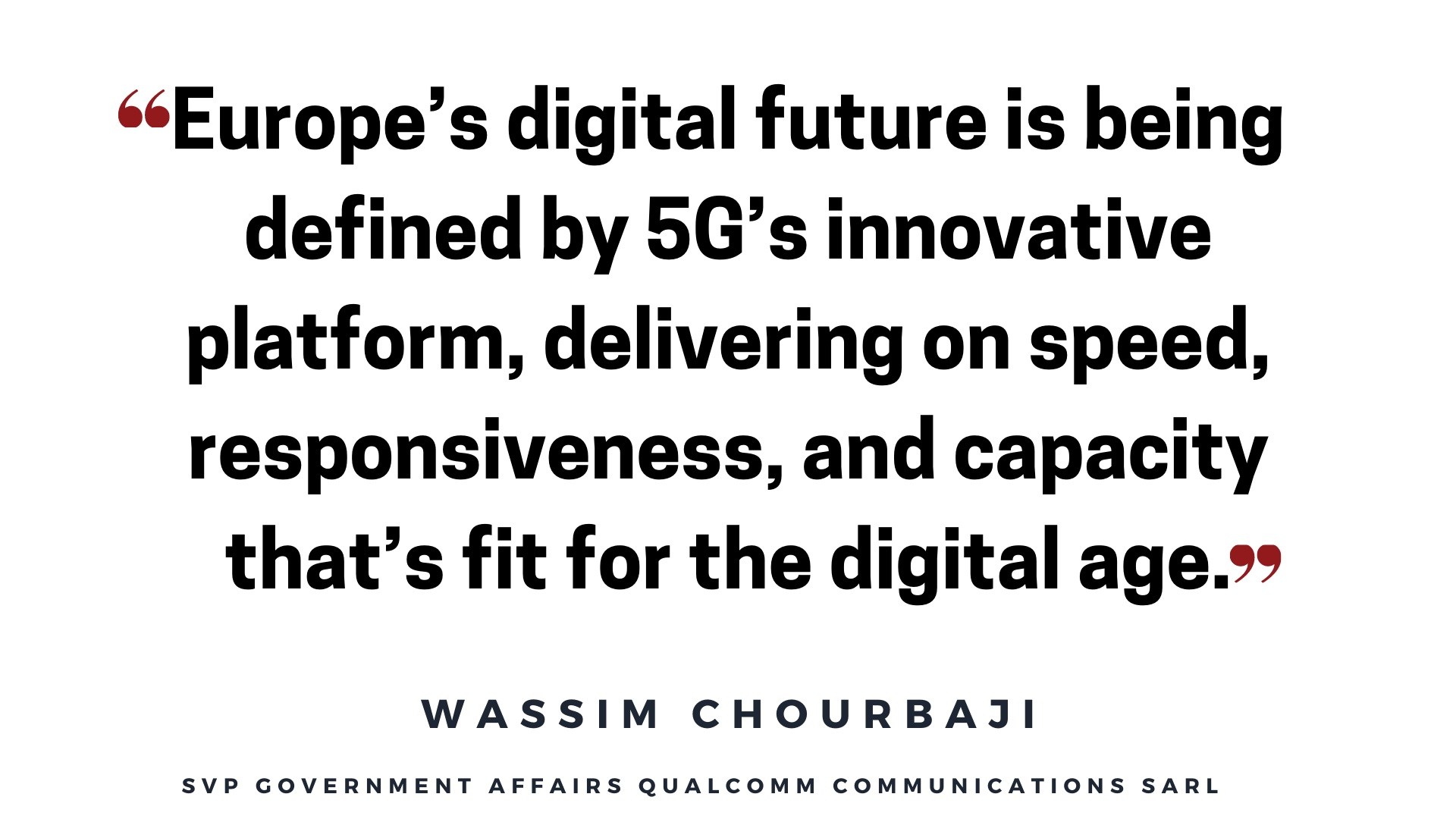 What can you expect from 5G?
Government leaders and policymakers are key stakeholders in the implementation of 5G. As the global rollout is already underway, their role is to promote continued innovation and facilitate 5G access to their respective communities. This is designed to benefit people in vital areas such as telemedicine, remote education, and other industries, and is expected to support global economic benefits for many years to come. So as 5G adoption continues to expand across the globe, what can you expect from it when it makes its way to your neighbourhood?
Supporting virtual ways of learning: The ability to access large amounts of content could enable students to learn from top-rated teachers online or work together on large, complex projects, such as interactive designs – all in near real-time.
Helping promote smarter, safer transportation: Faster and more reliable connections between vehicles and smart cities, for example, aim to increase travel efficiency and make transit safer.
Improving how we receive healthcare: 5G's exponential improvements in performance, capacity, and reliability are designed to provide superior and security-rich connectivity for doctors and patients for near real-time vital signs monitoring or virtual diagnosis when it's needed most.
Qualcomm's inventions are advancing the potential of 5G, designed to help transform a broad range of industries such as remote education, automotive, smart manufacturing, and telemedicine. You can see them wherever Europe is creating the digital future with 5G – helping make the benefits of 5G connectivity available to more people, more efficiently, here and around the world.
Visit here to learn more about Qualcomm's 5G breakthroughs in Europe.