Brussels Museums asbl is launching a new version of the Brussels Card city pass for the local public - Brussels Card Discovery, to help boost the cultural sector.
Brussels Card Discovery is an adapted version of the already existing Brussels Card and is intended for Brussels residents and Belgians who want to explore the museums of the capital for a day, a weekend or within a slightly longer period. The pass allows you to visit 3 museums, from a list of over 40, within a period of 3 months at a very advantageous rate. The first 2000 cards are offered at 19 euros, instead of 24 euros.
Return of the Belgian public
With an attendance rate of about 60% less than normal for the first months of the year, due to the absence of groups and foreign tourists, the Brussels museums are keen to encourage their local audiences to find their way back to them, in safe sanitary conditions.
"In times of crisis, the accessibility of cultural places remains more than ever a necessity. We believe that acting on the price of admission to museums is obviously a way to attract the curiosity of a public in need of cultural outings and escape." Jérôme Bruyère, Communications Officer Brussels Museums
Initiative to boost the sector
The initiative was born from a common desire of Brussels Museums asbl and the Brussels Tourist Office visit.brussels to support the cultural sector, but also to continue to democratize access to museums at a time when this mission is undermined by a difficult financial situation in museums, heavily impacted by the crisis. On the other hand, the public is obviously also suffering the financial effects of the crisis directly on their wallet, while the need for escape and beauty seems more necessary than ever.
Flexible and varied offer
Brussels Card Discovery, allowing 3 visits at any time during three months, is also very flexible in these days of an uncertain health situation. The time of each visit is left entirely to the choice of the purchasers and it does not present a long-term commitment.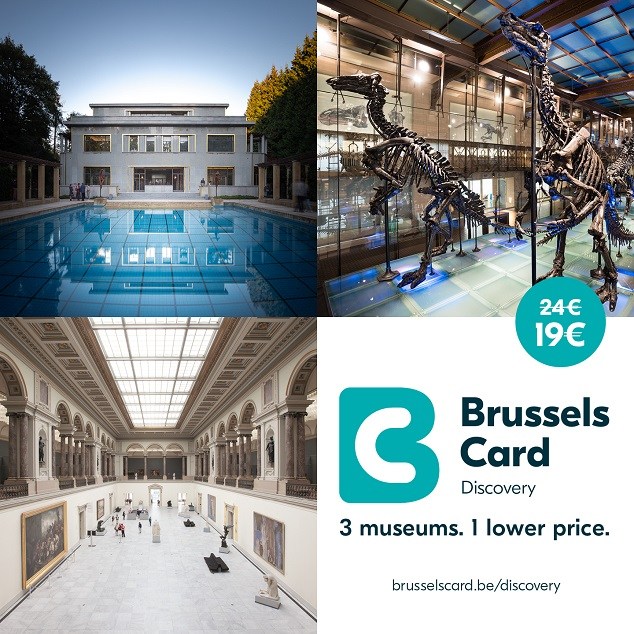 The card's offer includes both the must-see art places such as Fin-de-Siècle & Magritte Museums, the brand-new exhibition dedicated to Roger Raveel at BOZAR or the Boghossian Foundation, as well as more confidential and secret places such as the Schaerbeek Beer Museum or the recently opened Migration Museum. Families are of course not left out in these times of "bubbles" with the Museum of Natural Sciences, the Belgian Comic Strip Center, the AfricaMuseum or Choco-Story Brussels.
Besides access to the best museums in Brussels, the card also offers a free Museum Map and City Map, as well as discounts at our Brussels partners, such as attractions, guided tours, stores and many more. Another option is to include a visit to the unmissable Atomium at a reduced price.
Brussels Card Discovery in practice
Visit here for info and sales (starting at 19 €)
Points of sale:
Sales online : www.shop.brusselscard.be/en/discovery
Brussels City Hall, Grand-Place, 1000 Brussels.
Opening hours: every day from 9:30 am to 5:30 pm.
Mont des Arts, BIP, Rue Royale 2, 1000 Brussels.
Opening hours: Monday to Friday from 9:30 am to 5:30 pm, Saturday from 10 am to 6 pm.