Have you ever wondered about EU-themed fashion and how it looks? This brand decided to unite 27 countries under the same colours and was brought to life by thousands of European citizens all over the continent.
Wearing their nation's colour has always brought people a sense of pride or patriotism. While walking in any big city center, you will find dozens of shops filled with flags, tees, caps, and other items bearing the symbol of various countries. Wearing our nation's colors gives us a sense of pride, who we are, what we are, and what we stand for. On the other side of the Atlantic, the American stars and stripes have even become a big part of the fashion emblems, being proudly worn.
But what about closer to home, in Europe? While we share the same flag, democratic values, and the incredible record of the most prolonged peace period, the European emblem seems absent from the fashion sphere. Is it that we have nothing to be proud of as Europeans? That Europe is not a beautiful thing for which to stand? Senne Dehandschutter, a film director from Brussels, Belgium, thought differently and decided to prove it. After looking everywhere without success for qualitative clothing harbouring the EU stars, he came up with the idea of a brand with the sole purpose of promoting Europeanness, a brand called 'European by Choice.'
Three years ago, in early 2018, what started as a European lover's dream became a reality.
The crowdfunding campaign launched by Senne two months earlier had just closed by reaching more than 450% of its initial goal, pre-selling for almost 50K EUR of European-themed clothing.
No private investors, no taxpayer money, no corporation sponsors, the brand was born independently by the incredible supports of thousands of people all over Europe. A brand made by Europeans, for Europeans, brought to life by people sharing the same vision across the continent.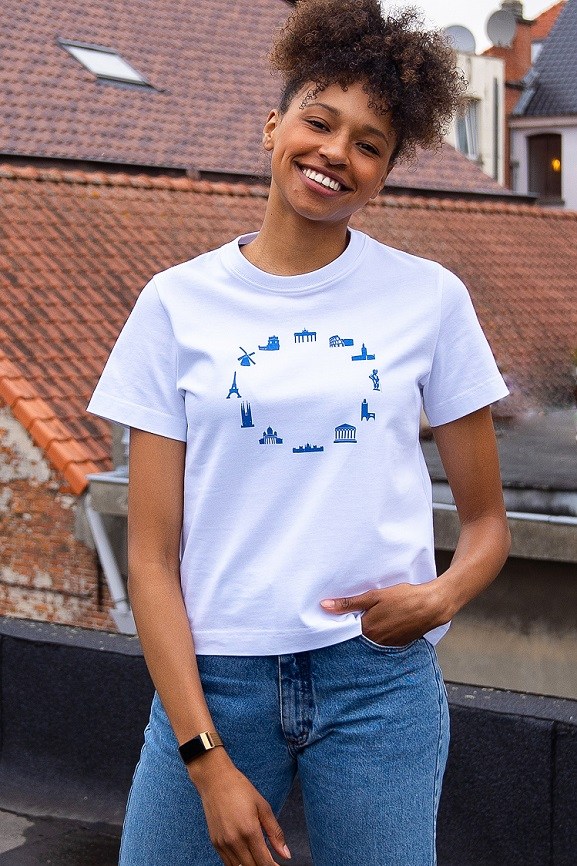 "That's when I realized that I was not alone. That there were thousands of people like me in every European country. People who believe that there is such a thing as "Europeanness." Senne Dehandschutter - Co-founder
The Brussel's based brand that started as an 'EU Stars on clothing' project has become an international brand, worn all over Europe and beyond. The initial star collection has been expanded with more designs and European-themed messages. The brand offers an array of about 50+ designs and models that have been sold by thousands in more than 40 countries.
Out of those 50+ designs, you can discover the brand-new summer collection they just released on their website.
European by Choice may be selling clothes; they describe themselves as activists, sharing EU values and pushing its message across the continent. The brand uses 'commando actions and videos' to raise awareness around current European issues: climate change, populism, the rule of law, the protection of minorities, and the like.
They use clothing as a medium to carry their message of unity amongst people all around the continent. That's the reason why 10% of all profits are donated to project encouraging and promoting connection through social and cultural exchange projects in Europe. While a European unity may sound like propaganda for the European Union, the founder's answer is clear. It is not:
"European by Choice certainly does not oppose the EU project but aims at bringing people together independently of political structures and beliefs. It really aims to reach out to all Europeans, from Switzerland to Portugal, Romania, Poland, Norway...; and Europeans by birth or by choice." Senne Dehandschutter - Co-founder
They made 'Princess Europa' their official emblem, the Greek mythological princess to whom Europe thanks for her name and portrayed her as a free modern woman leaping forward, inspiring Europe to embrace a future of solidarity and unity gracefully.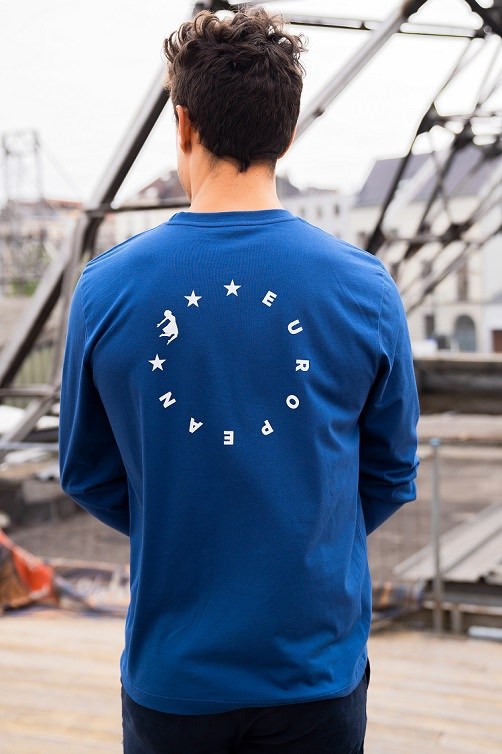 The brand, advocating for unity, took its social and environmental pledge further than messages and designs. Their clothes are 100% made, from yarn to finish, with organic and recycled materials, in Europe.
"As a brand, we have a responsibility that goes way beyond what we showcase on our clothing. We are responsible for every hand in our value chain, for every product used. Seeing how fast fashion is impacting the environment and keeping inequalities high, we took a strong stand to make our clothes locally, in Europe, in the best conditions possible, with qualitative and sustainable raw materials." Arnaud de Meeus - Co-founder
But why would it be essential to wear a t-shirt with the European flag on it? Do we really need a flag or some emblem to work together? Their answer is yes, we do!
Looking back on Schuman's words, the idea of Europe is something that has "to be built through acts of solidarity." To build this concept, we must unite its citizens. For us Europeans to unite, we need a common symbol. Something to rally behind. An identity. For us citizens of Europe, such a symbol exists. We just have to claim it.
In this endeavor, one of the strongest ways is through fashion, by wearing our values.
Discover the complete line on europeanbychoice.com.