Projects in Belgium are pioneering hydrogen based technology in our streets, homes and businesses.
In Antwerp, hydrogen powered fuel cell refuse trucks are being rolled out for quieter, cleaner rubbish collection. Thanks to another project, a family has switched to a cost efficient, low carbon heating and power system. Finally, a logistics centre in Halle is running forklifts on hydrogen from solar and wind power.
The projects are funded by a public-private partnership – the Fuel Cells and Hydrogen Joint Undertaking (FCH JU) – and show how hydrogen fuel cell technologies can be integrated as part of our daily lives.
Fuel cells powered by hydrogen emit only water vapour when they produce electricity or heat. In its greenest form, the hydrogen comes from water atoms that are split through electrolysis using renewable energy. Even when the hydrogen is sourced from natural gas, it provides electricity and heat quietly with almost no pollution at the point of use.
Innovations being adopted in Belgium could also support new jobs and industries as Europe moves away from an oil-based economy to a more sustainable one, according to the FCH JU.
Low impact waste collection
The Antwerp refuse collection trucks are part of the REVIVE project, which is demonstrating 15 hydrogen fuelled refuse trucks in European cities, under the wings of the project coordinator Tractebel and of Dutch-Flemish non-profit Waterstofnet.
Two trucks are expected to start operating in the southern part of Antwerp in autumn 2021 for two years. The hydrogen, batteries, electrical powertrains are engineered and assembled by the SME E-Trucks in Lommel and will refuel with hydrogen at the DATS 24 station in Wilrijk, just south of the city.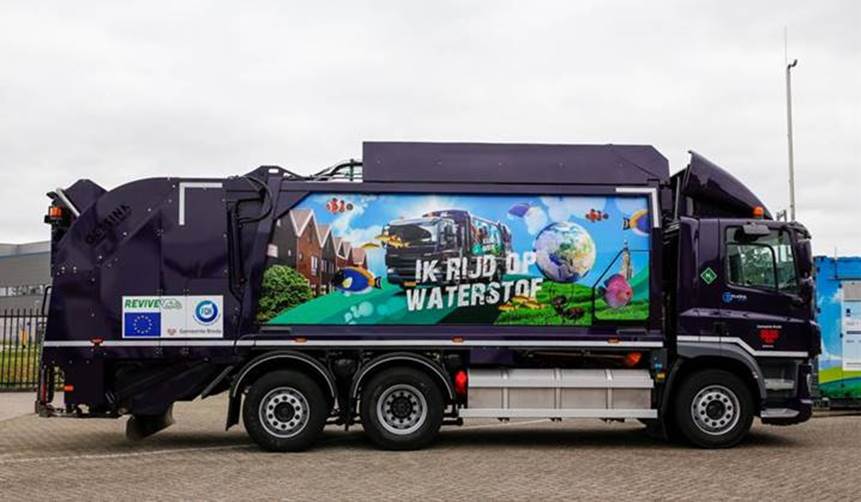 Diesel refuse trucks are often the most polluting local authority vehicles. As well as being noisy, they consume up to 65 litres of diesel per 100 km, and emit CO2, nitrogen oxides and particles that harm our health and the environment.
Hydrogen is being tested as an alternative fuel as batteries large enough to drive fully electric refuse vehicles would be otherwise bulky, heavy and need lengthy recharging. In contrast, a hydrogen fuel cell can power a smaller battery to operate the truck for a full collection and be refuelled quickly.
The city of Antwerp hopes to learn more about fuel cells and hydrogen so that it can make its fleet of vehicles more sustainable. At the same time, the REVIVE project gives refuelling operators confidence to install hydrogen infrastructure, according to Dimitri Van den Borre of Tractebel, which coordinates REVIVE. "Applications and refuelling infrastructure go hand in hand," he says, explaining that if the project leads to more public refuelling capacity, this could smooth the way for other hydrogen vehicles to operate in Antwerp and other cities.
Smarter, cheaper home energy
The Van den Eynde family has benefited from another project, PACE, which is helping 2 800 households across Europe to install state-of-the-art, efficient heating systems. These systems use fuel cell micro cogeneration, which combines hydrogen fuel cells with natural gas to produce heating and electricity.
The Belgian family originally ran their home on a 30 year old oil burner. They wanted to reduce their energy costs and impact on the environment and, if possible, to generate their own electricity. With limited space on their roof for solar panels, cogeneration seemed the ideal solution.
They had already switched to natural gas alone, which removed the smell and noise of oil burning from their home and cut their energy bill. Their son, who works in the heating industry, told them about cogeneration and through PACE they installed a model from Viessman, one of the project partners.
The eco-friendly system reduced their energy bill to almost zero, according to the family. They now enjoy almost silent electricity production and comfortable sensor-controlled temperatures throughout their home all year round.
Thanks to the Van den Eyndes and other households taking part in PACE, the project team of European manufacturers, utilities, and research institutes can step up production and training in fuel cell micro-cogeneration to make the choice available to more consumers. "We are very happy that we made this decision and do not regret it for a second," say the family.
Sustainable supermarket logistics
Meanwhile, at the Colruyt logistics centre at Halle, near Brussels, hydrogen generated from wind and solar power is fuelling a fleet of forklift trucks.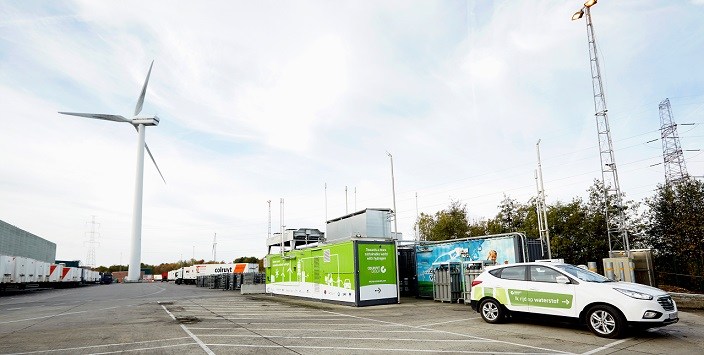 The Don Quichote project has modernised and doubled the size of the centre's hydrogen system, originally fuelling just two forklifts. It has also connected it to the local power grid, which helps other consumers to access energy from renewable power.
Delegations from the United States, China, Japan and other parts of Europe have visited the site to see how the system enables the logistics centre to be both greener and more cost-efficient. The retail group's CEO Jef Colruyt adds: "We are preparing for a future where hydrogen fuelling becomes very normal."
About the FCH 2 JU
A unique public-private partnership, the FCH 2 JU contributes to the development of sustainable and globally competitive FCH technology in Europe.
By bringing together a wide range of industrial and scientific partners combining diverse skills and functions, it supports EU approaches on sustainable energy and transport, climate change and industrial competitiveness.
Find out more about The Fuel Cells and Hydrogen Joint Undertaking.