It pays off to obtain a Master's degree in business and economics. The world is changing at a rapid pace and facing several crises at once. It will need leaders with a profound knowledge in economics, and strong intercultural skills more than ever. Plus, having an additional degree pays off quite literally as well. It allows you to have a higher starting salary and a strong increase in wage, up to about 150%, throughout your career.
That being said, it is a big decision. Once you've decided on a field of study, the next step is to find the perfect higher education institution. And as in real estate, it is all about location, location, location. Here's why Antwerp and its university should be on your watchlist.
1. Study in a multicultural melting pot
As the capital of Flanders, Antwerp has a lot to offer. Over 500, 000 citizens from 168 nationalities call it home. According to Statistiek Vlaanderen, 21.7% of the Antwerpenaars are foreign nationals. This truly makes them a diverse bunch, with a knack for languages. An astounding 25% of all inhabitants speak 3 languages or more, and are very willing to talk about their favourite spot.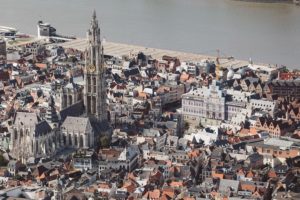 Also, the city's strategic location in the heart of Europe makes international travel accessible for anyone. Big cities like Paris, London, Berlin or Amsterdam are only a train or bus ride away.
2. Work in an innovative business city
This year, Antwerp was mentioned as one of the ten top growth cities in the world for economic potential by the Financial Times. It is also the only Belgian city that made it onto the list of most innovative business cities in Europe. This means there are plenty of opportunities for international graduates to find work.
In his classes, Koen Vandenbempt, Dean at the University of Antwerp and professor in strategic management, teaches students how they can benefit from graduating in a global metropolis.
"As a university, we are lucky to be located near the second biggest port in Europe, a large oil and chemical cluster, the worlds' leading diamond trade center and many start-up incubators. Being this close to important business hubs gives students a unique advantage in the job market."
3. Career support and prospects as a UAntwerp graduate
Recently, Belgium introduced the orientation year. This means graduates from outside the European Union can stay in Belgium up to 12 months after graduation to find work. Thus, you will need to ensure that you're well prepared to enter the job market. The University of Antwerp supports students by offering career guidance and hosting job fairs to put students in touch with employers. They can also take part in a career development track, meet professionals from different sectors and work on personal branding.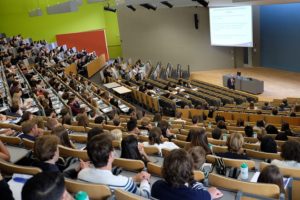 Many of the business programmes have a high employment rate. This is also demonstrated in the university's 155th place in the ​THE Global Employability Ranking. On average, 90 % of the Economic Policy, Business Economics and Business Engineering graduates find a job within six months after finishing their studies. They work in organisations like Deloitte, the World Bank, Atlas Copco, Katoen Natie, EY,... as managers, directors, consultants, financial analysts, business developers, etc. Others found their own company or become researchers at top universities.
Want to earn a degree of your own?
Take your chance and study at a globally ranked and accredited university, appreciated by Financial Times for the high value for money ratio.
Applications at the UAntwerp are now officially open for international students. For students with a nationality outside the EEA, the deadline is 1 March 2022. For students from the EEA, it's 15 June 2022.
The entire procedure and an overview of the English business programmes on offer can be found on our website or you can email master.fbe@uantwerp.be.