On Monday evening, A small group of ultra-Catholics protested in front of St Dominic's Church in Brussels where the Swedish artist Anna von Hausswolff was giving a concert they deemed "satantic."
There were about 40 protestors in all, reports De Standaard, and the church's community had already received hate mail and threats from Catholic extremists in the past.
Their protest consisted of singing religious songs in French, then chanting: "Sainte-Marie, Mère de Dieu, priez pour nous, pauvres pécheurs," (translation: "Holy Mary, mother of God, pray for us poor sinners.")
French Catholic fundamentalists had already called for a ban on the Swedish organist's music being played in European church buildings.
Art prevails with peace.

Bravo @avonhausswolff @BBCWorld "Anna von Hausswolff's music isn't Satanic," said Yves Trocheris, priest of Saint Eustache. "Her music defends both the live issues of women's rights and the damage inflicted on the environment."https://t.co/lRcLfzBfwy — Stephen F. O'Malley (@IdeologicOrgan) December 10, 2021
Von Hausswolff tours churches throughout Europe, partly because her latest album is played entirely on the organ – an instrument she discovered after growing tired of the sound of synthesisers.
But the composer's previous songs are a source of anger for the faithful. In one, she sang that she had made love with the devil – a metaphor for drug use that the Catholic extremists failed to comprehend.
Similar protests in France led a Paris concert to be rescheduled to a secret location in order for it to take place peacefully. In Brussels, police kept a watchful eye and urged passers-by to keep moving past the protestors.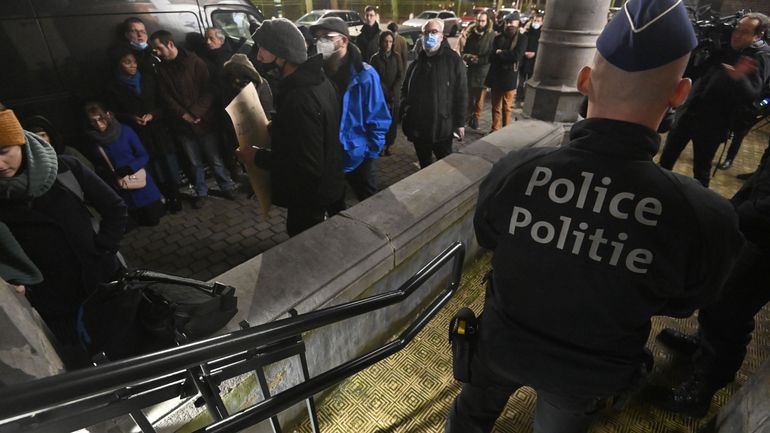 The concerts in Brussels went off without incident.
The concert hall Botanique, which organises the event, was surprised by the controversy, pointing out that the specific song that the protestors object to wasn't even on the programme, as the Brussels performance was entirely instrumental.