This Sunday 19 December, a third demonstration against coronavirus measures will take place in Brussels. As with the previous demonstrations, participants are due to assemble at North Station at 1 PM before marching through the European quarter to Cinquantenaire Park.
The group behind the march – Belgium United for Freedom – issued a call on Wednesday for all participants to remain peaceful on the day, Belga News Agency reports. This comes in light of the previous demonstrations which descended into violent riots. Police will be present alongside stewards to ensure that protesters do not stray from the defined route.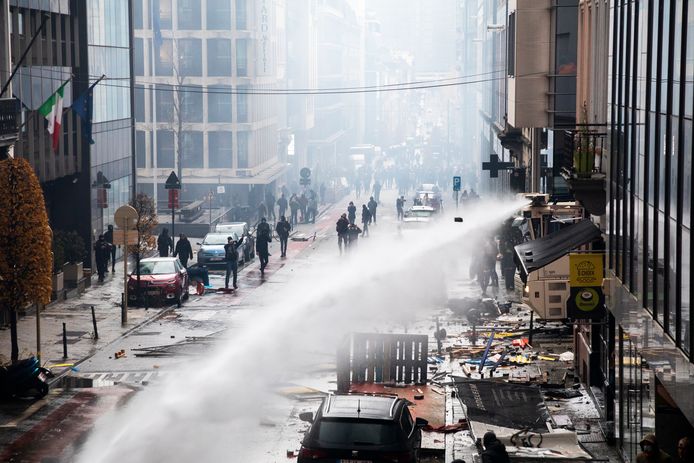 In addition, organisers will be using cameras to count (they claim accurately) the number of participants. This decision follows head-counts at the previous protests by police and media agencies that organisers assert were far lower than the actual number of participants. In particular, the organisers claim that the first demonstration attracted some 76,000 supporters – the official estimation communicated by police put this at just 35,000.
In particular, the protesters will be demonstrating against the widespread use of the Covid Safe Ticket (CST), which demonstrators say restricts constitutional liberties. A court in Wallonia has already declared the continued use of the CST illegal, with the Walloon Government liable to a €5,000 fine for each day that it continues to impose the measure.
Related News
As well as the CST being seen by protesters as an infringement of civil liberties, organisers decry what they call the "vaccine obligation". Speaking at the first demonstration in September, Tom Meert (president of Europeans United) told VRT radio: "We are not anti-vaxxers, but first you say vaccination is a choice, and then you start punishing people when they have made a choice."
The citizen's collective Belgium United for Freedom demands to be heard by the government and called for a "citizen's debate" where citizens can voice their concerns and frustrations with the current measures.
Disruptions in the city
Bruxelles-Mobilité has published a map of the route and will be making updates about how transport networks in the city are affected.
⚠️? Ce dimanche 19/12, une manifestation traversera Bruxelles, entre 13h et 18h.

Des embarras de circulation sont à prévoir le long du parcours, qui mène de la Gare du Nord au parc du Cinquantenaire, via la Petite Ceinture (R20) et le quartier européen. pic.twitter.com/GyBv6wlnic — Info-trafic Bruxelles Mobilité (@MobirisFr) December 19, 2021
Belgium has yet to decide on how its coronavirus strategy will evolve after the most recent measures were introduced two weeks ago. However, as neighbouring countries such as the Netherlands and France double down efforts to prevent the virus spread, it is unlikely that current restrictions will be relaxed at the next Consultative Committee, due to take place next Wednesday 22 December.