Dutch Health Minister Hugo de Jonge has once again urged residents of the Netherland not to go to Belgium or Germany, where shopping and dining are still possible.
Just one week before Christmas, Dutch Prime Minister Mark Rutte announced that the Netherlands would enter a strict lockdown in light of the surge in infections driven by the Omicron variant. This was a much stricter measure than has been taken in neighbouring countries, resulting in people travelling from the Netherlands to cities across the country's border.
"If it is not sensible to walk down shopping streets in the Netherlands, it is not sensible in Antwerp or Aachen either," de Jonge said, adding that he understands why people would want to do that, "but it's not wise. Just stay at home."
De Jonge's plea mirrored the call from the governor of Antwerp Cathy Berx, who urged the Dutch not to cross the border to do their Christmas shopping in Belgium after the lockdown was announced on 20 December. Belgian municipalities and cities just along the border – mainly in the Antwerp and Limburg provinces – have been overrun by Dutch people ever since.
Traffic jams and overcrowded trains
In the past days, this large influx of people fleeing the tight restrictions of the Netherlands has continued and has started to lead to traffic jams on the E19 from Breda to Antwerp and overcrowded trains, especially going to Belgium.
Earlier on Wednesday, Dutch railway company NS advised travellers not to take the train to Belgium unless it is really necessary, warning that it's impossible to maintain sufficient distance in accordance with coronavirus measures because the trains are too full. The appeal applies until Sunday evening.
Related News
Meanwhile, Belgian railway company SNCB is increasing its capacity on various trains by deploying extra coaches. On the connection between Puurs and Roosendaal near the Dutch-Belgium border, all trains are now running with double capacity.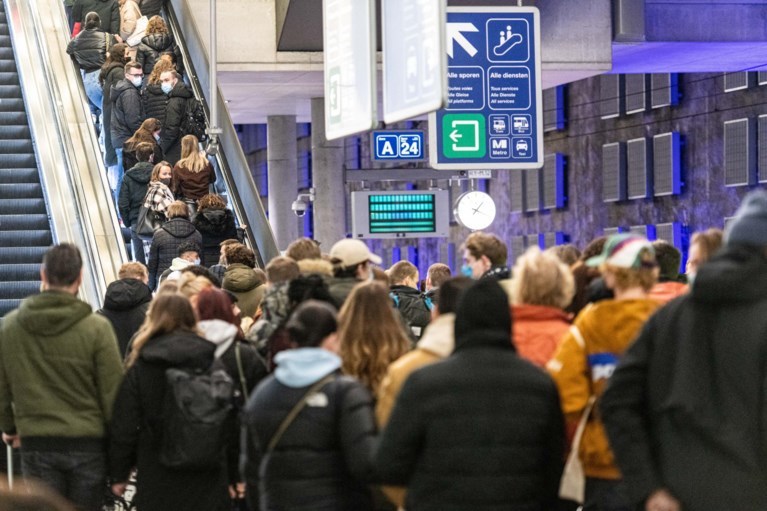 The company's spokesperson Dimitri Temmerman told De Morgen that the crowds will probably persist for the next few days and that SNCB recommends people check the app before starting travelling on this line.
Those who opt to take the car to Antwerp via the E19 and the A12 are choosing to drive all the way to the city centre from the Antwerp ring road, which according to the police, is further exacerbating the problem.
"That is really not the intention, the city car parks are already virtually full and access roads cannot cope with the influx," Peter Bruyninckx from the Flemish Traffic Centre said, urging people to choose to park outside the city in one of the park and rides.